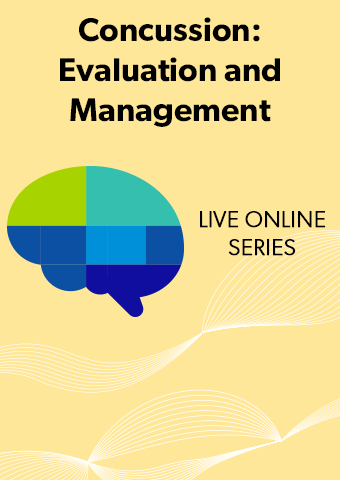 Z 7/18 - 9/5 Concussion: Evaluation and Management from Work to Working Out
Course meets online each Wednesday over 9 weeks

Recordings available ON-DEMAND if you miss a live session

No travel needed to participate in this comprehensive course

Interactive group discussion board to interface with faculty and classmates
Description: This live, online series is intended primarily for physical and occupational therapists, sports medicine physicians, physiatrists and athletic trainers. Over nine weekly sessions, this course explores the observation, analysis and management of adult individuals and athletes with concussive symptoms. A systems-based approach will be utilized with particular reference to management, rehabilitation programs, return to play and preventative strategies. Exertional training, return to play and return to work strategies will help the clinician manage a general population of patient presentations with concussions. The emphasis of patient cases will focus on concussion management in athletes as well as individuals in the workforce. Participants will have the opportunity to interact and discuss cases with course faculty, as well as integrate their own cases into the discussion. Upon completion of the course, participants will be able to apply the principles directly into their working practice.
Successful completion: Participants will login and attend live on-line lectures. Participants will complete 5.0 hours of self-study activities in conjunction with this 9 module live virtual experience (earning 13.0 Live contact hours + 5.0 self-study contact hours = 18.0). These self-study activities for the course will consist of readings, questions, discussion board postings, case studies and experiences with classmates and faculty. Participants must sign in and complete all required assignments for full course credit.    
Course Objectives: Upon completion of this course, participants will be able to 
Identify concepts related to clinical management of patient's with concussion
Formulate a patient history and objective examination for a patient with a sports concussion, as well as how that differs from the individual with generalized concussion
Summarize the elements of a comprehensive medical evaluation of concussion
Identify preventative and novel research strategies for concussion; how that relates to sport and work tasks
Implement evaluation and treatment techniques in concussion using a case based approach
Integrate a systems based approach to management of concussion
Audience: Physical Therapists, Physical Therapist Assistants, Occupational Therapists, Occupational Therapy Assistants, Athletic Trainers, and Physicians (not offering CME). 
CONTINUING EDUCATION CREDIT
Physical Therapy
This course has been approved by the Illinois Physical Therapy Board for 18 Contact Hours (5.0 Self-Study, 13 Live Hours).
The Shirley Ryan AbilityLab is recognized by the New York State Education Department's State Board for Physical Therapy as an approved provider of physical therapy and physical therapist assistant continuing education. This 9 module live virtual experience has been approved for 18.0 Contact Hours (5 Hours Self-Study, 13 Live).
Occupational Therapy
The Shirley Ryan AbilityLab is an approved provider for the American Occupational Therapy Association to offer continuing education in occupational therapy. This blended intermediate level program awards occupational therapists 18.0 CEUs or 13 contact hours + 5.0 Self-study hours for a total of 18 contact hours. The assignment of AOTA CEUs does not imply endorsement of specific course content, products, or clinical procedures by AOTA. Category Level 2: OT Process
Athletic Training
The Shirley Ryan AbilityLab BOC Approved Provider Number: P794 is approved by the Board of Certification, Inc. to provide continuing education to Athletic Trainers. This program is eligible for a maximum of 18 cumulative Category A hours/CEUs. ATs should register for the course and claim only those hours actually spent in the educational program. According to the education levels described by the PDC, the following continuing education course is considered to be Advanced Level.
ICHCC Certifications
The following training event Course #: 1496 has been approved for CLCP/CCLCP, MSCC, and CGCM CEUs: Max CEUs: 18.0
Collections
Occupational Therapists Physical Therapists Athletic Trainers