Primary Image

Pediatric & Adolescent Rehabilitation
We lead in our comprehensive, interdisciplinary rehabilitation care for pediatric patients — from infancy through early adulthood. We treat those with traumatic injuries, congenital and developmental disorders and throughout cancer survivorship.
Programs, Services & Patients
Through customized care and technology, children and adolescents of all ages regularly astonish us — and always inspire us — with their courage, resilience and ability to heal.
How We Heal
We bring together pediatricians and therapists with the most advanced medical research and technology. Treatments range broadly from physical, speech and occupational therapy to innovative use of pharmacotherapy and prostheses.
---
Science-Driven Care
With hundreds of clinical studies under way — several dedicated to the needs of children and adolescents — we offer access to the world's most advanced research, which can directly impact the extent and pace of your child's recovery.
We study muscle stem cells in impaired musculoskeletal growth and muscle metabolism in children with cerebral palsy.
view lab
Subheader
Clinical Trials & Research Studies
Content
Referenced Node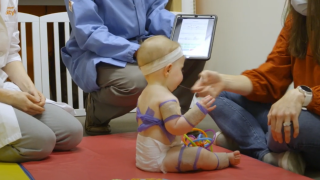 There remains a need for more accessible and robust tools capable of detecting atypical behavior early in infancy, which is critical for promoting optimal motor and sensory development.
read more
Referenced Node The primary purpose for this study is to determine the effects of a robotic training on trunk control and walking ability in children with cerebral palsy.
read more
Button
See More Clinical Trials
Our Clinicians
Our pediatricians have dedicated their lives to helping children with injuries or conditions affecting function and development.
View All