Body
The Shirley Ryan AbilityLab is the global leader in physical medicine and rehabilitation for adults and children with the most severe, complex conditions. Ranked the #1 Rehabilitation Hospital in America by U.S. News & World Report every year since 1991, the Shirley Ryan AbilityLab continues to set the standard for care with our novel approach to treatment. Our expert, interdisciplinary team of clinicians and researchers works together to set individual patient goals, tackle challenges and innovate solutions that improve patient recovery.
In addition to expert clinical services, Shirley Ryan AbilityLab provides global advisory and clinical training services to healthcare organizations across the world. We create customized solutions to export clinical and operating best practices in post-acute care and rehabilitation, and promote the latest scientific discoveries and clinical practices.
Vision + Strategy
Body
Post-acute care is a unique space within the broader healthcare market. New payment models, changing regulations and inefficient care transitions make it difficult for providers to navigate the landscape. With a singular focus on post-acute care, we have the strategic perspective and analytical capabilities to create a robust post-acute care strategy and vision for an organization. Our team is skilled at collaborating with clients to clarify an organization's goals, understand economic drivers and identify unique assets that inform a strategy and criteria for success.
Clinical Training
Body
Our Clinical Training Programs provide competency development on rehabilitation topics such as stroke, brain injury, spinal cord injury, pediatrics and cancer, as well as functional training, including multidisciplinary team training, rehabilitation nursing and wound care.
Operations Improvement + Implementation
Body
Leaders benefit from our Operations Improvement Program that provides recommendations for performance improvement and training to deepen their understanding of the operational process, metrics and performance management. We can also provide services to prepare for international accreditation bodies, such as Joint Commission International.
Strategic Facility Design + Equipment Planning
Body
Our Strategic Facility Planning services can help organizations make better-informed decisions about the number of beds required across the post-acute continuum, and solutions that can alleviate pressure on acute care, potentially reducing the cost of expensive facility development. We understand that different cultures and environments require unique solutions, and our teams are experienced in finding creative solutions for solving difficult facility challenges.
Equipment planning can be a large capital expense with little recognition of how it affects clinical workflows. We have deep expertise assessing therapeutic equipment, devices and technology to determine the optimal capital spend to augment therapy care and create better outcomes.
The Impact on Our Clients
Body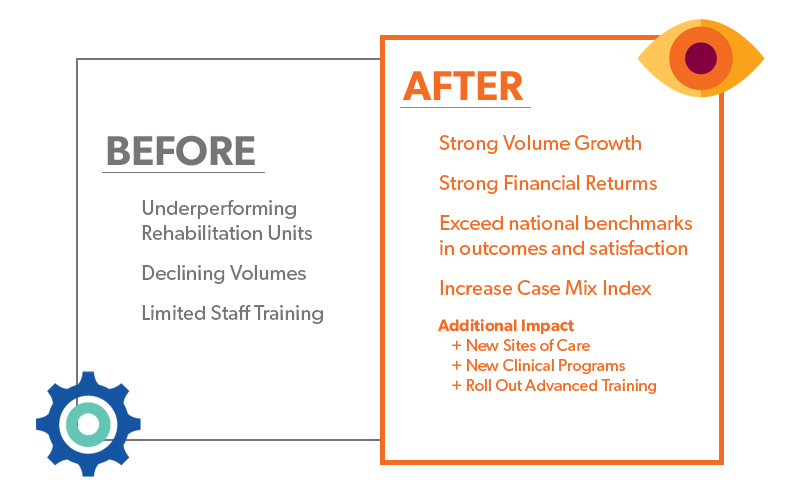 Our Experts
Mentioned Profile

Kelly Cox Watkins, MSN
Vice President, Market Development
Mentioned Profile

Barry Fleischer
Executive Director, Global Advisory Services