Primary Image

Limb Loss & Impairment
Amputation or limb impairment can affect ability, but doesn't have to affect the quality of your life. We meet patients' unique needs by integrating medical expertise, technology, engineering (prosthetics, orthotics, bionics, robotic devices) and a range of therapies.
How We Heal
At the cutting edge of prosthetics, bionics, and care, our specialized Innovation Center and Ability Lab set patients up for the best possible outcomes.
We are privileged to have in-house prosthetics and orthotics (P&0), readily available for all our patients. Their focus is always on what is best AND appropriate for a patient. This is what healthcare is all about!
---
Science-Driven Care
With more than 350 clinical studies under way — some dedicated to the needs of patients with limb loss or impairment — we offer you access to the world's most advanced research, which can directly impact your outcome. Our prosthetics — including thought-controlled bionic limbs — are revolutionary.
Our vision is to develop, evaluate, and translate transformative technology to advance human ability
view lab
Subheader
Clinical Trials & Research Studies
Content
Referenced Node
This study aims to improve upper extremity function in individuals with chronic incomplete cervical spinal cord injury.
read more
Referenced Node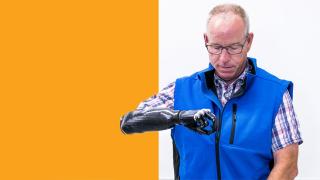 This study is exploring what factors may impact function using a prosthesis.
read more
Our Clinicians
Meet our doctors who have dedicated their lives to helping adults and children regain abilities lost to amputation or limb impairment.
View All