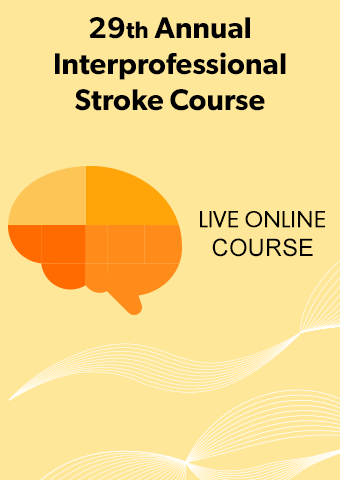 Z 5/11-5/12: 29th Annual Interprofessional Stroke Course: Sensing the Gap of Stroke Rehabilitation
05/11/2023
COURSE DESCRIPTION: See, Touch, Smell, Taste, and Hear—the five senses dictate how we interact with the world. It is often these senses where the greatest loss is felt for patients who have had a stroke. During recovery, it's easy to focus on big functional losses impacting the upper and lower extremities. However, a loss in taste or smell may prevent someone from consuming sufficient calories for recovery. The inability to communicate or hear can hamper how the survivor participates in rehabilitation activities or engages with their family. As healthcare providers, it is our aim to restore these senses via all methods and modalities, but what recovery path is best?
This course explores each of the 5 senses and clinical strategies to lessen the impact of barriers to recovery as survivors move from the acute through the return to community stage. Join interdisciplinary experts in vision, Alternative Augmentative Communication (AAC), Vagus Nerve Stimulation (VNS), pain, nutrition, mental health, and hearing in this 2 day live, online program with interactive breakout sessions, lectures, case study discussions and panels. Throughout the course, discussions will explore where technology can play a special role in helping the stroke survivor restore or compensate for loss of senses.
DATE & LOCATION: This live, online course consists of self-study and the following live sessions: May 11, 2023 8:30am-4:00pm and May 12, 2023 8:30am-4:00pm. All times are in Central Time Zone.
AUDIENCE: Nurses, Occupational Therapists, Occupational Therapy Assistants, Physical Therapists, Physical Therapist Assistants and Speech Language Pathologists
OBJECTIVES: Upon completion of this course, participants will be able to: 
Describe the benefits of Vagus Nerve Stimulation (VNS) to stroke recovery.
 Analyze appropriate low or high vision strategies in assessment and intervention across interprofessional disciplines.
Discuss the implementation of patient-centered Alternative Augmentative Communication (AAC) support at various levels of care.
Generate a script for education to patients with a stroke on their ability to return to work.
Define low technology and high technology interventions, supports and strategies from a physical or cognitive standpoint to foster recovery from stroke across the continuum of care.
Interpret how new onset hearing loss can impact stroke recovery and what options are available to aid with improved hearing in a rehabilitation and home setting.
SUCCESSFUL COMPLETION: To successfully complete this course, participants will need to attend the live activity, complete all pre-work, attest to your attendance each day and complete an evaluation at the conclusion of the course through the Academy Learning Portal. Pre-work will be available starting Thursday, April 13, 2023. All course work, including pre-work and the online evaluation must be completed by Friday, May 12, 2023. Please note, this course is intended to have active participation in certain sessions. Participants may need to be on camera at times to participate.
CONTINUING EDUCATION UNITS:
Nursing:
The Shirley Ryan AbilityLab is accredited as a provider of nursing continuing professional development by the American Nurses Credentialing Center's Commission on Accreditation. This activity is being offered for 13.25 contact hours of continuing nursing education.
Occupational Therapy:
Shirley Ryan AbilityLab is an AOTA Approved Provider of professional development. Course approval ID# 6149. This distance learning-interactive course is offered at 13.25 contact hours, 1.325 CEUs [intermediate level, foundational knowledge/OT service delivery]. AOTA does not endorse specific course content, products, or clinical procedures.
Physical Therapy:
This course has been approved by the Illinois Physical Therapy Board for 14.0 contact hours (13.0 hours Live + 1.0 hour self-study = 14.0 total hours). Approval #216-000069
The Shirley Ryan AbilityLab is recognized by the New York State Education Department's State Board for Physical Therapy as an approved provider of physical therapy and physical therapist assistant continuing education. This course has been approved for 14.0 contact hours (13.0 hours Live + 1.0 hour self-study = 14.0 total hours).
The following states require continuing education units with no state-specific approval: CT, IA, and WA
Speech-Language Pathology: 
TECHNICAL REQUIREMENTS: To participate, you will need access to a computer with an internet connection. High-speed broadband access (LAN, Cable or DSL) is highly recommended.
 Internet connection: broadband wired or wireless (3G or better)
Web browser: Latest Stable Version of Apple Safari, Google Chrome, Mozilla Firefox or Microsoft Edge
JavaScript and Cookies enabled
Speaker or headset to listen to audio files and participate in Zoom calls
Do NOT use Internet Explorer, as it is not supported.


Collections
Nurses Occupational Therapists Occupational Therapy Assistants OTA and PTA Physical Therapist Assistants Physical Therapists Speech Language Pathologists