This research project collaborates with a NU lab to study the acquired injuries that are taking place in hospital care of people with Acute Respiratory Distress Syndrome ARDS.
Body
Hospitals in the United States have been incorporating prone positioning (PP) into the COVID-19 related Acute Respiratory Distress Syndrome treatment plan at a higher rate than normal. Prone positioning has the patient resting on their chest/stomach to relieve the distress of breathing, increase oxygenation and improve the functioning and mechanics of the lungs. This treatment is used effectively in treatment recovery for acute cases of Acute Respiratory Distress Syndrome. 
Our lab has seen a number of patients in rehabilitation recovery settings subsequently diagnosed with acquired peripheral nerve injury (PNI) and previously in long-term COVID-19 care in prone position. The reasons for the high rate of Peripheral nerve injury associated with PP and COVID-19 ARDS have multiple factors involved, and could include underlying conditions such as hyper inflammation and hypercoagulability already linked to the other previous neurological injuries related to COVID-19. 
We are also working with Dr John Rogers' lab to place pressure sensors on vulnerable sites of patients at risk of these PNIs (such as the ulnar nerve at the elbow), to study the mechanics involved in acquiring these injuries
Illustration of Nerve Damage and Pressure Sensor Vulnerable Sites.
Body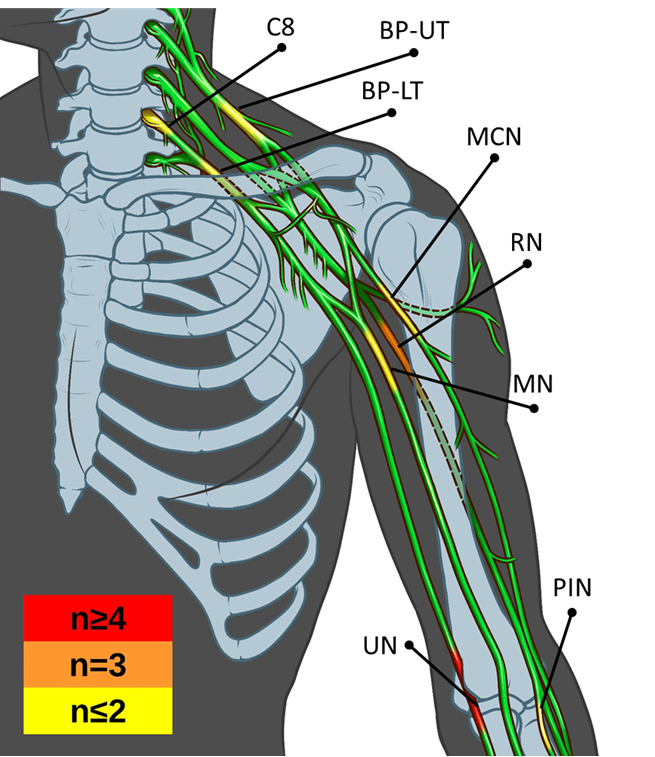 Body
This important work was highlighted on a recent NBC5 News segment:
Alarming Number of Coronavirus Patients Placed on Ventilators Experience Nerve Damage, Research Shows.