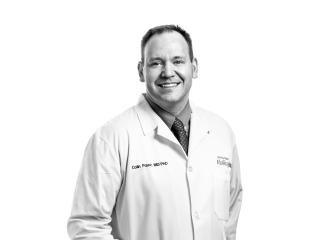 Colin Franz MD, PhD
Position
Attending Physician, Research Scientist
Board Certifications: Neuromuscular Medicine, Electrodiagnostic Medicine, and Physiatry
Practicing since
Joined staff in 2018
Phone Number Description
Phone
About Me
About Me
Dr. Colin Franz, MD/PhD, is a physician and scientist at Shirley Ryan AbilityLab. His subspecialties include neuromuscular medicine, electrodiagnostic medicine, and neuromuscular ultrasound. He see patients for (i) peripheral nerve injuries, (ii) brachial plexus injuries, (iii) nerve or tendon transfer candidates or postoperative rehabilitation, (iv) polyneuropathy, diaphragm muscle weakness and ultrasound studies, and (v) motor neuron diseases such as ALS. He is the director of the Electromyography (clinical) and Regenerative Neurorehabilitation (research) laboratories at Shirley Ryan AbilityLab. He also is an Assistant Professor in the departments of Physical Medicine & Rehabilitation and Neurology at the Northwestern University Feinberg School of Medicine.
His research is heavily inspired by the patient populations he cares for. His laboratory team takes a highly technology-oriented approach to precision rehabilitation medicine. Current studies range from transient (resorbable) implanted devices to deliver therapeutics directly to regenerating axons, to making human neurons derived from patient-derived pluripotent stem cells to determine isolate how individual genetic factors effect neurotrauma outcomes. Via many strong collaborations in Chicago and across North America, his lab is able to address clinical problems in neurorehabilitation, neurotrauma, nerve regeneration and degeneration. His research is supported by the NIH, Craig H. Nielsen Foundation, Foundation for Physical Medicine and Rehabilitation, as well as private gifts from community members such as the Belle Carnell (in memoriam) Regeneration Neurorehabilitation Fund.
Location
Shirley Ryan AbilityLab
355 East Erie
Chicago, IL 60611
Education & Training
Education

Credential

1998 - 2002

Dalhousie University, BS (Honours) in Kinesiology

2002 - 2007

Dalhousie University, PhD in Anatomy and Neuroscience

2009 - 2012

University of Calgary, MD
Residency

Credential

2012 - 2017

Physical Medicine & Rehabilitation, Rehabilitation Institute of Chicago and McGaw Medical Center of Northwestern University
Fellowship

Credential

2017 - 2018

Neuromuscular Medicine, The Ken & Ruth Davee Department of Neurology and McGaw Medical Center of Northwestern University
Honors & Awards
Foundation for PM&R - Richard S. Materson ERF New Investigator Research Award

"Neurotrauma in a Dish" - An induced pluripotent stem cell-based assay to determine patient specific factors affecting rehabilitation outcomes, 2018

Helen Cooper Resident, Rehabilitation Institute of Chicago

Recognition of the physical medicine and rehabilitation resident who made the greatest contribution to teaching., 2016

Lydia Sikora Memorial Award, University of Calgary

Recognition of the medical student who made the most outstanding contribution to research., 2011
Affiliations
Society for Neuroscience

Member, 2003

Peripheral Nerve Society

Member, 2011

American Academy of Physical Medicine and Rehabilitation

Member, 2012

American Association of Neuromuscular & Electrodiagnostic Medicine

Member and Research Committee, 2017
This lab uses a combination of molecular, biochemical, and electrophysiological assays to study axon regeneration and motor neuron disease with a priority on human preclinical models such as iPSC-neurons.
view lab