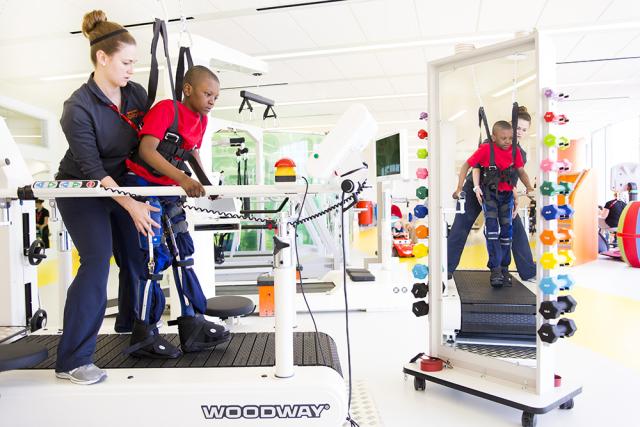 Welcome to Shirley Ryan AbilityLab
The Rehabilitation Institute of Chicago is now Shirley Ryan AbilityLab. More than just a change of address, this shift enables our continued mission to be the global source of science-driven breakthroughs in Human Ability.
Where Care...
Recognized as #1 in rehabilitation for 30 years in a row. AbilityLab introduces its revolutionary care through 5 Innovation Centers - state-of-the-art hospital facilities and equipment for exceptional patient care provided by the best medical and nursing support.
Innovation is in our DNA
The spirit of innovation and trailblazing is in our DNA. Since 1953, we've been a pioneer and leader in treating the most difficult and complex conditions. Because we're the world's destination for the most challenging cases, we're able to advance and share knowledge and expertise continuously.
Keep Exploring
Experience AbilityLab
We invite you to learn more about what this new kind of care looks like, both in physical building and clinical practice.
Scientists at Shirley Ryan AbilityLab are leading the charge to develop better fall-detection models and advance fall-mitigation technologies, such as wearable airbags for individuals at high-risk of falling.
view all news
On Sept. 16, Laura Ferrio, senior vice president and chief operating officer, Derek Daniels, director, Adaptive Sports & Fitness Program, Therapeutic Recreation and Volunteer Services, and Shirley Ryan AbilityLab wheelchair softball players participated in a ribbon-cutting ceremony at the renovated adult wheelchair softball diamond in California Park on the city's North Side.
It's been said that finishing a marathon is a state of mind that says anything is possible. Learn more about Tracy's journey to running the Chicago Marathon.
view all news