Body
The U.S. Department of Veterans Affairs (VA) recently named Richard Lieber, PhD, chief scientific officer and senior vice president, Research, Shirley Ryan AbilityLab, the winner of its 2023 Paul B. Magnuson Award.
In addition to his role at Shirley Ryan AbilityLab, Dr. Lieber is a senior research scientist at the Edward Hines Jr. VA Hospital in the western suburbs, and a professor of Physical Medicine and Rehabilitation and of Neuroscience at Northwestern University.
The Magnuson Award is the VA system's highest honor for excellence in rehabilitation research. Dr. Lieber was recognized for his work "to return functional capacity, mobility, and quality of life to Veterans with physical disabilities."
Not only was Paul B. Magnuson — for whom the VA award is named — an acclaimed orthopedic surgeon, veteran of the U.S. Army Medical Corps and founder of the modern VA system, but he also was the founder of our organization. Today, Shirley Ryan AbilityLab honors Dr. Magnuson's legacy with our annual Magnuson Awards recognizing outstanding team members and leaders.
"This is a full-circle moment, and I am incredibly proud to be associated with Dr. Magnuson who, by many accounts, is the founder of rehabilitation medicine." said Dr. Lieber.
Dr. Lieber said he finds inspiration in Ring the Night Bell, Dr. Magnuson's memoir.
"After World War II, Dr. Magnuson invented many prosthetic, orthotic and surgical procedures. He was asked by President Harry Truman to start the connection between VA hospitals and universities," Dr. Lieber said. "Magnuson recognized that the VA needed to be a research organization to help veterans."
There is even a signed photo of President Truman — with a personal note to Dr. Magnuson —hanging just outside Dr. Lieber's office.
"To my good friend Dr. Paul B. Magnuson with kindest regards and deep appreciation of his public service.
White House,
Dec. 4, 1952
— Harry Truman"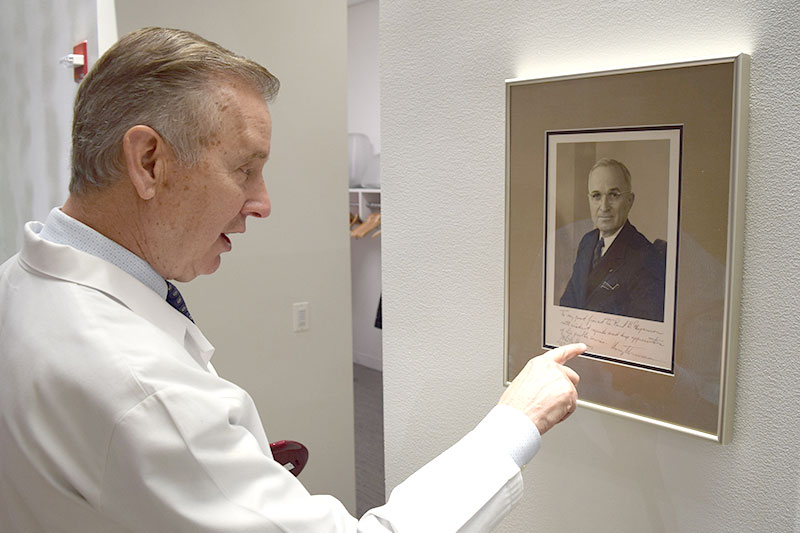 Dr. Lieber's dedication to bettering the lives of those who face severe, complex injuries and conditions spans his 40-plus-year research career. Early on, he developed surgical tools to help restore arm and hand function in veterans with disabilities. Most recently, his research led to the discovery that brain-injury causing muscle contracture results in a 70% decrease in muscle stem cells. Currently, pharmacologic treatments for muscle contracture are in early feasibility testing thanks to his discovery.
Dr. Lieber said it is the honor of a lifetime to receive this award, which was bestowed upon him by senior VA leaders who made a surprise appearance on a recent pre-scheduled video conference.
"When I was getting started as a researcher, the winners of the Magnuson Award were my idols," he said. "If you look down the list of those who've won it, it's the people who have made the VA's rehabilitation and prosthetic-orthotic program what it is."