AbilityLab Blog
See the latest news, updates and patient stories from the Shirley Ryan AbilityLab.
Our researchers have developed a novel wearable device and data algorithms specifically tailored to catch signs and symptoms associated with COVID-19 and to monitor patients as the illness progresses.
Displaying 493 - 493 of 493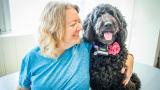 After having a stroke while running on the treadmill, Emily found help from an unlikely source, our therapy dog.
Patient Story