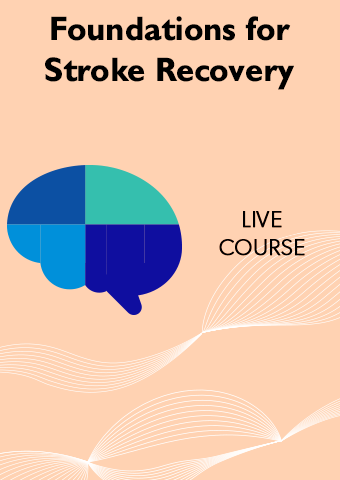 z 7/12-7/13 24th Annual Interdisciplinary Stroke Course: Foundations for Stroke Recovery
This 24th annual interdisciplinary course will add new dimensions to the understanding and management of stroke by focusing on the latest research and clinical advances that have impacted treatment. In order to improve clinical practice, the course will link novel discoveries and practical applications. The keynote speaker will address the essential elements of interventions designed to reduce disability among individuals with impairments in executive function after stroke. The concept of neural priming, and current priming paradigms, their relevance to stroke neurorehabilitation and associated neural mechanisms will help the clinician focus treatment. Lectures on family perspectives will review the impact of the family on adaptation after stroke.  Clinicians will participate in selected self-study activities and workshops addressing gait training, management of behavioral issues, upper extremity assessment, interdisciplinary management of persons with right hemisphere stroke, and the impact of insurance on lengths of stay and therapeutic and equipment needs of persons with bilateral stroke.
Click Here for Complete Course Brochure and Faculty Info 

LOCATION:
Shirley Ryan AbilityLab, 355 E Erie St, Chicago, IL 60611
SUCCESSFUL COMPLETION:
Participants will complete 1 hour of self-study activities in advance of this two day in-person course (earning 1.0 contact hours + 13.5 contact hours= 14.5 contact hours). The self-study activity will consist of an on-line learning module covering high intensity treatment for patients with stroke. During the in-person portion of the course, participants must sign in each day and complete an online evaluation.
AUDIENCE:
This course is intended for Physical Therapists, Physical Therapist Assistants, Occupational Therapists, Occupational Therapy Assistants, Speech-Language Pathologists, Nurses
Workshop Options: You will register above for 4 workshops. Note: Several of these workshops have filled. Download course brochure to see the complete descriptions and schedule of these sessions:
Therapeutic Interdisciplinary Management of Persons with Right Hemisphere Stroke
Gait Training - filled
Effects of Insurance on Lengths of Stay and Implications for the Patients Rehabilitation and Discharge Placement
Behavioral Management in Patients with Stroke - filled
Therapeutic and Equipment Needs of Persons with Bilateral Stroke
Upper Extremity Assessment Tools

OBJECTIVES:
Upon completion of this course, participants will be able to: 
Discuss essential elements of interventions designed to reduced disability among individuals with impairments in executive function after stroke
Define the concept of neural priming, describe current priming paradigms, their relevance to stroke neurorehabilitation and associated neural mechanisms.
Summarize the challenges and positive and negative experiences of caregiving for persons with brain Injury
Apply interdisciplinary evidence-based interventions with patients with right hemisphere stroke
Summarize evidence for gait training after stroke and demonstrate strategies for implementation in the clinical setting
Identify ways insurance can potentially impact and change the length of stay
Discuss behavioral issues confronted by persons with stroke
Outline the essential therapy and equipment needs unique to persons with bilateral stroke
CONTINUING EDUCATION CREDIT
Occupational Therapy
The Shirley Ryan AbilityLab is an approved provider for the American Occupational Therapy Association to offer continuing education in occupational therapy. This intermediate level program awards occupational therapists 0.10 CEUs or 1.00 contact hours (pre-work) and 1.35 CEUs or 13.50 contact hours (live) for a total of 14.5 hours or 1.45. The assignment of AOTA CEUs does not imply endorsement of specific course content, products, or clinical procedures by AOTA.
AOTA Classification Code: Category 2: Occupational Therapy Process 
Physical Therapy
This course has been approved by the Illinois Physical Therapy Board for 14.50 Contact Hours (1.0.self-study & 13.5 live hours)
The Shirley Ryan AbilityLab is recognized by the New York State Education Department's State Board for Physical Therapy as an approved provider of physical therapy and physical therapist assistant continuing education. This three-day course has been approved for 14.50 Contact Hours (1.0 Hours Self-Study 13.5 Live).
Speech-Language Pathology
This course is offered for  1.45 ASHA CEUs (Intermediate level, Professional area).
Nursing
The Rehabilitation Institute of Chicago is an approved provider of continuing nursing education by the Ohio Nurses Association, an accredited approver by the American Nurses Credentialing Center's Commission on Accreditation. (OBN-001-91) (OH-362, 9/01/2017).
This CNE activity is being offered for 14.50 contact hours. 
HOTEL & PARKING INFORMATION
Rooms have been reserved at the Hyatt Centric Chicago Magnificent Mile, 633 N. Saint Clair Street, Chicago, IL 60611.
The Hyatt Centric Chicago Magnificent Mile is located 1½ blocks from the Shirley Ryan AbilityLab. Please contact their reservation agent from 9:00 am until 5:00 pm at (888) 591-1234 and ask for the Shirley Ryan AbilityLab Stroke Course room block or make your reservation online using this link: Click Here. The corporate rate is $189.00 for a Deluxe Guestroom (single or double occupancy) plus *17.4% tax. The daily rate for parking at the Hyatt Chicago is *$61.00/day. The corporate room rate will be available until June 11, 2018 or until the group block is sold out (whichever comes first).
The room block could reach its maximum before the above cut-off date. Rooms and rates revert to a space-available basis after the room block has reached its maximum or after the cut-off date.
*The rates for parking and taxes are subject to change without advanced notice.
Directions and Parking Details for the Shirley Ryan AbilityLab can be found: here
Collections
Nurses Occupational Therapists OTA and PTA Physical Therapists Speech Language Pathologists