Body
People with Parkinson's Disease (PD) may experience employment challenges due to motor and nonmotor symptoms. This funded study had led to the creation of a number of resources that we would like to share.
Body
Browse Resources for People with Parkinson's
Social Security - View resources to help navigate social security for people with Parkinson's
Disclosure - Disclosing one's diagnosis in the workplace for any condition is a sensitive matter. People with Parkinson's disease may not know how to disclose their diagnosis to their employer. View resources to help with disclosure.
Technology - People with Parkinson's disease may experience difficulty in using devices such as their mobile phone and computer to perform their work duties. Here are some resources in both English and Spanish to help make using technology (windows, macOS, Android, iOS) more accessible.
Team Roles - It can be difficult for people to identify how healthcare providers can address employment challenges in Parkinson's disease. Here are some resources in both English and Spanish that can help.
Employment Accommodations - People with Parkinson's disease should feel comfortable asking their employer for accommodations to aid their work performance. View resources to help navigate through topics surrounding accommodations.
Body
The PIECE study has started multiple resources for people with Parkinson's disease and one of them is the Parkinson's Works Support Group. This support group was created for people with Parkinson's disease who want to talk about employment. Recently, a support group member was interviewed by Shirley Ryan AbilityLab staff to create a podcast episode to provide their experiences with Parkinson's and employment. For information and to listen to the podcast interview, click here or on the image below. You may also find the support group flyer below the image.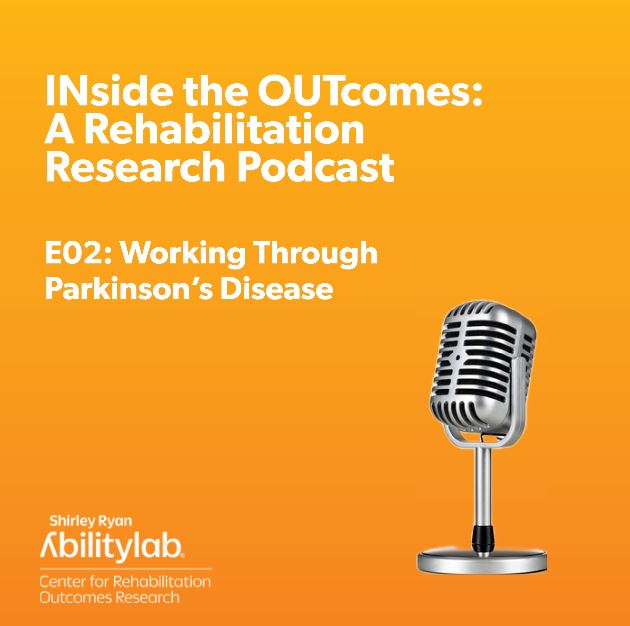 Body
Resources for Clinicians
Body
The following video was designed to help clinical teams for employment issues related to Parkinson's Disease.
Body
Resources for Researchers
Body
Summary
Body
This project will explore implementation processes and employment outcomes associated with early employment-related interventions for individuals with PD to help maintain employment at their desired level. Intervention may be delivered by various members of the interdisciplinary healthcare team for people with PD, including social workers, physical therapists, occupational therapists, speech therapists, or vocational rehabilitation clinicians. Vocational rehabilitation clinicians have specific training and experience to assist people with disabilities to identify and pursue their vocational/employment goals through vocational assessment, evaluation, and counseling regarding formal and informal job accommodations.
Optimal employment not only decreases individual and societal costs, but it is also associated with greater life satisfaction, quality of life, and health outcomes. PD is a model condition for degenerative disorders because it can affect many body systems, thus resources and processes developed for PD may benefit people with other progressive conditions, such as multiple sclerosis or osteoarthritis.
Body
Research Aims
Body
Aim 1: Evaluate and adapt employment retention resources for people with early PD and their interdisciplinary healthcare team.
Aim 2: Describe the implementation processes and core components of VR interventions with a focus on job retention in people with early PD.
Aim 3: Assess employment-related outcomes of a VR intervention for people with PD who were diagnosed in the past 5 years.
Body
Preliminary Results
Body
In Aim 1 of the study, we (1) reviewed existing resources related to PD and employment with input from clinical and community expert stakeholders, and (2) assessed the needs for improved resources and interventions for people with PD and their healthcare teams. Results of the resource review suggest there is a significant gap between the patient-facing online content and peer-reviewed literature on PD and employment. Our needs assessment suggests that people with PD have employment issues that are not being addressed, frequently because people do not know that there are professionals who can help. Individualized interventions would allow people with PD to access the information and support that they need when they need it.
A longitudinal observation study is underway for Aims 2&3. The clinical population is highlighted in the Financial Toxicity and Quality of Life Relationship poster below. In addition, a newsletter sent to research participants in December 2022 highlighting preliminary data can be found below as well.