Body
Your stroke specialist physician visits you on rounds each morning and meets with your clinical care team to review your progress and goals.
Your individual medical and rehabilitation treatment plan is led by your physician and developed by a highly collaborative, integrated team.
Your integrated team can include one or more physicians, therapists, a care manager, a psychologist, specialized stroke nurses and patient care technicians. Together they enable us to provide physical, cognitive and mental healthcare.
As a patient in the leading research-based rehabilitation hospital, you will have access to the latest research and clinical trials. Research-focused scientists, physicians and technologists are embedded into our clinical spaces. Together they conduct ongoing clinical studies to help increase the speed of recovery  and improve outcomes. You may qualify to participate in some of the studies that are focused on stroke while an inpatient or throughout your continuum of care (including DayRehab® and/or outpatient care).
More experience. More advanced training. Extensive credentials.
Body
50+ years of specialization in stroke rehabilitation.
Our level of stroke expertise draws more than 800 patients annually. It also enables us to care for all types of stroke, as well as stroke patients who are medically complex with multiple diagnoses.
All care teams are led by physicians who are board certified in physical medicine and rehabilitation and who have expertise in stroke care.
More than 50% of our therapists have advanced certification in their respective fields, e.g., physical (PT), occupational (OT), speech-language (SLP) and respiratory therapy (RT). This level of expertise is a highly unusual distinction for a rehabilitation hospital.
Your therapists will have specialized training in treating patients with stroke.
We have the only speech-language therapists in the state with advanced neurologic communication disorder certifications.
Our Nursing Team has achieved Magnet status 4X in a row, a distinction for nursing excellence held by only 2% of all U.S. hospitals. Our stroke nurses are specialists.
Our onsite Assistive Technology Center identifies or creates adaptive equipment that enables our stroke patients to use personal phones, laptops, tablets and other devices. Some options include voice-, eye- or breath-controlled devices.
Our onsite Wheelchair Seating & Positioning Center is staffed with licensed physical therapists, engineers and others trained in the science and art of customizing each wheelchair to meet individual needs.
An Adaptive Sports Program, including basketball, sled hockey, tennis, golf and many others.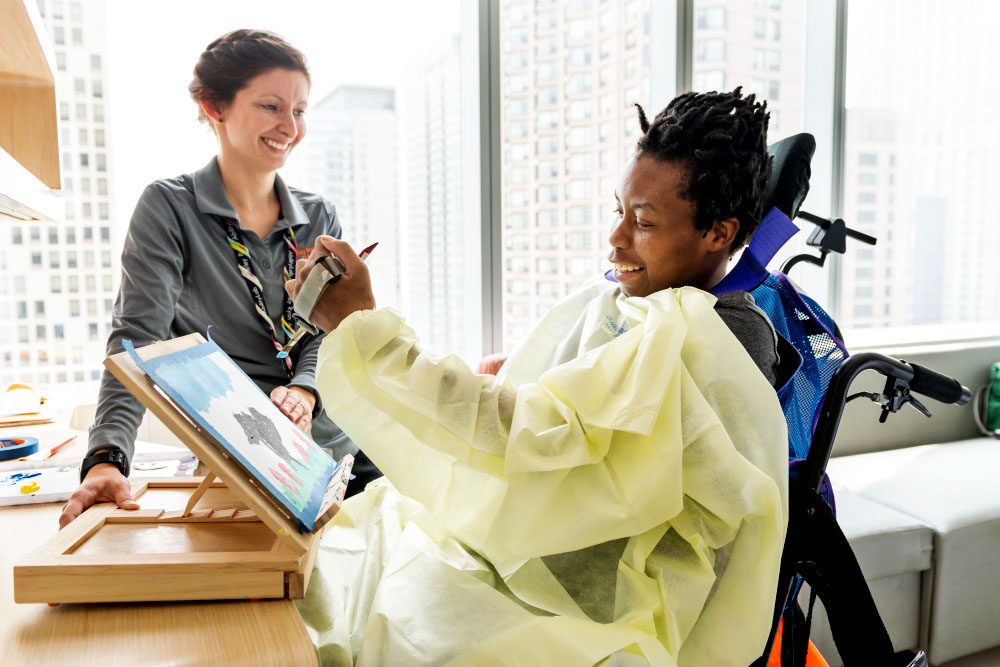 HOW WE HEAL
Your integrated team of physicians, nurses, therapists, researchers and case managers will make sure that your treatment plan is tailored to you and your goals. 
Tackle therapy in our first-ever Ability Labs.
Body
Your therapy will be intensive — but always aligned with your level of healing, as determined by your doctor. Typically, stroke inpatients will participate in different types of therapy for 3 hours a day/5 days a week. Types of therapy may include physical therapy, occupational therapy, speech-language therapy and/or respiratory therapy.
You will work with your therapists in our one-of-a-kind Ability Labs that specialize in areas of function important to our patients: (Arms + Hands Lab, Legs + Walking Lab, Strength + Endurance Lab, Think + Speak Lab, Pediatric Lab).
These uniquely open and lively areas are equipped with state-of-the-art tools, devices and machines — some invented by our scientists and doctors — coupled with floor-to-ceiling windows. The light-filled Ability Labs are energizing and motivating. High-tech equipment used by patients with stroke include these examples, among many others:
Exoskeletons
A Lokomat® and similar devices
Body-weight-supported treadmills
Stair-climbing harness system; our design and engineering, one of a kind, covers entire perimeter of Strength + Endurance Lab
Overhead-harness walking track
Functional Electrical Stimulation for arms, legs and swallowing
Arm-training devices and technology
Equally inspiring, these open spaces foster a sense of community with other patients and our staff — a sense that we're all in this journey together! (Per COVID protocols, at this time, patients do not work in theses open spaces.)
Each Ability Lab is adjacent to a specially configured room for working with your occupational therapist (OT) on Activities of Daily Living (ADLs). An ADL room is equipped with a kitchen, bathroom, bedroom and laundry room to help you practice in an in-home environment.
AQUATIC THERAPY
Our in-hospital Aquatic Center offers a therapeutically heated 33' x 22' pool. Because of the specific properties of water, aquatic therapy increases the speed of healing and improves outcomes. Increased buoyancy, resistance and hydrostatic pressure decrease pressure on joints, making it possible to "unweight" your body.
Warmth and increased motion lead to increased muscle activity, which in turn improves circulation and decreases inflammation and pain. Patients with spinal cord injury, stroke or neuro-musculoskeletal conditions are among the many who benefit greatly from aquatic therapy.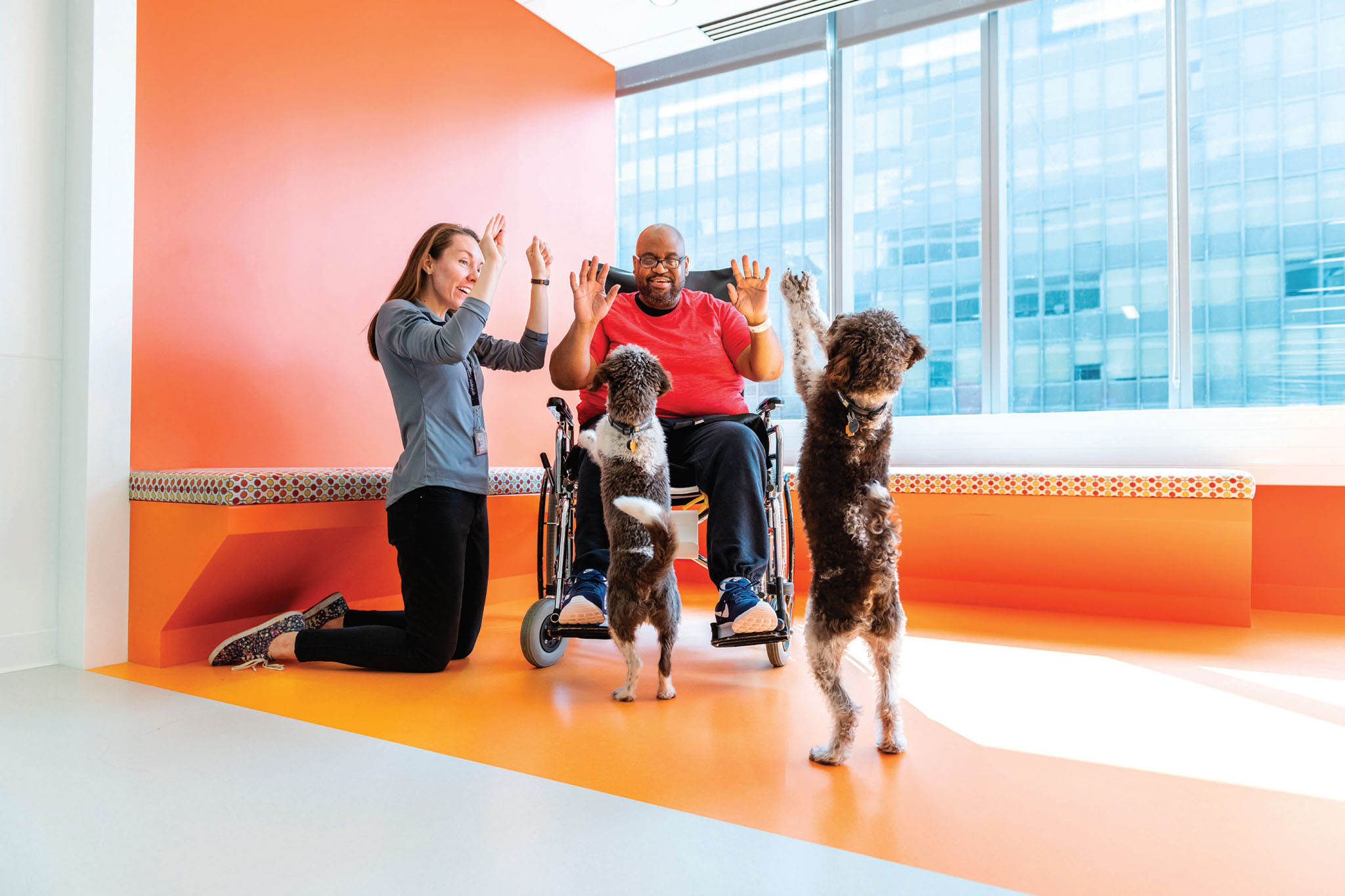 MUSIC, ART & PET THERAPY
Healing begins from within. Creative energy restores and refreshes, as does cuddling with one of our therapy dogs, Wrigley or Louis. We offer these fun, optional therapies to all. Each type of therapy is led by licensed clinicians in each discipline.
REST & RECOVERY
After a long day of therapy, your room is your personal space to rest, reconnect with yourself, family and friends — to recover. All rooms for patients with stroke:
Are private
Include an overheard lift to maximize stroke patient safety
Feature extra-large bathrooms with accessible showers
Are equipped with voice-controlled, patient-staff communication devices
Feature voice-controlled room temperature and window shades