Body
Your brain-injury specialized physician will do rounds each morning and huddle with your entire clinical care team to review your progress and goals.
Your individual treatment plan is led by your physician and developed by a highly collaborative, integrated team.
Your team frequently includes one or more physicians; therapists, a care manager, a psychologist, specialized brain-injury nurses, patient care technicians, pharmacists and dieticians. Together they enable us to provide you with physical, cognitive and mental healthcare.
As a patient in the leading combined research and clinical care rehabilitation hospital, you will have access to many of the latest research and clinical trials. Research-focused scientists, physicians, nurses, therapists and technologists work in our integrated clinical-research areas. Together, they conduct ongoing clinical studies to help increase the speed of recovery and improve outcomes. You may qualify to participate in some of the studies focused on brain injury while an inpatient or throughout your continuum of care (including DayRehab® and/or outpatient care).
More experience. More advanced training. Extensive credentials.
Body
50+ years of specialization in brain injury rehabilitation.
Our level of brain injury expertise draws more than 1000 patients a year. It also enables us to care for patients with traumatic and non-traumatic brain injuries, across the full spectrum of severity — from concussion to patients in severe disorders of consciousness.
All care teams are led by brain-injury specialist, board-certified physicians.
More than 50% of our therapists have advanced certification in their respective fields, e.g., physical (PT), occupational (OT), speech-language (SLP) and respiratory therapy (RT). This level of expertise is a highly unusual distinction for a rehabilitation hospital.
Your therapists will have specialized training in treating patients with brain injuries.
We have the only speech-language therapists in the state with advanced neurologic communication disorder certifications.
Our Nursing Team has achieved Magnet status 4 times in a row, a distinction for nursing excellence held by only 2% of all U.S. hospitals. Our brain injury nurses are specialists.
Our state-of-the-art Snoezelen Multisensory Room offers one of rehabilitation's most unique and customizable experiences. This high-tech lab integrates light, sound, touch and movement therapies for patients with brain injuries that range from the minimally conscious state to those with behavior regulation disorders.
Our onsite Assistive Technology Center identifies or creates adaptive equipment that enables our patients with brain injury to use personal phones, laptops, tablets and other devices. Some options include voice-, eye- or breath-controlled devices.
Our onsite Wheelchair Seating & Positioning Center is staffed with specialist physical therapists, engineers and others trained in the science and art of customizing each wheelchair to meet individual needs.
An Adaptive Sports Program, including basketball, sled hockey, tennis, golf and many others.
Tackle therapy in our first-ever Ability Labs
Body
Your therapy will be intensive — but always aligned with your level of healing, as determined by your doctor. Typically, brain injury inpatients will participate in different types of therapy for 3 hours a day/5 days a week. Types of therapy may include physical therapy, occupational therapy, speech-language therapy and/or respiratory therapy).
The Think + Speak Lab Ability Lab is dedicated to recovery of patients with the most severe conditions affecting the fundamental functions of the human brain — arousal, lucidity, awareness, sensory perception, motivation, information-processing and thinking, communication, memory and learning. This specialty Ability Lab is equipped with advanced computers and unique, "smart" thinking-speaking software and equipment. Many of these tools have been developed by our own speech-language research scientists and clinicians.
Our unique Lab's open internal spaces and stunning views of Lake Michigan and Downtown Chicago foster a sense of community with other patients and our staff — a sense that we're all in this together. This unique setting provides a rare and vibrant connection to the outside world during your journey to recovery.
The Think + Speak Ability Lab is adjacent to a specially configured room for working with your occupational therapist (OT) on Activities of Daily Living (ADLs). An ADL room is equipped with a kitchen, bathroom, bedroom and laundry room to help you practice new skills in an in-home environment.
AQUATIC THERAPY
Our in-hospital Aquatic Center offers a therapeutically heated 33' x 22' pool. Aquatic therapy can increase the speed of healing and improve outcomes. The buoyancy, resistance and hydrostatic pressure decrease pressure on joints, making it possible to "unweight" your body. The warmth and increased muscle activity improves circulation and decreases inflammation and pain. Patients with spinal cord injury, stroke, neuromusculoskeletal conditions, and some with brain injury are among the many who benefit greatly from aquatic therapy.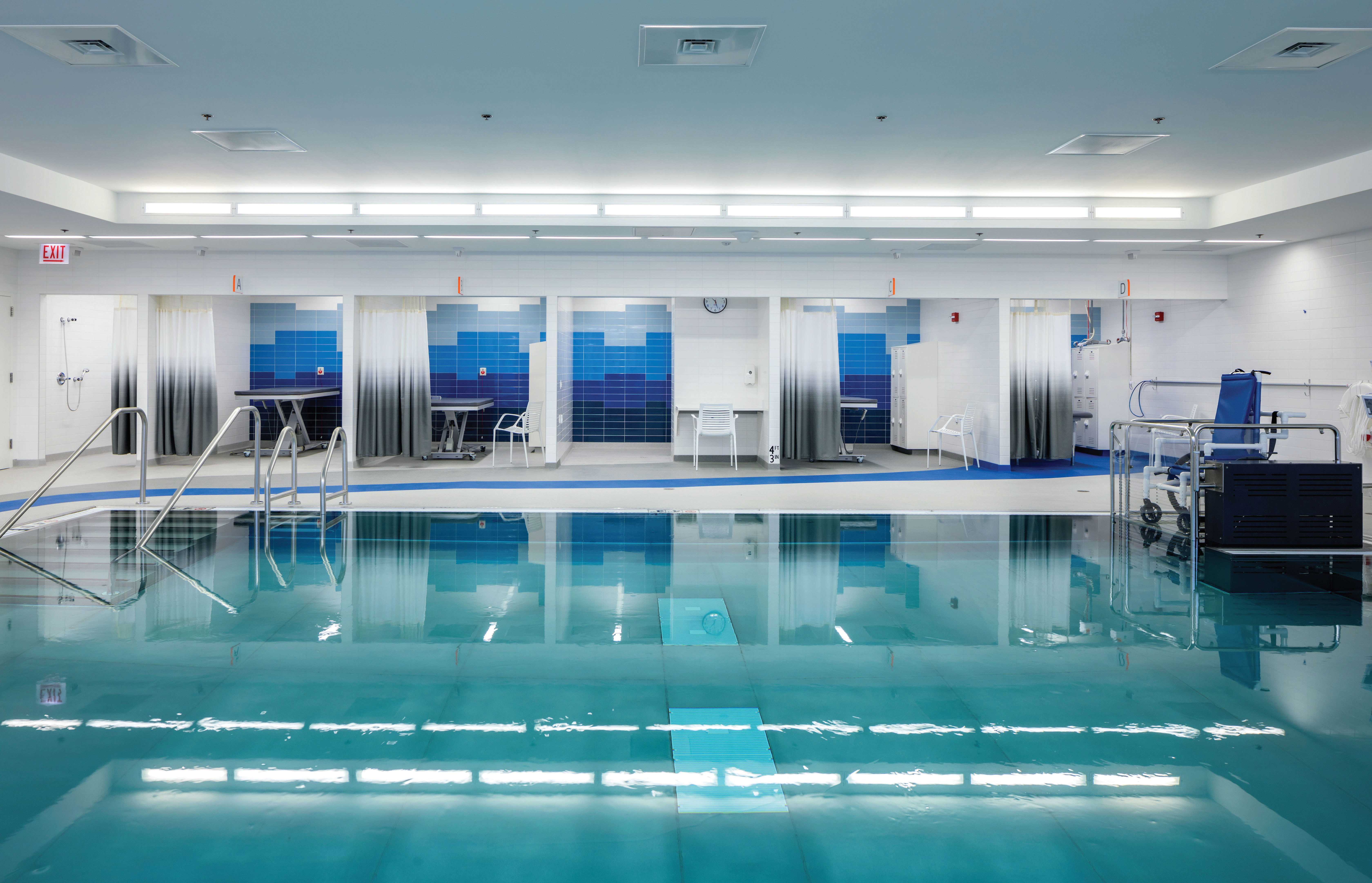 MUSIC, ART & PET THERAPY
Healing begins from within. Creative energy restores and refreshes, as does cuddling with one of our therapy dogs, Wrigley or Louis. We offer these fun, optional therapies to all. Each type of therapy is led by licensed clinicians in each discipline.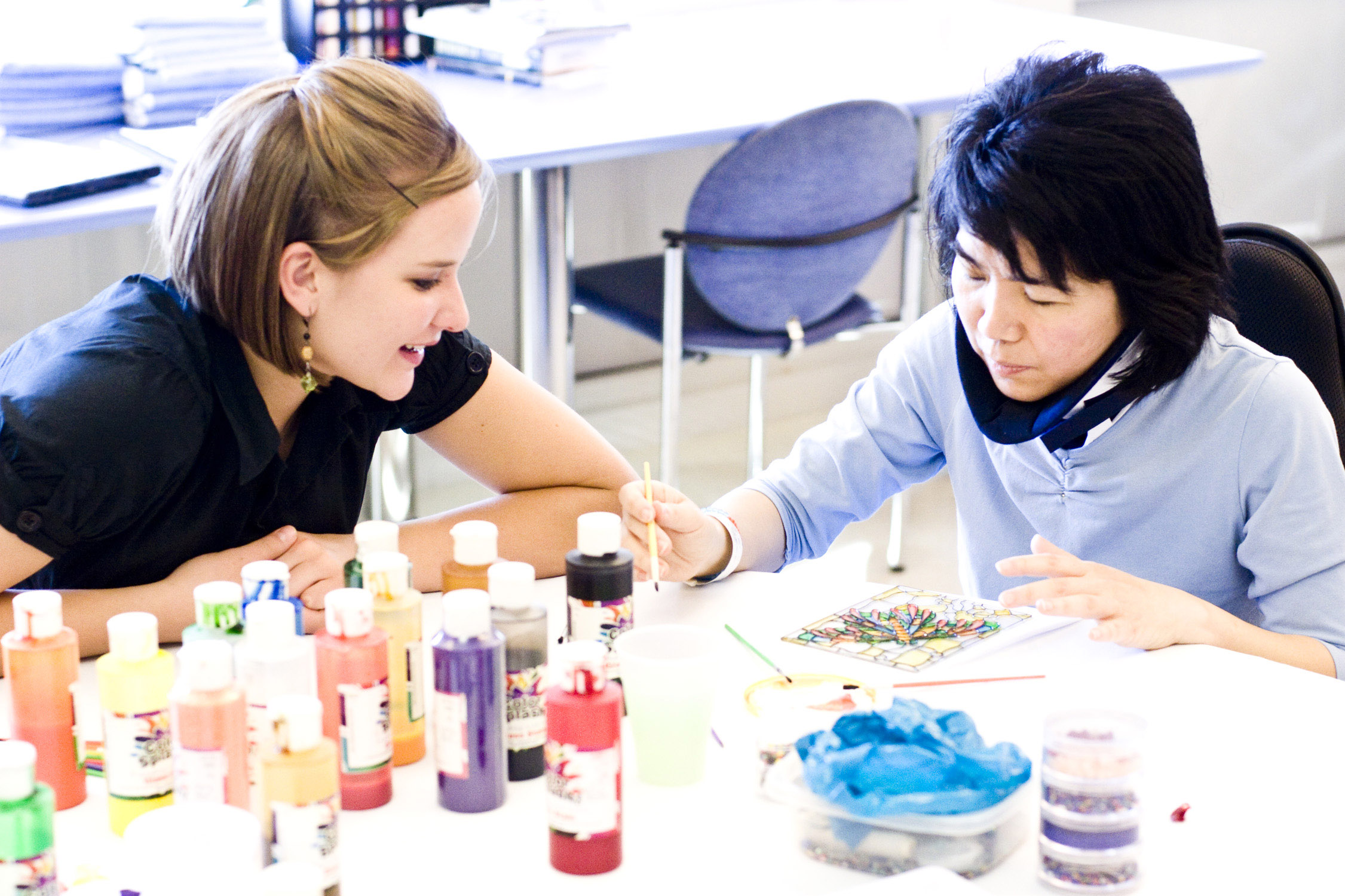 REST & RECOVERY
After a long day of therapy, your room is your personal space to rest, reconnect with yourself, family and friends — to recover. All rooms for patients with a brain injury:
Are private
Include an overhead lift to maximize brain injury patient safety
Feature extra-large bathrooms with accessible showers
Are equipped with voice-controlled, patient-staff communication devices
Feature voice-controlled room temperature and window shades
Offer a sofa that converts to a bed for overnight guests