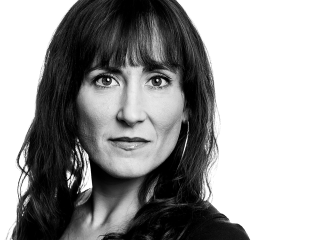 Brenna Argall, PhD
Director, argallab
Associate Professor, Departments of Computer Science, Mechanical Engineering, and Physical Medicine and Rehabilitation, Northwestern University

Interested in this profile?
About Me
Brenna Argall, PhD, is a research scientist and Director of the argallab at Shirley Ryan AbilityLab. Her research — at the intersection of artificial intelligence, machine learning and rehabilitation robotics — advances human ability by incorporating robotic autonomy and intelligence into assistive devices.
People with the most severe motor impairments, who would likely benefit most from using an assistive device, are often physically unable to operate the devices that could improve their quality of life. One solution is to off-load the burden of operating an assistive device to a robotic control system, so that the device and its user can share control of the device.
The robot can be customized to accommodate the user's physical abilities, personal preferences or even financial means — and the balance of control can be shifted to accommodate changes in the user's abilities during recovery. The ability of robots to sense, act in and reason about the world can be leveraged to help bridge the gap left by sensory, motor or cognitive impairments in people who use assistive machines. The argallab works with several hardware platforms, including a smart wheelchair and assistive robotic arms, for which they design the autonomy software and integrate custom sensor and interface add-ons.
In 2016, Dr. Argall was a recipient of the National Science Foundation CAREER award — a prestigious award given to early-career faculty who have the potential to serve as role models in research and education and to advance the mission of their organizations.  Also in 2016, she was named one of the "40 under 40" by Crain's Chicago Business.
Dr. Argall is an Associate Professor in the Departments of Computer Science, Mechanical Engineering and Physical Medicine and Rehabilitation at Northwestern University. She is also affiliated with the Center for Robotics and Biosystems and is a faculty advisor for the Master of Science in Robotics program, both at Northwestern University.
She completed her BS in Mathematical Sciences, with minors in Music and Biological Sciences, in 2002, and her PhD in Robotics in 2009 at Carnegie Mellon University in Pittsburgh, Pa. She completed a post-doctoral fellowship (2009-2011) in Robot Learning at the École Polytechnique Federale de Lausanne (EPFL), Switzerland.
Location
Shirley Ryan AbilityLab
355 East Erie
Chicago, IL 60611
Honors & Awards
Faculty Early CAREER Award

National Science Foundation, 2016

40 under 40

Crain's Chicago Business, 2016

June and Donald Brewer Junior Professor of Electrical Engineering and Computer Science

Northwestern University, 2011
Professional Affiliations
Member

Institute of Electrical and Electronics Engineers (IEEE), 2007

Member

Robotics and Automation Society (RAS), 2010

Member

Association for the Advancement of Artificial Intelligence (AAAI), 2012

Trustee

Chicago Ideas Brain Trust, 2017 - 2018
Research Interests
Robotics Autonomy

Assistive and Rehabilitation Robots

Machine Learning and Artificial Intelligence

Shared Control between Humans and Robots
Selected Grants
National Science Foundation (Robust Intelligence)

1552706, 2016 - 2021

Office of Naval Research

N00014-16-1-2247, 2016 - 2020

National Institutes of Health (NICHD)

R43-HD085317, 2016 - 2017

National Science Foundation (Cyber-Physical Systems)

15544741, 2015 - 2018
National Institutes of Health (NIBIB/NICHD)

R01-EB019335, 2014 - 2017

National Science Foundation (Cyber-Physical Systems)

1329891, 2013 - 2017

National Science Foundation

1229566, 2012 - 2016
My Lab
We incorporate robotics autonomy and intelligence into assistive machines to support people with motor impairments.
view lab