Explore Upper Limb Exercise Opportunities After Neurological Condition or Impairment
Body
The Community of Hand Ability Training (CHAT) Program is a FREE program offered by the Perez Lab Team in the Arms & Hands Lab. It is a fun, community-oriented group program that explores the use of games, upper body exercises, and cutting edge robotics for anyone with a neurological condition that affects hand and upper limb function. This program is not considered therapy, however it gives individuals a free and accessible opportunity to continue practicing their upper body mobility and strength post-injury. Started in October 2019, the program soon had to transition to online Zoom due to the COVID-19 pandemic. 
Now, we are excited to be back in person!
Exercises that we focus on
Body
Pinching:
Using two or three fingers to open clips, moving pegs into elevated surfaces, moving ball bearings out of putty, are some examples of pinching exercises that we do!
Grasping: 
Using your whole hand to open jars, containers, grasp large or heavy objects, ripping apart lego towers, give your whole hand a workout!
Dexterity:
Fine motor movements requiring a high level of control and finesse. Games such as Kerplunk, Perfection, Operation, Battleship offer a challenge for all!
ABOUT
Body
Hours: 
Monday - Friday
Sessions: 9:30-11 AM, 1:30-3 PM, and 3-4 PM
Location:
22nd floor Arms & Hands Lab
Shirley Ryan AbilityLab
355 E Erie St
Chicago, IL 60611
How do I join? 
If you are interested in participating, please contact Meghan Morrow at mmorrow02@sralab.org or 312-238-7794.
ELIGIBILITY
Body
Individuals with neurological conditions such as spinal cord injury or stroke
≥ 6 months post-injury
Ages 18-80
All levels of hand function are welcome to participate!
ROBOTICS
Body
BURT Hand Training Robot:
The BURT is an FDA-Approved neurorehabilitation device that is designed to enhance plasticity for those affected with stroke, traumatic brain injury, spinal cord injury and anyone with a neurological condition affecting the function of their upper limbs.
​The Shirley Ryan Ability Lab (The nation's #1 rehab hospital) and Spaulding Rehabilitation Hospital (#2) are both running clinical trials on the efficacy of BURT.
​For more information check out its website here.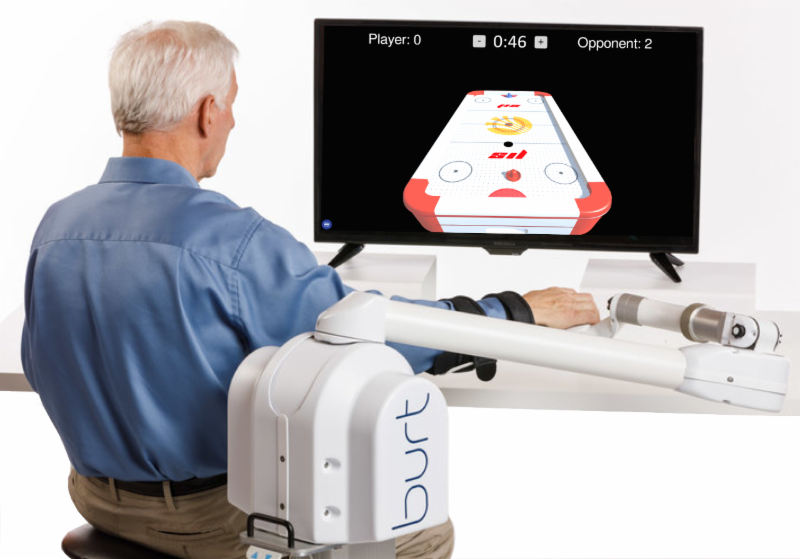 Looking Glass:
The Looking Glass is a novel therapeutic robotics device intended to enhance elbow and shoulder mobility. It includes interactive 3-Dimensional games with sensors and augmented reality. This is an exclusive piece of technology to the Arms & Hands Lab and for the CHAT Program.