Body
We asked two of our staff members to share their experiences in working with survivors of COVID-19 on our 20th-floor COVID Care Unit.
Here's a Q&A with Speech-Language Pathologist, Kathleen Webler and Registered Nurse, Valerie Torresbertoni.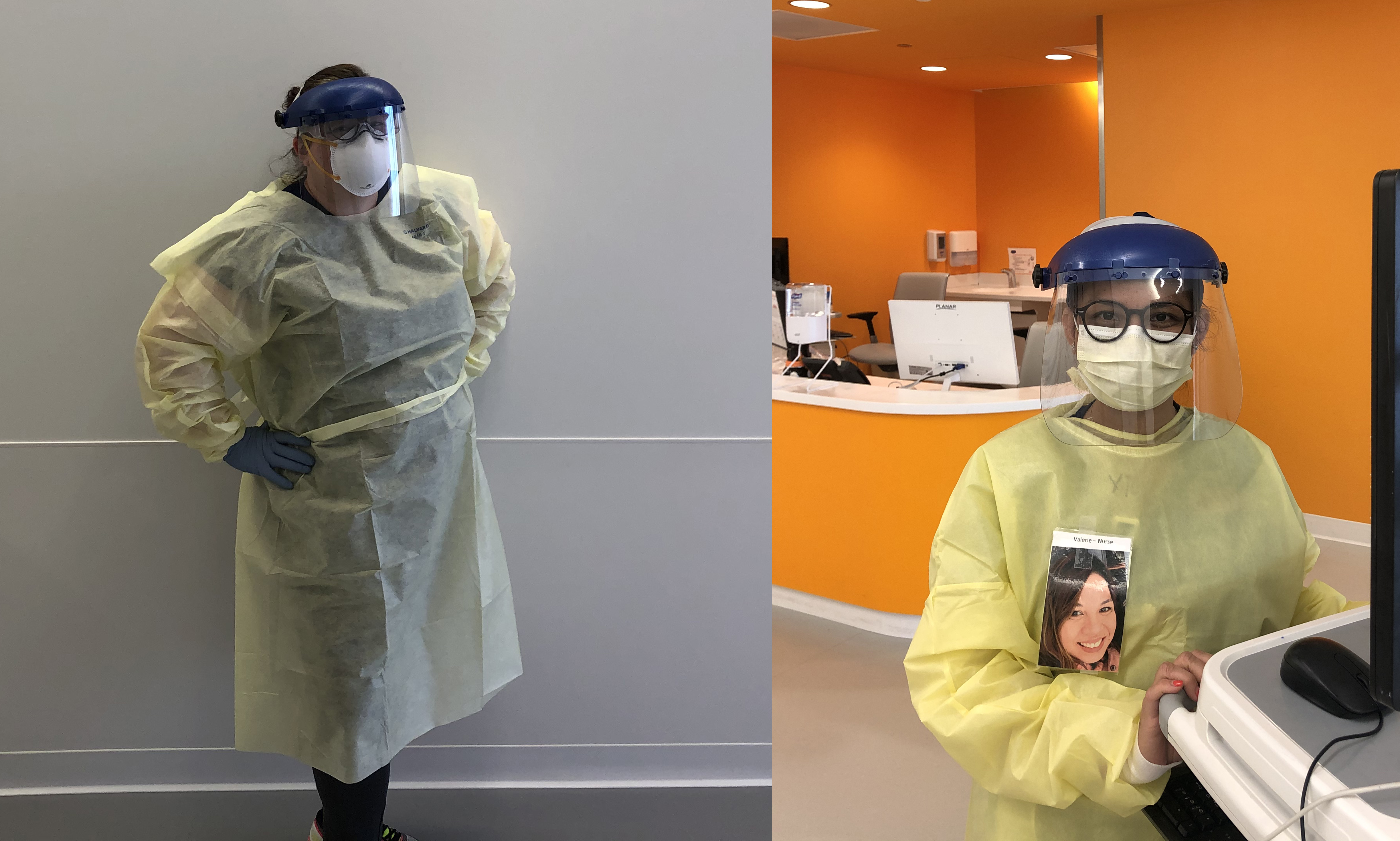 What role do you have on the COVID Care Unit?
Kathleen: I am a Speech-Language Pathologist (SLP). With COVID-19 patients specifically, I am helping patients regain their swallow function so that they can eat and drink their preferred diet.
Valerie: I am a Registered Nurse on the COVID Care Unit, but I have been part of the 20th floor team for seven years!
Why did you decide to work on the COVID Care Unit?
Valerie: I wanted to do my part during this pandemic. I love caring for those in need, and currently there is a big need for rehabilitation in patients recovering from COVID-19. So, I was — and still am — happy to care for them the best I can.
Kathleen: It all happened so quickly, I had little time to process the change. However, after talking with my husband and discussing how it could potentially affect us as a family, I decided to continue my role on the unit. There was a lot of fear at first, and I took measures to feel safer. Slowly those changes have become routine. Now I don't even think twice when I am wiping my water bottle before bringing it into the house, spraying my phone with alcohol or wearing scrubs daily.
What is one thing you've learned while working with COVID-19 survivors?
Kathleen: I am learning something every day that I set foot on the unit. What has struck me is that consistency with each patient has nothing to do with clinical presentation and everything to do with the human spirit. Because of the strict visitor restrictions in place, many patients haven't seen their family or friends in more than a month. Our patients are yearning for connection. As we spend more time with each patient and learn about their likes, dislikes, life passions and goals, that connection is formed with us as staff. We slowly become their family while they are inpatients, and we can fill in that gap temporarily. 
Valerie: I have learned that these patients are so motivated. They have gone through so much, and just never stop fighting. They have been without visitors for months, yet they are so driven to get home and see their loved ones. It is so inspiring to see these patients keep fighting when it would be so easy to give up.
What has most surprised you the most in working on the COVID Care Unit?
Valerie: I am most surprised by how quickly things are evolving. We started with a small unit and, as need for our services grew, so has our entire unit. This expansion means wearing PPE at all times and adapting to many changes, but we've really come together to be there for our patients.
Kathleen: I think I am most surprised by how many different types of PPE there are. There are gowns with cuffs, some are lightweight, some heavier, some have side waist ties, some have tape at the neck. I never thought I would develop a preference for PPE, but now I can have a whole conversation about PPE gown preference (something I never thought I would do!).
What is the most rewarding part of working on the COVID Care Unit?
Kathleen: I am proud to work at Shirley Ryan AbilityLab serving this unique patient population. Because COVID-19 is a brand new diagnosis, we invested time into developing the most appropriate clinical evaluation and intervention with this patient population. We integrated research with clinical practice to have the most evidence-based practice to support the rehabilitation of these patients, and I'm proud to be part of it. 
Valerie: I have always been proud to work at Shirley Ryan AbilityLab, but now that the hospital has stepped up and taken patients recovering from COVID-19, it makes me even prouder to work at such an amazing hospital that cares for all populations who need us.
Our entire team on the COVID Care Unit was recently featured in Crain's Chicago Business  "Notable Health Care Heroes" for providing rehabilitation care to recovering patients, deploying wearable sensors to track symptoms, coordinating discharges and preparing patients to return to their homes and communities. We thank and praise these heroes for their skill, courage and commitment to helping people.
We are proud of these individuals and teams serving on the front lines of the fight against COVID-19. To support their work, we encourage you to make a gift today.
In case you missed it, take a look at "Behind the PPE" — a Q&A with the COVID Care Unit Attending Physician Dr. Leslie Rydberg and another unit staff member, Kathy Brown.