Body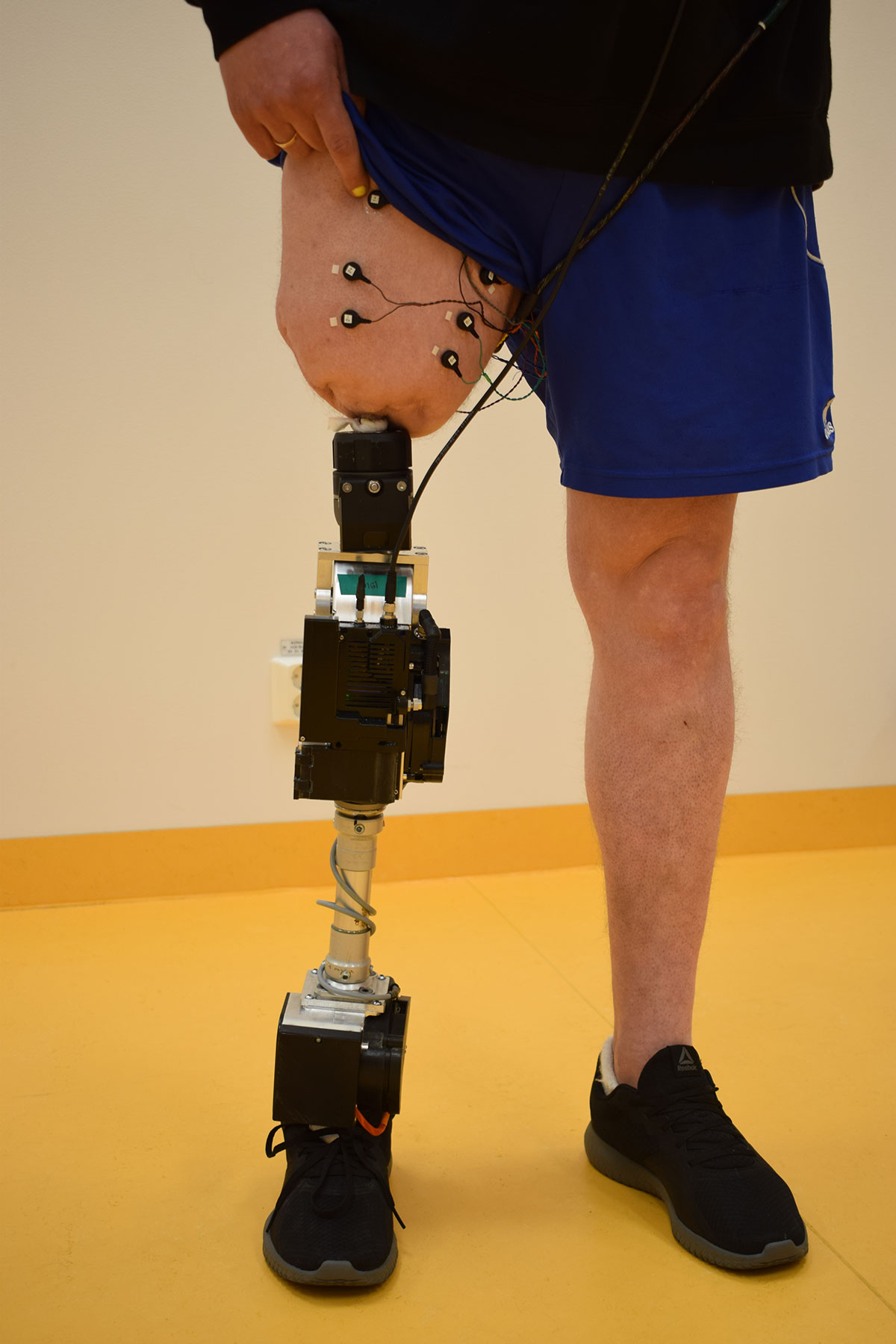 Today, millions of individuals across the world live with limb loss, including thousands of combat-injured service men and women. Although significant progress has been made in the durability, control and function of prosthetic devices, they lack complete integration into the body.
Now, with the award of a $1.5 million grant from the Department of Defense Congressionally Directed Medical Research Program (CDMRP), Shirley Ryan AbilityLab — the top-ranked physical medicine and rehabilitation hospital — and its research partners have an opportunity to significantly advance the field of bionics by applying osseointegration in a novel manner.
Osseointegration is a technique whereby a metal implant is surgically attached to person's residual bone. The implant then becomes an integrated extension of the body — providing a direct attachment between the bionic and residual limb, without need for a prosthesis socket which can be uncomfortable to wear. The study is the first to combine osseointegration, targeted muscle reinnervation (TMR) and pattern-recognition control to operate a fully powered bionic leg prosthesis.
"It's this combination of technologies that makes the device ultra-novel, advanced and intuitive," said Levi Hargrove, the study's lead researcher and director of the Regenstein Center for Bionic Medicine at Shirley Ryan AbilityLab. "We hope that it will enable the bionic limb to feel light, comfortable and to offer unprecedented control for the user. This study builds on decades of our research leadership in bionics and marks a significant step forward in the field of osseointegrated bionic legs."
Four Years to Unlock the Future of Bionics
As part of the study, Shirley Ryan AbilityLab is partnering with Integrum, a Swedish company that invented the osseointegration technique, and Northwestern Medicine, which will implant the device and perform targeted muscle reinnervation (TMR) surgery on eight research subjects. Additionally, the study builds on existing collaborations with researchers at Chalmers University of Technology in Sweden.
TMR is a revolutionary surgical technique — that was developed by collaborators at Northwestern Medicine and Shirley Ryan AbilityLab — to allow those with amputations control of bionic prostheses. Following the surgeries, the research team will lead clinical trials to evaluate the comfort and function of the osseointegrated bionic legs in comparison to socket-based technologies.
"We are very excited to embark on this opportunity with our partners in Chicago, and hope that this is just the beginning of more extensive collaborations," said Rickard Branemark, CEO and founder of Integrum AB. 
About Shirley Ryan AbilityLab
Shirley Ryan AbilityLab, formerly the Rehabilitation Institute of Chicago (RIC), is the global leader in physical medicine and rehabilitation for adults and children with the most severe, complex conditions — from traumatic brain and spinal cord injury to stroke, amputation and cancer-related impairment. The organization expands and accelerates leadership in the field that began at RIC in 1953. The quality of its care has led to the designation of "No. 1 Rehabilitation Hospital in America" by U.S. News & World Report every year since 1991. Upon opening in March 2017, the $550 million, 1.2-million-square-foot Shirley Ryan AbilityLab became the first-ever "translational" research hospital in which clinicians, scientists, innovators and technologists work together in the same space, surrounding patients, discovering new approaches and applying (or "translating") research real time. This unique model enables patients to have 24/7 access to the brightest minds, the latest research and the best opportunity for recovery. Shirley Ryan AbilityLab is a 501 (c)(3) nonprofit organization. For more information, go to www.sralab.org. 
About Integrum
Integrum AB is a publicly traded company (INTEG B: Nasdaq First North Growth Market) based outside of Gothenburg, Sweden, with a U.S. subsidiary in San Francisco, CA. Since 1990, osseointegration, the science behind the OPRA™ Implant System, has been helping individuals with amputations enjoy a dramatically improved quality of life. Thorough surgical experience gained over more than three decades, from more than 500 surgeries, in 14 countries, has led to the development of Integrum's system for bone-anchored prostheses — a vastly superior alternative to the traditionally used socket prosthesis. For more information, please visit www.integrum.se.