Body
At the Association of Rehabilitation Nurses' (ARN) REACH 2018 conference in West Palm Beach, Fla., Shirley Ryan AbilityLab nurses participated in and led several presentations — and collected one big award.
Posters, Case Studies and Discussions
Body

Body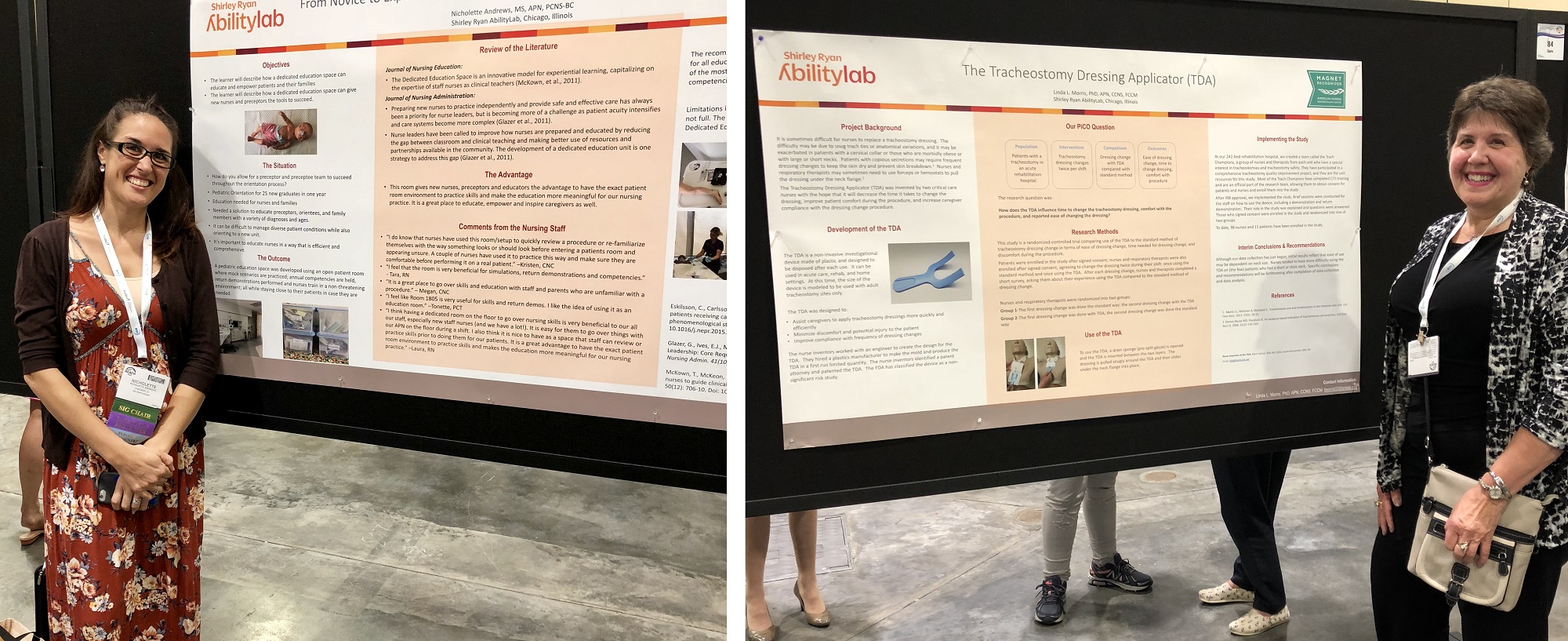 Body
Shirley Ryan AbililtyLab nurses who participated in ARN activities included:
Dawn Walters (in a collaboration with Ann Bines and Margaret Lesiak) presented a poster that addressed the difficulties in transitioning patients from acute inpatient rehabilitation to day rehabilitation, and investigated the creation of a tool that would ease that transition.
Linda Morris presented a poster that compared a new tracheostomy dressing device to the standard method, and participated in a pair of discussions ("Body Image Perception After Tracheostomy" and "Patient Advice Regarding Tracheostomies").
Nicholette Andrews participated in a case study presentation on using high-fidelity simulators to educate clinicians about what to do in pediatric emergency situations; a poster on precepting new graduates in an acute rehabilitation setting; and led the Pediatric Special Interest Group group discussion on current issues in pediatric rehabilitation and collaboration between hospitals.
Antonette Sanchez's presention focused on the 25th Floor's collaboration to address the needs of a dual-diagnosis spinal cord/TBI patient.
Sarah McCarter presented a poster — highlighting a collaboration between the 19th and 20th floors — regarding experience enhancements for patients who have ventricular assistive devices.
Anne Deutsch Receives Researcher Award
Body
Anne Deutsch, RN, PhD, received the 2018 ARN Doctoral-Prepared Researcher Role Award — which ARN states is a recognition of those who "actively participate in research; serve as mentors for new and potential researchers; or support research in the field through active involvement in professional organizations."
Body
In her career, Anne has embraced all three of these roles. She started as a staff nurse in rehabilitation at a hospital in Cincinnati, then entered a master's degree program in adult health nursing in Buffalo, N.Y., hoping to go into teaching. While in that master's program, Anne got her first taste of research.
"That really broadened my perspective," she said.
She decided to continue her schooling and earned a PhD in epidemiology. She moved to Chicago and started a post-doctoral fellowship in health policy at Northwestern University. After completing the fellowship in 2005, Anne's mentor, Allen Heinemann, PhD, director, Center for Rehabilitation Outcomes Research, offered her a research position.
Today, Anne is affiliated with the Model Systems Spinal Cord Injury Project and the National Quality Forum. Her research centers on measuring quality of care and translating data into tools that can be understood by patients and their families.
In addition, she has been a member of ARN since 1987, including serving as chair of the organization's research and funding committees. In these roles, Anne guides the future of research nurses by deciding which topics and applicants receive funding.
Though she no longer sees patients on a regular basis, Anne says her nursing background always informs her work.
"As a nurse, I want to do research that makes a difference," she said. "I consider myself an 'applied researcher.' I like do things that can be used fairly soon."