Body
Osteoarthritis (OA), which causes swelling, pain and difficulty moving joints, is one of the leading causes of disability —  affecting 27 million Americans over age 25 — and has no universally effective therapy. The journal Aging and Disease recently published a paper by Shirley Ryan AbilityLab researchers investigating a new treatment of OA using systemically delivered cell therapy.
In fact, a diagram from the research was used as cover art of the journal's print edition for June 2021.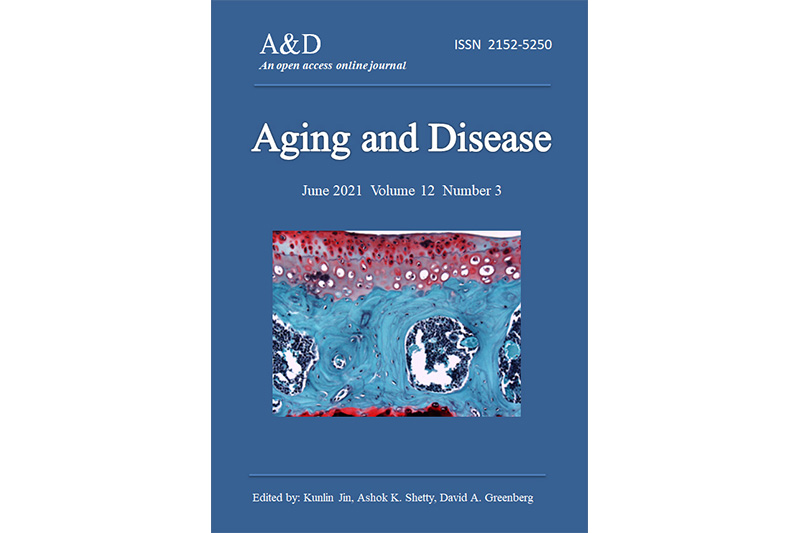 For the study — authored by Shirley Ryan AbilityLab's Seth Thompson, BS, graduate student; Rajeswari Pichika, PhD, research associate; Richard Lieber, PhD, chief scientific officer and senior vice president; and Mitra Lavasani, PhD, director, Translational Cell Therapy Lab — cells that were isolated from young mice were transplanted systemically into old mice.
Body
Unlike typical treatments for OA using stem cells, this study did not use local injection. Instead, the injection was intraperitoneal, a novel approach in which the cells were injected into the abdominal cavity — far from the affected cartilage — and allowed to circulate systemically. The intervention reduced inflammation in older mice's knees and increased genes responsible for cartilage health and rejuvenation.
"This research represents a huge leap forward compared to current clinically available treatments and will be a therapy we continue to work on translating for human use in the future," said Dr. Lavasani. "Our findings add to the range of aged tissues we have shown are responsive to this systemic rejuvenation therapy, including muscle and nerve."
In 2020, this research won first place in Shirley Ryan AbilityLab's Sarah Baskin Awards for Research Excellence's Junior Physicians and Scientists category.
This project builds on groundbreaking research by Dr. Lavasani that was published in Nature Communications in 2012. That research showed that transplantation of unique multipotent adult stem cells, isolated from young skeletal muscle, tripled the lifespan and "healthspan" (defined as the functional, disease-free period of life) of aged mice. For the first time, the "aging clock" not only was slowed, but was actually reversed.