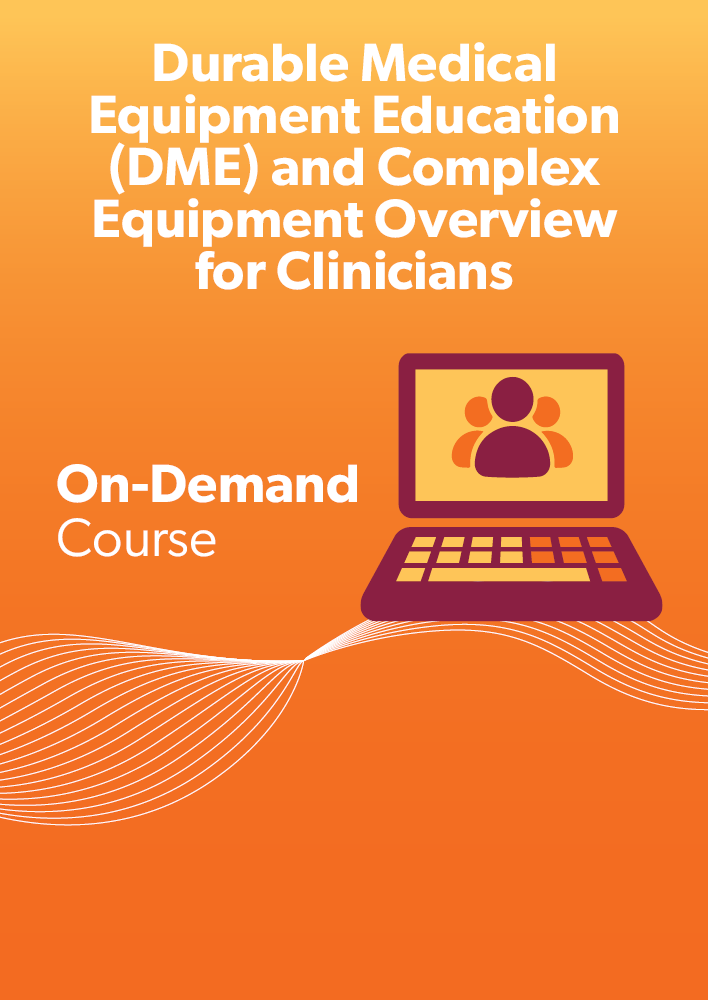 Durable Medical Equipment Education (DME) and Complex Equipment Overview for Clinicians
Description: This self-paced, on-demand course, "Durable Medical Equipment Education (DME) and Complex Equipment Overview for Clinicians", introduces the process for occupational therapists (OTs) and physical therapists (PTs) to order durable medical equipment (DME) (e.g., walkers, basic wheelchairs, commodes, hospital beds, and hydraulic lifts.) Equipment ordering requires extensive knowledge in documentation, justification, the ordering process, and insurance guidelines for DME coverage. This training program is intended for OTs, PTs, and SLPs to raise clinician's ability to educate their patients on equipment coverage and medical necessity and properly order equipment items as appropriate.
Learner Outcomes: After completion of of these modules the learner should be able to: 
Module 1: Getting to Know the DME Process Introduction
Establish a working knowledge of durable medical equipment, complex rehabilitation technology, and the process to procure both as well as identify the key stakeholders involved in obtaining this equipment.
Demonstrate appropriate application of medical justification, documentation requirements and insurance guidelines to facilitate ordering of durable medical equipment and complex rehabilitation technology for patients.
Module 2 Durable Medical Equipment Conversations
Examine appropriate equipment recommendations with patients and their family to improve functional mobility.
Apply scripting to improve ability to have challenging equipment discussions with patients and their family members.
Module 3 Wheelchairs
Discuss the seven types of manual and three groups of power wheelchairs available for patients, and identify the wheelchair parts/components associated with the operation of each
Establish working knowledge of how to take proper measurements for a wheelchair for a patient
Determine the appropriate chair to recommend for a patient
Module 4 Clinical Problem Solving DME Selection
Identify the qualification requirements for a patient and recommending appropriate durable medical equipment to meet their functional mobility needs.
Accurately complete an equipment progress note (EPN) so it is accepted the first time it is submitted and avoid delays in equipment orders and patient discharge.
Module 5 Navigating Challenging Equipment Situations
Discuss the equipment ordering process to patients/family members/caregivers.
Empower individuals to be able to be self-advocates and work with alternative equipment options at home. 
Instructors: Anna Hindelang, PT, DPT, Michael Klonowski, PT, DPT and Sally Taylor, PT, DPT

Audience:  Occupational Therapists, Occupational Therapy Assistants, Physical Therapists, Physical Therapist Assistants, and Speech-Language Pathologists
Note: You will have 3 months from the date of purchase to complete and review the course material. You will receive a reminder email 2 weeks before the expiration date.
Continuing Education Credit
Occupational Therapy
The Shirley Ryan AbilityLab is an AOTA Approved Provider of professional development. Course approval ID#03031. This distance learning-independent course is offered at .35 CEUs [Intermediate/Foundational Knowledge/OT Service Delivery]. AOTA does not endorse specific course content, products, or clinical procedures.
Physical Therapy
This course has been approved by the Illinois Physical Therapy Board for 3.5 Contact Hours. Approval #216-000069.
The Shirley Ryan AbilityLab is recognized by the New York State Education Department's State Board for Physical Therapy as an approved provider of physical therapy and physical therapist assistant continuing education. This course has been approved for 3.5 contact hours.
Speech-Language Pathology
Disclosures: None of the presenters have any financial or non-financial disclosures.
Basic Computer Requirements: To participate, you will need access to a device with an Internet connection. Computers, laptops, iOS and Android devices are supported. High-speed broadband Internet access (LAN, Cable or DSL) is highly recommended.
 Additional requirements include:
Web browser: latest version of Chrome, Firefox, or Safari
JavaScript and Cookies enabled
Speaker or headset to listen to recorded audio files
Speaker and microphone, or headset with microphone, or phone to listen to webinar facilitators
Do NOT use Internet Explorer or Microsoft Edge as they are not supported.
Cancellation Policy: To request a cancellation of an on-demand program, please provide written notice by email or contact us by phone within 24 hours of placing your order and we will refund you the full course fee. If you cannot give notice within 24 hours, a credit towards a future course of equal value would apply.
Collections
Occupational Therapists Occupational Therapy Assistants OTA and PTA Physical Therapist Assistants Physical Therapists Speech Language Pathologists