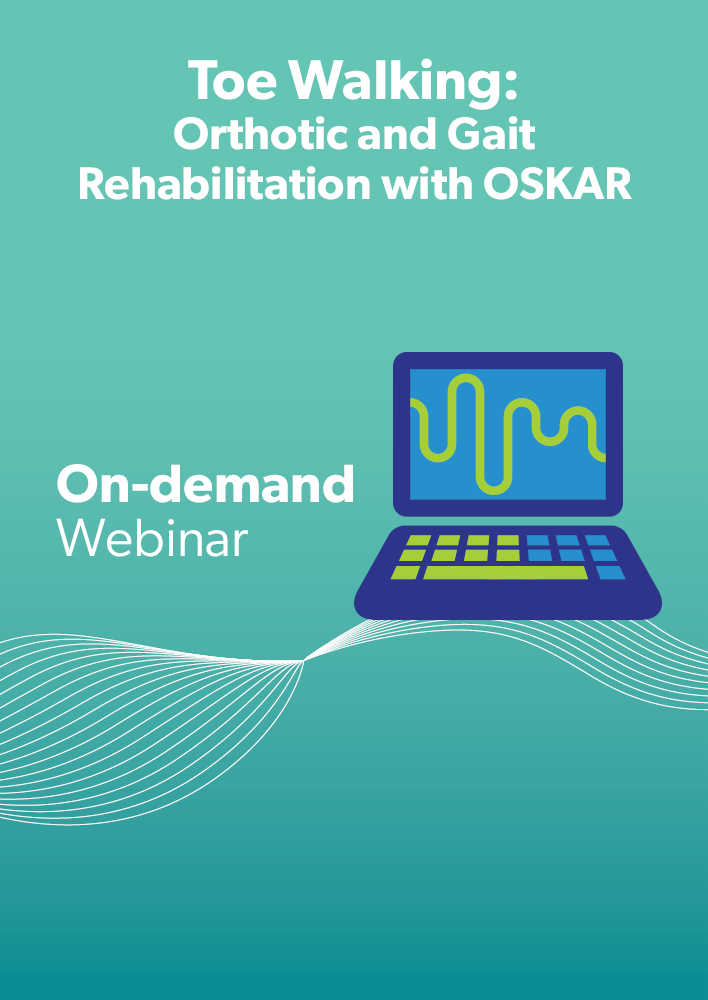 Toe Walking: Orthotic and Gait Rehabilitation with OSKAR (Optimal Segment Kinematics and Alignment Approach to Rehabilitation)
Description: This webinar will focus on the potential of orthotic management and functional gait training, for children who present with idiopathic toe walking. It will review assessments, identification of exclusion criteria and indications for referral to other members of the interdisciplinary team. The short- and long-term goals of orthotic management and how to achieve them with optimal design, alignment and dosage will be described. Clinical algorithms to facilitate decision making, will be presented, together with the principles of OSKAR functional gait training and motor learning programs.
Learner Outcomes: Upon completion of this webinar, participants will be able to: 
Describe the essential concepts of the Optimal Segmental Kinematics and Alignment approach to Rehabilitation, OSKAR, and its relevance to idiopathic toe walking.
Demonstrate the assessments required to determine the optimum alignment of the sagittal angle of the ankle in an AFO and use of a clinical algorithm.  
Demonstrate use of a clinical algorithm for designing, aligning and tuning AFO and footwear prescriptions
Distinguish the different treatment pathways for children who have a typical length of calf muscle for age, compared to those with short calf muscle.
Discuss OSKAR functional gait training and motor learning programs with orthoses
Instructors:  Elaine Owen, MBE, MSc, SRP, MCSP
Audience: Occupational Therapist Assistants, Orthotists, Orthotic Assistants, Orthotic Fitters, Orthotic Technicians, Pediatric Occupational Therapists, Pediatric Physical Therapists, Pedorthists, Physical Therapists working with acquired or childhood-onset disability in adulthood and Physical Therapist Assistants. Other professionals working in pediatrics have also found the content relevant and valuable.
Note: You will have 3 months from the date of purchase to complete and review the course material. You will receive a reminder email 2 weeks before the expiration date.
Continuing Education Credits:

Orthotics: 
 
This program has been approved for up to 1.25 credits through the American Board for Certification in O&P (ABC) for CFo, CO, COA, CPed, CPO, CPOA, CTO, CTPO. Full participation in this program is required to be eligible for the full amount of credits.
Physical Therapists:
The Illinois Physical Therapy Board has approved this course for 1.0 Contact Hours.  Approval #216-000069
The Shirley Ryan AbilityLab is recognized by the New York State Education Department's State Board of Physical Therapy as an approved provider of physical therapy and physical therapist assistant continuing education.  This course has been approved by the New York Physical Therapy Board for 1.0 Contact Hours. 
The following states require continuing education units with no state-specific approval:  CT, IA, and WA 
Disclosures 
Course Director's and Planning Committee Members' Disclosure Information:
Julie Lenkiewicz, MS, CCC-SLP                                        Has nothing to disclose.
Melissa Kolski, PT, OCS, Dip MDT                                  Has nothing to disclose.
Leslie Marriott, OT                                                            Has nothing to disclose.
Pamela Pfeifer, MS, RN, NPD-BC                                    Has nothing to disclose.
Speakers, Moderators and Panelists' Disclosure Information:
Elaine Owen, MBE, MSc, SRP, MCSP                                Has nothing to disclose.

Technology Requirements: To participate, you will need access to a device with an Internet connection. Computers, laptops, iOS and Android devices are supported.
High-speed broadband Internet access (LAN, Cable or DSL) is highly recommended.
Additional requirements include:
Web browser: latest stable version of Chrome, Firefox, or Safari
JavaScript and Cookies enabled
Speaker and microphone, or headset with microphone, or phone to listen to webinar facilitators
Do NOT use Internet Explorer as it is not supported.
Cancellation Policy: To request a cancellation of an on-demand program, please provide written notice by letter or email or contact us by phone within 24 hours of placing your order and we will refund you the full course fee. If you cannot give notice within 24 hours, a credit towards a future course of equal value would apply.
Collections
Online Learning Occupational Therapists Occupational Therapy Assistants Orthotic Assistants Orthotic Fitters Orthotic Technicians Orthotists OTA and PTA Physical Therapist Assistants Physical Therapists Physicians