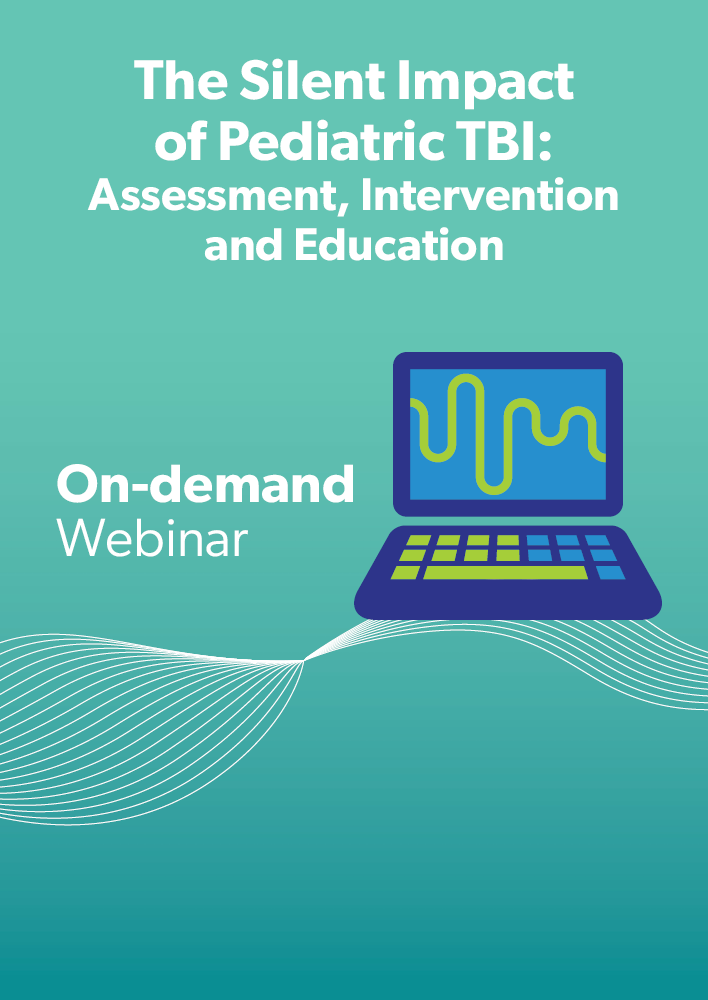 The Silent Impact of Pediatric TBI: Assessment, Intervention and Education
Description: The pediatric world of TBI is a stark contrast to the adult world. This is mainly due to the developing brain of the pediatric patient and the overall functional impact a TBI can present throughout the child's life as deficits may not be apparent immediately following an injury. An interprofessional approach from the acute to the chronic phase of a pediatric TBI is crucial to identify the pathological difference between a pediatric vs adult TBI to ensure patients and their families can return to school, play and meaningful social interaction. Preparing the pediatric patient and their families with ongoing education, strategies and tools for success to continually succeed and develop as they age through their lives is a necessary component of the rehabilitation process.
Learner Outcomes: Upon completion of this webinar, participants will be able to: 
Identify differences between a pediatric and adult TBI.
Demonstrate awareness of age-appropriate assessments and interventions for a pediatric patient with a TBI.
Discuss via case studies how an interprofessional team approach can determine improved outcomes for a pediatric patient with a TBI at specified age ranges and stages of recovery.
Summarize age-appropriate education to provide to the pediatric patient with a TBI and pertinent education and support to provide to their families and caregivers.
Instructors:  Jordan Huffman, OTR/L, Marley Owen, PT, DPT & Rebecca Wright, MA, CCC-SLP

Audience:  Occupational Therapists, Occupational Therapy Assistants, Physical Therapists, Physical Therapist Assistants and Speech-Language Pathologists
Note: You will have 3 months from the date of purchase to complete and review the course material. You will receive a reminder email 2 weeks before the expiration date.
Continuing Education Credits

Occupational Therapists:
The Shirley Ryan AbilityLab is an AOTA Approved Provider of professional development. Course approval ID# 05051. This distance learning independent webinar is offered at .15 CEUs [intermediate, foundational knowledge]. AOTA does not endorse specific course content, products, or clinical procedures.
Physical Therapists:
The Illinois Physical Therapy Board has approved this course for 1.5 Contact Hours.  Approval #216-000069
The Shirley Ryan AbilityLab is recognized by the New York State Education Department's State Board of Physical Therapy as an approved provider of physical therapy and physical therapist assistant continuing education.  This course has been approved by the New York Physical Therapy Board for 1.5 Contact Hours. 
The following states require continuing education units with no state-specific approval:  CT, IA, and WA
Speech-Language Pathologists:
Disclosures 
Course Directors and Planning Committee Members:
Julie Lenkiewicz, MS, CCC-SLP - Has nothing to disclose.
Melissa Kolski, PT, OCS, Dip MDT - Has nothing to disclose.
Leslie Marriott, OT - Has nothing to disclose.
Pamela Pfeifer, MS, RN, NPD-BC - Has nothing to disclose.
 
Speakers, Moderators and Panelists' Disclosure Information:
Jordan Huffman, OTR/L - Has nothing to disclose.
Marley Owen, PT, DPT - Has nothing to disclose.
Rebecca Wright, MA, CCC-SLP - Has nothing to disclose.
Technology Requirements: To participate, you will need access to a device with an Internet connection. Computers, laptops, iOS and Android devices are supported.
High-speed broadband Internet access (LAN, Cable or DSL) is highly recommended.
Additional requirements include:
Web browser: latest stable version of Chrome, Firefox, or Safari
JavaScript and Cookies enabled
Speaker and microphone, or headset with microphone, or phone to listen to webinar facilitators
Do NOT use Internet Explorer or Microsoft Edge as they are not supported.
Cancellation Policy: To request a cancellation of an on-demand program, please provide written notice by letter or email or contact us by phone within 24 hours of placing your order and we will refund you the full course fee. If you cannot give notice within 24 hours, a credit towards a future course of equal value would apply.
Collections
Online Learning Occupational Therapists Occupational Therapy Assistants OTA and PTA Physical Therapist Assistants Physical Therapists Speech Language Pathologists