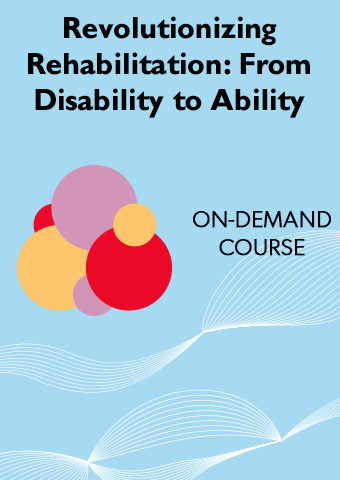 Revolutionizing Rehabilitation: From Disability to Ability
Description: It takes at least 17 years for research to become standard practice in the clinic. This on-demand course illustrates how transitional research is integrated in a timely manner into clinical care thus redefining best practice and promoting better outcomes. Highlighted are two examples of application of basic science research and clinical rehabilitation knowledge adapted to clinical practice. The course also addresses the impact this can have on a patient's outlook.
Instructor:Ela Lewis, MS PT, NCS; Richard L. Lieber, PhD, Senior Vice President & Chief Scientific Officer; Elliot J. Roth, MD, Medical Director & Department Chair; Debjani Mukherjee, PhD, Director, Donnelley Ethics Program
Audience:  Physical Therapists, Physical Therapist Assistants, Occupational Therapists, Occupational Therapy Assistants, Speech-Language Pathologists, Nurses (see list below for available CEUs)
Objectives Upon completion of this course, participants will be able to:
Cite an example of how clinical problems can inform the research question
Describe the scientific rationale for providing high-intensity training to individual's post-stroke
Recognize how treatment in a research environment and participation in research can promote hope, inspiration and encouragement in patients with disabilities
Note: You will have 3 months from the date of purchase to complete and review the course material. You will receive a reminder email 2 weeks before the expiration date.
Accreditation: None Offered
Basic Computer Requirements: You will need access to a computer with an Internet connection. High speed broadband access (LAN, Cable or DSL) is highly recommended.
PC: Compatible Operating System: Windows XP, Vista, 7, 8, 8.1 Web Browser: Firefox, Chrome, Internet Explorer 10 or higher
MAC: Compatible Operating System: OS X Web Browser: Firefox, Chrome, Safari
Cancellation Policy: To request a cancellation of an on-demand program, please provide written notice by letter, email, or fax or contact us by phone within 24 hours of placing your order and we will refund you the full course fee. If you cannot give notice within 24 hours, a credit towards a future course of equal value would apply.
Collections
Online Learning Nurses Occupational Therapists Physical Therapists Speech Language Pathologists