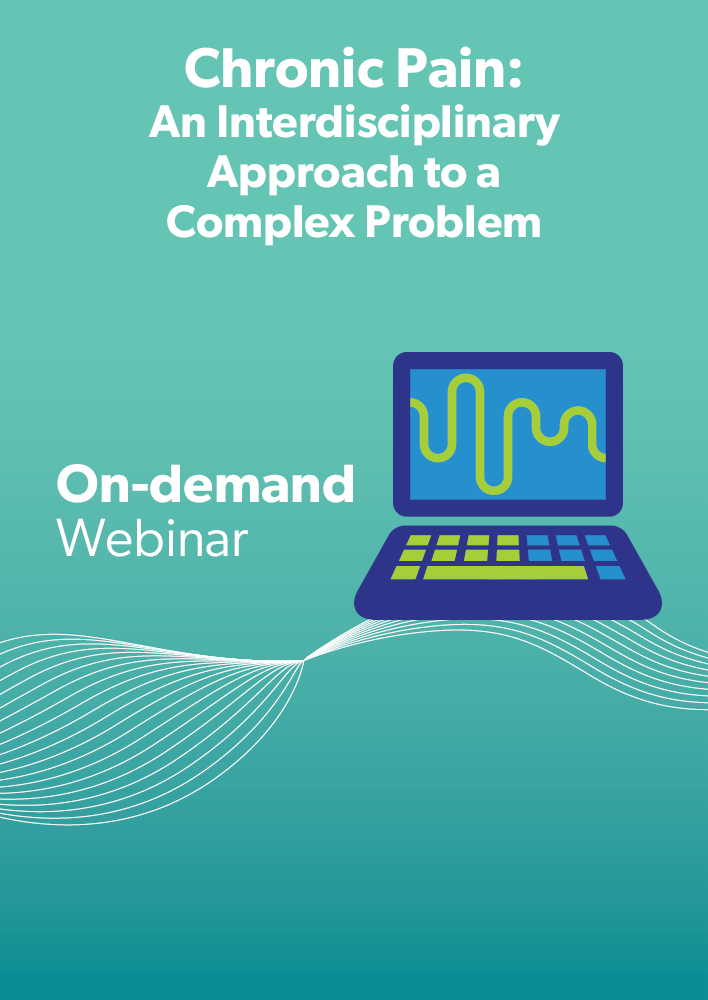 Chronic Pain: An Interdisciplinary Approach to a Complex Problem
Description: An estimated 100 million Americans experience chronic pain, more than diabetes, coronary heart disease, stroke, and cancer combined. The total combined cost of direct medical care, disability programs, lost productivity, and family burden is estimated to be between $560 billion and $635 billion annually (AAPM, 2015). In the midst of the opioid epidemic, there is a greater need now more than ever for evidence-based, effective, non-pharmacologic treatment approaches to this human, social and economic crisis.  Interdisciplinary functional restoration programs provide the necessary components to address the biopsychosocial drivers of chronic pain. In this webinar, clinicians from Shirley Ryan Ability Lab's Pain Management Clinic will discuss the roles of each individual member of their interdisciplinary team in providing patients with strategies for self-management of chronic or high-impact pain, while ultimately working together in a patient-centered approach to restoring function and reducing opioid consumption.
Objectives: Upon completion of this course, participants will be able to:
Describe and differentiate active versus passive approaches to chronic pain management.
Identify risk factors for chronic pain, and describe treatment approaches and/or prevention strategies to utilize in acute or subacute pain management to avoid the pathway to becoming a chronic problem.
Describe and differentiate functional restoration programs versus pain management clinics.
Delineate the roles of pain psychology, physical therapy, occupational therapy, biofeedback and vocational rehabilitation within an interdisciplinary functional restoration program.
Identify underlying research that drives an evidence-based functional restoration program.
Determine when to refer patients to an interdisciplinary program for pain management.
Instructors: Elizabeth Gaffron, MOTR/L, LMT, Occupational Therapist, Hannah Nilles, PT, DPT, Cert. MDT, Physical Therapist & Patricia Cole, PhD, Clinical Psychologist, Pain Management Center, Shirley Ryan AbilityLab
Audience: Physical Therapists, Physical Therapist Assistants, Occupational Therapists, Occupational Therapy Assistants, Nurses
Note: You will have 3 months from the date of purchase to complete and review the course material. You will receive a reminder email 2 weeks before the expiration date.
Continuing Education Credits
Physical Therapy 
This course has been approved by the Illinois Physical Therapy Board for 1.5 Contact Hours. Approval #216-000069
The Shirley Ryan AbilityLab is recognized by the New York State Education Department's State Board for Physical Therapy as an approved provider of physical therapy and physical therapist assistant continuing education. This course has been approved for 1.5 contact hours.
Occupational Therapy 

The Shirley Ryan AbilityLab is an approved provider for the American Occupational Therapy Association to offer continuing education in occupational therapy. This intermediate level program awards occupational therapists 0.15 CEUs or 1.5 contact hour. The assignment of AOTA CEUs does not imply endorsement of specific course content, products, or clinical procedures by AOTA. Category 2: OT Process
Nursing
The Shirley Ryan AbilityLab (OH-362, 09/01/2020) is an approved provider of continuing nursing education by the Ohio Nurses Association (OBN-001-91), an accredited approver by the American Nurses Credentialing Center's Commission on Accreditation. 
This CNE is being offered for 1.5 contact hours (OH-362, 09/01/2020-100KAS).
Basic Computer Requirements: You will need access to a computer with an Internet connection. High speed broadband access (LAN, Cable or DSL) is highly recommended.
PC: Compatible Operating System: Windows XP, Vista, 7, 8, 8.1 Web Browser: Firefox, Chrome, Internet Explorer 10 or higher
MAC: Compatible Operating System: OS X Web Browser: Firefox, Chrome, Safari
Cancellation Policy: To request a cancellation of an on-demand program, please provide written notice by letter, email, or fax or contact us by phone within 24 hours of placing your order and we will refund you the full course fee. If you cannot give notice within 24 hours, a credit towards a future course of equal value would apply.
Collections
Online Learning Nurses Occupational Therapists Occupational Therapy Assistants Physical Therapists