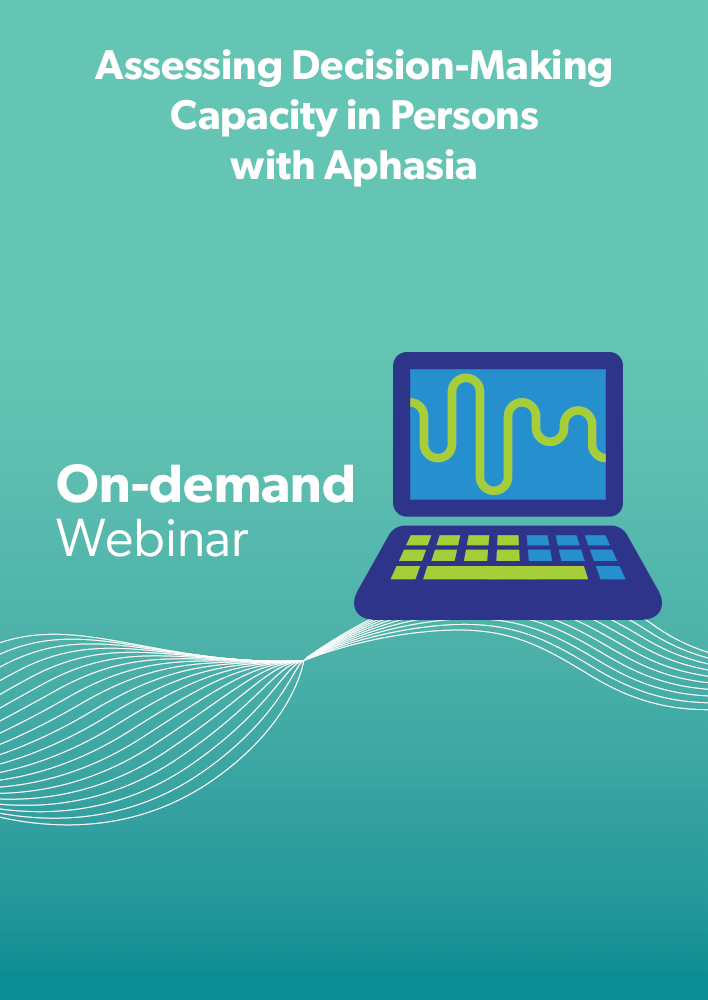 Assessing Decision-Making Capacity in Persons with Aphasia
Webinar Title and Description: Assessing Decision-Making Capacity in Persons with Aphasia – Life-altering decisions often mark and significantly shape a patient's rehabilitation process. The complex choices patients, families, and rehabilitation clinicians face frequently give rise to profound ethical considerations, particularly around the question of who should ultimately make these important decisions. At the crux of such dilemmas lies an important question: does the patient have decision-making capacity (DMC)? Although there is no definitive test, DMC is typically evaluated using a semi-structured interview approach that assesses patients' alertness, orientation, ability to communicate a choice, understanding of relevant information, appreciation of the situation, and ability to rationally manipulate information.  However, aphasia presents a significant challenge to DMC assessment as persons with aphasia commonly experience impairments in comprehension and expression that can interfere with the exchange of accurate information and mask underlying DMC.  In this training, we use a multidisciplinary approach to explore core aspects of DMC evaluations, challenges conducting DMC evaluations in persons with aphasia, and techniques to support valid DMC evaluations for persons with aphasia.
Instructors: Shelly Benjaminy, PhD, HEC-C, Elissa Larkin, MS, CCC-SLP and Preya Tarsney, JD, HEC
Learner Outcomes: Upon completion of this webinar, participants will be able to:  
Identify key elements of decision-making capacity evaluations (alertness, orientation, reasoning, consistency, communication of choice).
Define aphasia and describe how aphasia may limit decision-making capacity evaluations.
List supported communication techniques to improve communication with individuals with aphasia.
Apply supported communication techniques to promote the validity of decision-making capacity evaluations.
Audience: Social Workers and Speech-Language Pathologists
Successful Completion: Participants will watch the on-demand recording in its entirety and complete an attendance verification and assessment in the Academy Learning Portal. You will have 3 months from the date of purchase to complete and review the course material. You will receive a reminder email 2 weeks before the expiration date.
Continuing Education: 
Social Workers: Shirley Ryan AbilityLab is registered by the State of Illinois to sponsor continuing education programs for social workers. This program will award 1.0 Continuing Education Credit Hours. Sponsor License #159001466.
Speech-Language Pathologists:
Disclosures: 
Course Directors and Planning Committee Members:
Julie Lenkiewicz, MS, CCC-SLP - Has nothing to disclose.
Melissa Kolski, PT, OCS, Dip MDT - Has nothing to disclose.
Leslie Marriott, OT - Has nothing to disclose.
Pamela Pfeifer, MS, RN, NPD-BC - Has nothing to disclose.
Speakers, Moderators and Panelists:
Ruth L. Chimenti, DPT, PhD - Has nothing to disclose. 
Technology Requirements: To participate, you will need access to a device with an Internet connection. Computers, laptops, iOS and Android devices are supported.
High-speed broadband Internet access (LAN, Cable or DSL) is highly recommended. 
Additional requirements include: Web browser: latest stable version of Chrome, Firefox, or Safari, JavaScript and Cookies enabled, Speaker and microphone, or headset with microphone, or phone to listen to webinar facilitators, Do NOT use Internet Explorer as it is not supported.
Cancellation Policy: To request a cancellation of an on-demand program, please provide written notice by letter or email or contact us by phone within 24 hours of placing your order and we will refund you the full course fee. If you cannot give notice within 24 hours, a credit towards a future course of equal value would apply.
Collections
Social Workers Speech Language Pathologists Online Learning