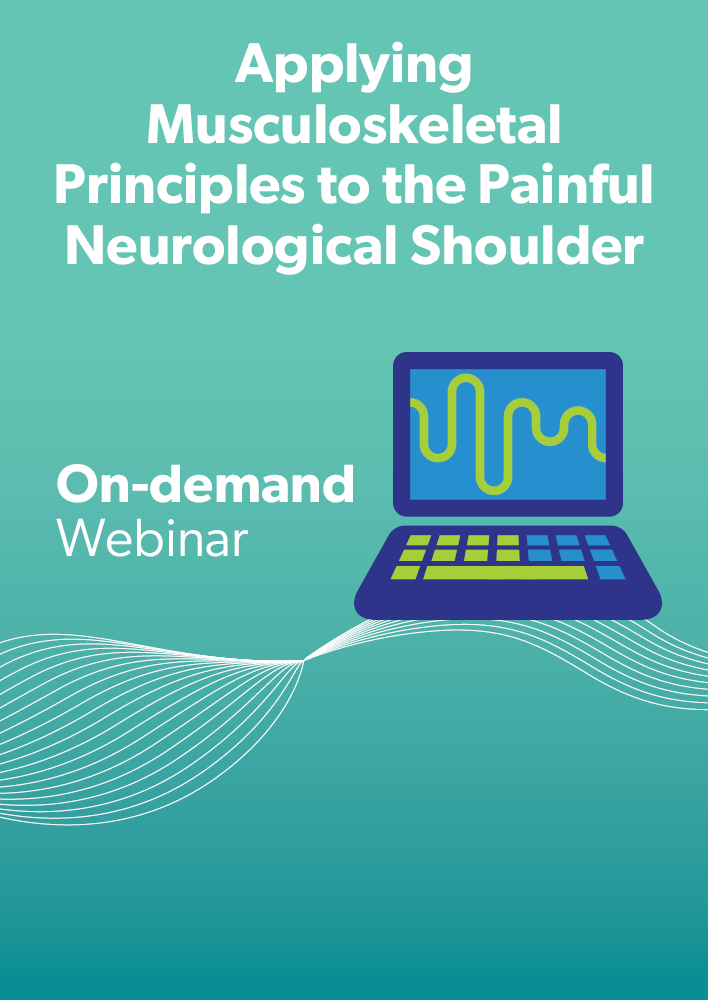 Applying Musculoskeletal Principles to the Painful Neurological Shoulder
Description: The webinar will focus on shoulder examination and identification of common shoulder pathologies. In addition, intervention techniques, therapeutic exercise programs and positioning principles for shoulder preservation will be discussed. The review also will summarize the existing literature on the impact of these conditions on rehabilitation and long-term outcomes.
Objectives: Upon completion of this course, participants will be able to:
Discuss options related to diagnosis/classification of shoulder pain to direct intervention.
Assess the shoulder using a cluster of findings for clinical diagnosis of shoulder pathology.
Identify interventions that address impairments of body function and structure, activity limitations, and participation restrictions of associated shoulder conditions.
Identify pathoanatomical features of the glenohumeral joint and discuss positioning techniques related to decreasing joint congruency for targeting reductions in tissue irritability.
Instructor: Colleen Hanlon, PT, CSCS, DHS,  Department of Outpatient Orthopedics-15th floor, Shirley Ryan AbilityLab; Associate Adjunct Faculty, Department of Physical Therapy and Human Movement Sciences, Northwestern University Feinberg School of Medicine

Audience: Physical Therapists, Physical Therapist Assistants, Occupational Therapists, Occupational Therapy Assistants

Note: You will have 3 months from the date of purchase to complete and review the course material. You will receive a reminder email 2 weeks before the expiration date.
Continuing Education Credits
 Physical Therapy 
This course has been approved by the Illinois Physical Therapy Board for 1 Contact Hour. Approval #216-000069.
The Shirley Ryan AbilityLab is recognized by the New York State Education Department's State Board of Physical Therapy as an approved provider of physical therapy and physical therapist assistant continuing education.  This course has been approved by the New York Physical Therapy Board for 1 Contact Hour
Occupational Therapy 
Shirley Ryan AbilityLab is an approved provider for the American Occupational Therapy Association to offer continuing education in occupational therapy. This intermediate level program awards occupational therapists 0.10 CEUs or 1 contact hour. The assignment of AOTA CEUs does not imply endorsement of specific course content, products, or clinical procedures by AOTA. Category 2: OT Process
Basic Computer Requirements: You will need access to a computer with an Internet connection. High speed broadband access (LAN, Cable or DSL) is highly recommended.
PC: Compatible Operating System: Windows XP, Vista, 7, 8, 8.1 Web Browser: Firefox, Chrome, Internet Explorer 10 or higher
MAC: Compatible Operating System: OS X Web Browser: Firefox, Chrome, Safari
Cancellation Policy: To request a cancellation of an on-demand program, please provide written notice by letter, email, or fax or contact us by phone within 24 hours of placing your order and we will refund you the full course fee. If you cannot give notice within 24 hours, a credit towards a future course of equal value would apply.
Collections
Online Learning Occupational Therapists OTA and PTA Physical Therapists