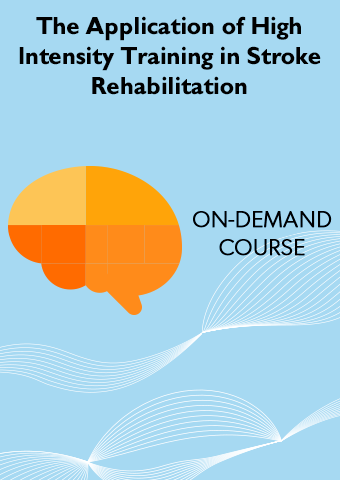 The Application of High Intensity Training in Stroke Rehabilitation
Description: Current research in neuroscience, motor learning and cognitive function have added new dimensions in our understanding and management of stroke. This one-hour recorded lecture introduces current concepts regarding neuroplasticity and neurorecovery in patients and ability to predict recovery after stroke. We then discuss evidence-based common measures used to predict outcome and then introduce some foundational principles for predicting general recovery of function. We review the necessary monitoring and equipment required to perform high intensity gait training. This lecture reviews the techniques that predict recovery of walking, arm and hand use and language after stroke. We discuss patient adjustment, supporting adaptive coping mechanisms through this process.
Instructor: Richard L. Harvey, MD, Clinical Chair, Brain Innovation Center, Shirley Ryan AbilityLab; Associate Professor, Department of Physical Medicine and Rehabilitation, Northwestern University Feinberg School of Medicine
Audience:  Physical Therapists, Physical Therapist Assistants, Occupational Therapists, Occupational Therapy Assistants, Speech-Language Pathologists, Nurses 
Objectives Upon completion of this course, participants will be able to:
Discuss current concepts regarding neuroplasticity and neurorecovery in patients with acute stroke
List equipment options and necessary cardiovascular monitoring for patients engaged in high intensity gait training
List the techniques for high intensity training in upper limb, aphasia and swallowing
Discuss expected outcomes with the use of high intensity gait training
Explain to the family why an intensive therapy program, that includes repetition, specificity and intensity, leads to optimal psychosocial recovery after stroke
Note: You will have 3 months from the date of purchase to complete and review the course material. You will receive a reminder email 2 weeks before the expiration date.
Accreditation: None Offered
Basic Computer Requirements: You will need access to a computer with an Internet connection. High speed broadband access (LAN, Cable or DSL) is highly recommended.
PC: Compatible Operating System: Windows XP, Vista, 7, 8, 8.1 Web Browser: Firefox, Chrome, Internet Explorer 10 or higher
MAC: Compatible Operating System: OS X Web Browser: Firefox, Chrome, Safari
Cancellation Policy: To request a cancellation of an on-demand program, please provide written notice by letter, email, or fax or contact us by phone within 24 hours of placing your order and we will refund you the full course fee. If you cannot give notice within 24 hours, a credit towards a future course of equal value would apply.
Collections
Online Learning Nurses Occupational Therapists Physical Therapists Speech Language Pathologists