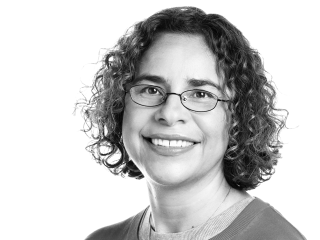 Monica A. Perez, PT, PhD
Scientific Chair, Arms + Hands Lab, Shirley Ryan AbilityLab |
Professor of Physical Medicine and Rehabilitation, Northwestern University
Interested in this profile?
About Me
Monica A. Perez, PT, PhD, is an internationally recognized leader in spinal cord injury (SCI) research. At Shirley Ryan AbilityLab, she leads a translational research team to orchestrate the application of the most modern methods for measuring upper-extremity function.
Dr. Perez's research is notable for its rigorous scientific underpinnings and for its keen application of basic human neurophysiology, which is used to inform the development of therapeutic interventions. She has developed novel experimental methods for eliciting cortical and spinal cord plasticity in humans with paralysis due to SCI. These mechanistic experiments can probe transmission in cortical and spinal neuronal circuits during different motor behaviors. Increased understanding of these circuits will support the development of targeted neurorehabilitation in patients with SCI, as well as in other patient populations.
A member of grant-review study sections for both the National Institutes of Health and the United States Department of Veterans Affairs, Dr. Perez's work has been funded by the National Institutes of Health continuously since 2007 and Veterans Affairs continuously since 2013. She is active in the neuroscience community as editor of the prestigious Journal of Neurophysiology. She has published work on motor control in high-impact, peer-reviewed journals, including Brain; Cerebral Cortex; Current Biology; Journal of Neuroscience; Journal of Physiology; and Journal of Neurophysiology.
Prior to joining Shirley Ryan AbilityLab in 2019, Dr. Perez served as a professor in the department of Neurological Surgery at the University of Miami's Project to Cure Paralysis and as a research health scientist with the Department of Veterans Affairs. Earlier in her career, she worked in the University of Pittsburgh's department of Physical Medicine and Rehabilitation.
Dr. Perez received a BS in physical therapy from Catholic University in Chile and a Ph.D. in physical therapy from the University of Miami. She completed a postdoctoral fellowship at the University of Copenhagen, Denmark, where she studied transmission in human spinal cord pathways during different motor behaviors. She then completed a second postdoctoral fellowship in the Human Cortical Physiology and Stroke Neurorehabilitation Section at the National Institutes of Health.
Location
Shirley Ryan AbilityLab
355 E Erie St
Chicago, IL 60611
Education & Training
Education

Credential

1999 - 2003

University of Miami, Coral Gables, FL Ph.D., MS

1988 - 1992

Catholic University of Chile, Santiago, Chile BS
Honors & Awards
2017 Outstanding Neurorehabilitation Clinician Scientist Award from the American Society of Neurorehabilitation (ASNR) Education Foundation Board

The award honors scholarly achievements and contributions to knowledge about mechanisms of neural repair, translational research from mechanisms of repair to clinical practice, and clinical neurorehabilitation., 2017 - 2018

Senior Vice Chancellor's Research Seminar Series. Presentation entitled: "Neural Control of Movement after Spinal Cord Injury

2013

Presidential Award at the American Congress of Rehabilitation Medicine- American Society of Neurorehabilitation Annual Meeting

2008
Over the last several years, we have been developing protocols to enhance the activity of residual sensorimotor pathways in individuals who suffered from spinal cord injury (SCI). We are happy to communicate that we are starting Phase IV of our protocol and we are actively enrolling participants. Led by P.I. Monica Perez
view lab