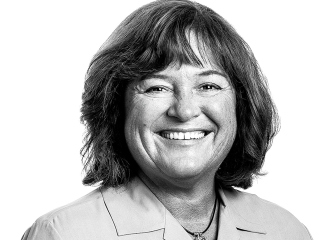 Virginia Wirth-Pattullo, PT, M.S.
Position
Physical Therapist
Phone Number Description
Phone
About Me
About Me
Virginia Wirth-Pattullo specializes in musculoskeletal disorders of the spine, extremities, TMJ and the craniofacial region, as well as in postural and myofascial pain syndromes. She incorporates varied treatment approaches, including soft tissue and joint mobilization techniques, mechanical evaluation and treatment, and other treatment modalities. A focus of her treatment is also to educate the patient on how to manage his/her pain with self-treatment techniques/positions, and in individualized exercises for their specific dysfunction. Virginia has taught in the Physical Therapy Programs at Northwestern and Midwestern Universities and worked in the Chronic Pain Program at R.I.C. Virginia has lectured on the topic of physical therapy management and treatment of the temperomandibular disorders. She has also been published in the APTA Journal.
Location
Spine and Sports Rehabilitation Center
1030 North Clark Street
Suite 500
Chicago, IL 60610
Education & Professional Associations
Education

Credential

1982 - 1983

Northwestern University, Chicago, IL Bachelor of Science Degree in Physical Therapy

1986 - 1992

Northwestern University, Chicago, IL Master of Science Degree Specializing in Orthopedic Physical Therapy