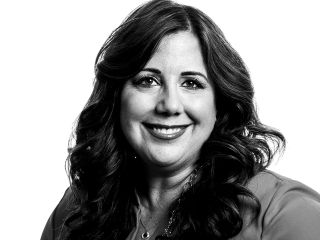 Laura Ferrio, MBA, MSN, RN, CRRN, NEA-BC
Position
Chief Operating Officer and Senior Vice President
President, Keystone Board
Phone Number Description
Phone
About Me
About Me
Laura Ferrio is a creative executive with vast clinical, managerial and executive experience.
For decades, Laura has served Shirley Ryan AbilityLab, the global leader in physical medicine and rehabilitation for adults and children with the most severe, complex conditions. In her current role as Chief Operating Officer, she oversees all clinical operations — including inpatient hospital services, outpatient, DayRehab, specialized clinical services and the alliances — as the hospital cares for more than 50,000 patients annually from around the globe.
Laura began her career with the organization as a Nurse Intern, eventually working her way up to Chief Nurse Executive and Vice President of Patient Care and Services. In that role, she influenced decision-making in every clinical area, including patient-care units, therapy and research laboratories and ancillary departments. She also spearheaded efforts that resulted in Shirley Ryan AbilityLab receiving the Magnet Recognition — the first rehabilitation hospital in the country to secure this prestigious designation. The extensive process for application that Laura developed and implemented laid the groundwork for our hospital to receive four successive Magnet designations.
Prior to becoming Chief Operating Officer, Laura also served as Chief Advancement Officer — leading philanthropy and development efforts for the organization, and increasing annual direct contributions, endowments and restricted funding in the process. She continues to serve as President of the Keystone Board.
Over the course of her career, Laura has been part of many important initiatives. She was  instrumental in the design of Shirley Ryan AbilityLab's state-of-the-art hospital and implementation of its translational model. Additionally, with philanthropic seed funding, Laura co-founded Shirley Ryan AbilityLab's LIFE Center, which now houses the largest collection of patient education and consumer health resources for people with functional impairments.
Laura holds a Bachelor of Science in Nursing from Northern Illinois University, as well as an MBA and Master of Science in Nursing from Loyola University Chicago. She also completed a Fellowship for Nurse Executives at the Wharton School of the University of Pennsylvania. A lifelong champion for nurses, Laura serves on the board of the American Nurses Foundation. She is the past president of both the Illinois Organization of Nurse Leaders and the Illinois Coalition for Nursing Resources. She was named the Illinois Nurse Leader of the Year in 2004 and received a governor appointment to serve on the Illinois Board of Nursing, a role she held for a decade (2004-2014). In addition, Laura received the 2009 Outstanding Alumni Award for the College of Health & Human Sciences at Northern Illinois University.
Location
Shirley Ryan AbilityLab
355 East Erie
Chicago, IL 60611
Education & Professional Associations
Education

Credential

1982 - 1986

Nursing, Northern Illinois University

1990 - 1993

Nursing Administration, Loyola University of Chicago

1990 - 1993

Business Administration, Loyola University of Chicago
Affiliations
Board Member

Illinois State Board of Nursing, 2004 - 2014

Board Member

DePaul University School of Nursing Advisory Board, 2016 - Present

Board Member

Nurse.com/OnCourse Learning, 2002 - Present

Board Member

Loyola University of Chicago Niehoff School of Nursing Alumni Advisory Board, 2000 - 2007
Honors & Awards
Outstanding Alumni Award for the College of Health & Human Sciences

Northern Illinois University, 2009 - 2010

Illinois Nurse Leader of the Year

University of Illinois College of Nursing, Institute for Healthcare Innovation, 2004 - 2005

Nurse Traineeship

Loyola University of Chicago, 1991 - 1992

Scholarship

Association of Rehabilitation Nurses, 1991 - 1992
Work History
1996 - Present

Vice President, Patient Care Services and Chief Nurse Executive

Rehabilitation Institute of Chicago

1993 - 1996

Nurse Manager

Rehabilitation Institute of Chicago

1989 - 1993

Clinical Nurse Educator

Rehabilitation Institute of Chicago

1986 - 1989

Staff Nurse

Rehabilitation Institute of Chicago

1985 - 1986

Nurse Extern

Rehabilitation Institute of Chicago