Body
Cerebral palsy (CP) is the most common cause of permanent physical disability in childhood, causing problems in the development of movement and posture, often accompanied by disturbances of sensation, perception, cognition, communication, and behavior. CP, which occurs as a result of brain injury before, during, or shortly after birth, affects 3-4 out of every 1000 school-aged children in the US.
Children with CP have abnormal walking patterns, typically due to damage to the central nervous system and skeletal muscles during development. Although CP is not progressive, the development of secondary musculoskeletal problems can contribute to gradual loss of walking ability, with progressively decreasing metabolic efficiency, increasing fatigue and pain, and eventual joint damage. The psychological health of children with CP is also affected by chronic pain, social isolation, disability, and progressive loss of independence.
As walking becomes inefficient and difficult, children and families typically choose to use a wheelchair, which limits future walking potential. However, children who can walk are more successful in social roles and community participation and tend to have a more independent lives than those who use wheelchairs.
Use of Robots to Improve Walking Ability
Body
The use of rehabilitation robots has increased in the last decade, in both adults and children with mobility problems. Robotic exoskeletons encourage users to actively participate in over-ground, task-specific ambulation training and allow therapy to be tailored to the user's individual needs.
Although structured, functional walking practice may improve walking ability and quality of life for children with CP, the use of robots has been limited by the inability to customize hardware and software to individual user needs, the requirement for head and body support in people with CP, and a lack of guidelines for robotic training programs in children.
Next Steps
Body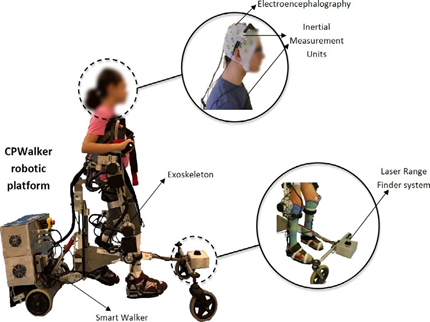 In this study, we will evaluate and optimize a robot-based therapy, the CPWalker, developed by our collaborator, Eduardo Rocon, PhD, at the Center for Automation and Robotics (Spain).
The CP walker uses both an exoskeleton and a robotic walker to implement individualized walking exercises with control of limbs, head, and body during walking.
With our collaborator, Deborah Gaebler-Spira, MD of the Shirley Ryan AbilityLab, we will optimize the CP Walker hardware and software to provide individualized therapy for children with CP and create detailed clinical guidelines for treatment. We will then test whether the CP walker helps children walk better than standard physical therapy.
Study Personnel
Body
The contents of this webpage were developed under grants from the National Institute on Disability, Independent Living, and Rehabilitation Research (NIDILRR grant numbers 90RE5014 (2013-2018) and 90REGE0003 (2018-2023). NIDILRR is a Center within the Administration for Community Living (ACL), Department of Health and Human Services (HHS). The contents of this webpage do not necessarily represent the policy of NIDILRR, ACL, or HHS, and you should not assume endorsement by the Federal Government.