Body
After receiving his undergraduate degree in occupational therapy from Hong Kong Polytechnic University, Wing (Alex) Wong worked for several years as a therapist in a rehabilitation hospital.
As he cared for patients using the protocols he had learned as a student, he found himself often ruminating over larger philosophical questions: Why do we choose a certain kind of treatment? Is there another type of treatment that could provide better outcomes? Is this treatment the best option for this patient, or just a general approach that benefits most people?
Determined to find solutions, he contacted his former advisor, who shared his intrigue and interest in scientific research. Wong returned to Hong Kong Polytechnic University to complete doctoral work in rehabilitation science. While working as a Graduate Assistant, he discovered his knack for solving clinical questions using principles from applied science. "I was motivated by the excitement of discovery that I felt in the lab, even if such discovery is tiny," he remembers.
Wong's fascination with asking questions and trying to solve clinical problems stayed with him. He earned two Doctors of Philosophy: one in Rehabilitation Sciences from Hong Kong Polytechnic University, and another in Community Health from the University of Illinois at Urbana-Champaign. He later completed post-doctoral research in Health Services and Outcomes Research at the Rehabilitation Institute of Chicago, now the Shirley Ryan AbilityLab.
Currently a Research Scientist at the Shirley Ryan AbilityLab and Associate Professor of Physical Medicine & Rehabilitation and Medical Social Sciences at Northwestern University, Wong was one of four recipients to receive funding from the inaugural C-STAR pilot project program. (Editor's note: When Wong applied, he was an Assistant Professor at Washington University School of Medicine in St. Louis.)
Body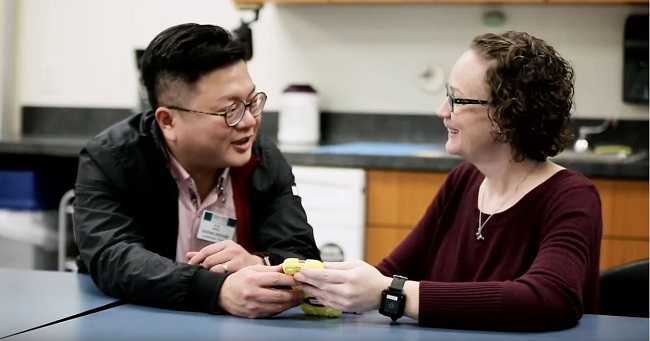 Body
For his project, Wong and his team are developing mobile cognitive tests that can be quickly and easily administered via a smartphone app. He hopes that these tests will complement traditional neurocognitive assessments and provide clinicians with a better picture of a patient's overall status and recovery.
"Cognition is an important function in intervention studies, but conducting traditional assessments in these studies is not possible due to the high costs associated with the nature of in-person evaluations," he says.
In addition, traditional testing is often administered in a controlled setting, such as a private office that is free from noise, potentially creating a disconnect between what the patient can do in a controlled setting compared to the real world.
"This tool can supplement traditional neurocognitive assessments by supporting our clinicians to know their patients' cognitive recovery after transitioning to home," he explains.
The C-STAR project will allow Wong to validate these mobile assessments and test how well they can be implemented in home environments.
Wong was especially interested in C-STAR because of its focus on applying emerging technologies, such as sensors and mobile health, in rehabilitation medicine. "C-STAR is the place that provides the opportunity to learn and grow your research to make a significant contribution to people with disabilities using technologies," he says.
Some of the valuable resources that have helped him hone his project so far have included direct mentorship at meetings with senior scientists and multidisciplinary clinicians (Idea Labs or Buzz Labs) where he has received candid feedback from multiple points of view.
Using the knowledge he gains from participating in C-STAR, he hopes to establish a research program focused on the effective implementation of technology-enabled assessments and treatments in rehabilitation settings and communities. "I hope that this program will have a direct impact on our hospital to improve patient outcomes," he says.
Fun facts: As a child, Wong often attended photography courses, joined photography clubs, and participated in photographic field trips – and his dream was to one day become a professional photographer! Currently on weekends, he brings a DSLR camera everywhere he goes. His favorite subject is his smiley 11-month-old son.