Body
April is limb loss awareness month. In various media throughout the month, we may hear or read about advances in prosthetics and clinical care for people with amputation and limb impairments, but how exactly do these advances make an impactful difference, and how are they developed or performed? 
In an hour-long webinar held in the early morning hours of April 6, a panel of experts from the Shirley Ryan AbilityLab and Northwestern offered an in-depth look into recent breakthroughs in limb salvage techniques and clinical practices for people with limb loss.
Laura Miller, CP, PhD, a research prosthetist and scientist with the Regenstein Foundation Center for Bionic Medicine (CBM), moderated the panel and shared some relevant research conducted within CBM.
Dr. Miller was joined by Dr. Mark Huang of the Shirley Ryan AbilityLab, and Drs. Gregory Dumanian, MD and Jason Ko, MD of Northwestern University — all of whom are close collaborators with CBM who have helped develop various techniques and surgeries for people with limb loss.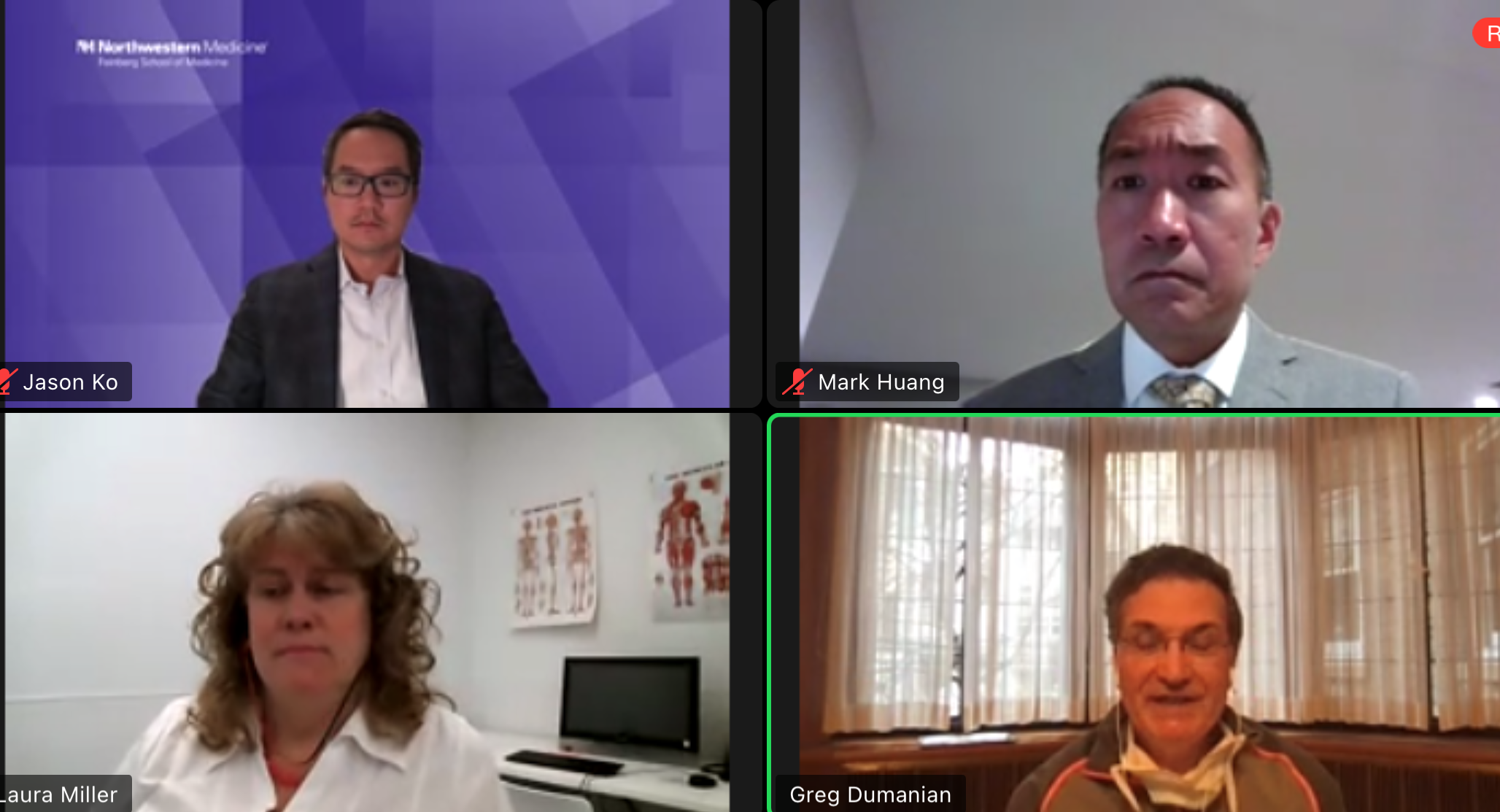 Dr. Ko kicked off the event with a discussion on limb salvage techniques and ways to optimize function when considering to spare or amputate a limb. His close collaborator, Dr. Dumanian, then presented on ways targeted muscle reinnervation — a nerve transfer procedure he pioneered with Dr. Todd Kuiken, MD, PhD — can be used to improve not only control of a prosthetic limb but also to reduce phantom limb pain and neuroma pain.
Beyond surgery, there are several other important factors when considering the recovery of a person with limb loss or impairment. In his presentation on rehabilitation, Dr. Huang commented on the highly collaborative interdisciplinary model of care spearheaded at the Shirley Ryan AbilityLab, and emphasized that rehabilitation — including counseling and psychotherapy — is critical in all phases after limb loss.
To conclude the webinar, Dr. Miller presented on advances in prosthetic limbs, including robotic prostheses that incorporate pattern recognition technology to decode a user's distinct muscle patterns, and the importance of team communication in choosing the best prosthetic options for a patient. She paraphrased a philosophy on choosing technology from the clinical perspective emphasized by her doctoral advisor, the late Dudley Childress, PhD: Consider not high tech, not low tech, but just the right tech.
The webinar was organized by the International Health Breakthrough Clinical Care and Cutting-Edge Research Webinar series sponsored by Northwestern Medicine.
Mentioned Profile

Laura Miller, CP, PhD
Prosthetist Associate Professor