Body
In November 2008, Sgt. Glen Lehman was on combat patrol in Baghdad, Iraq when two armor-piercing grenades struck his vehicle. A sea of debris and blood emerged.
"The first [grenade] went across the hood," he remembers. "The second one came through my door and amputated my right arm just above the elbow."
The impact from the blast also tore through the tissue in his right thigh and shattered his left wrist.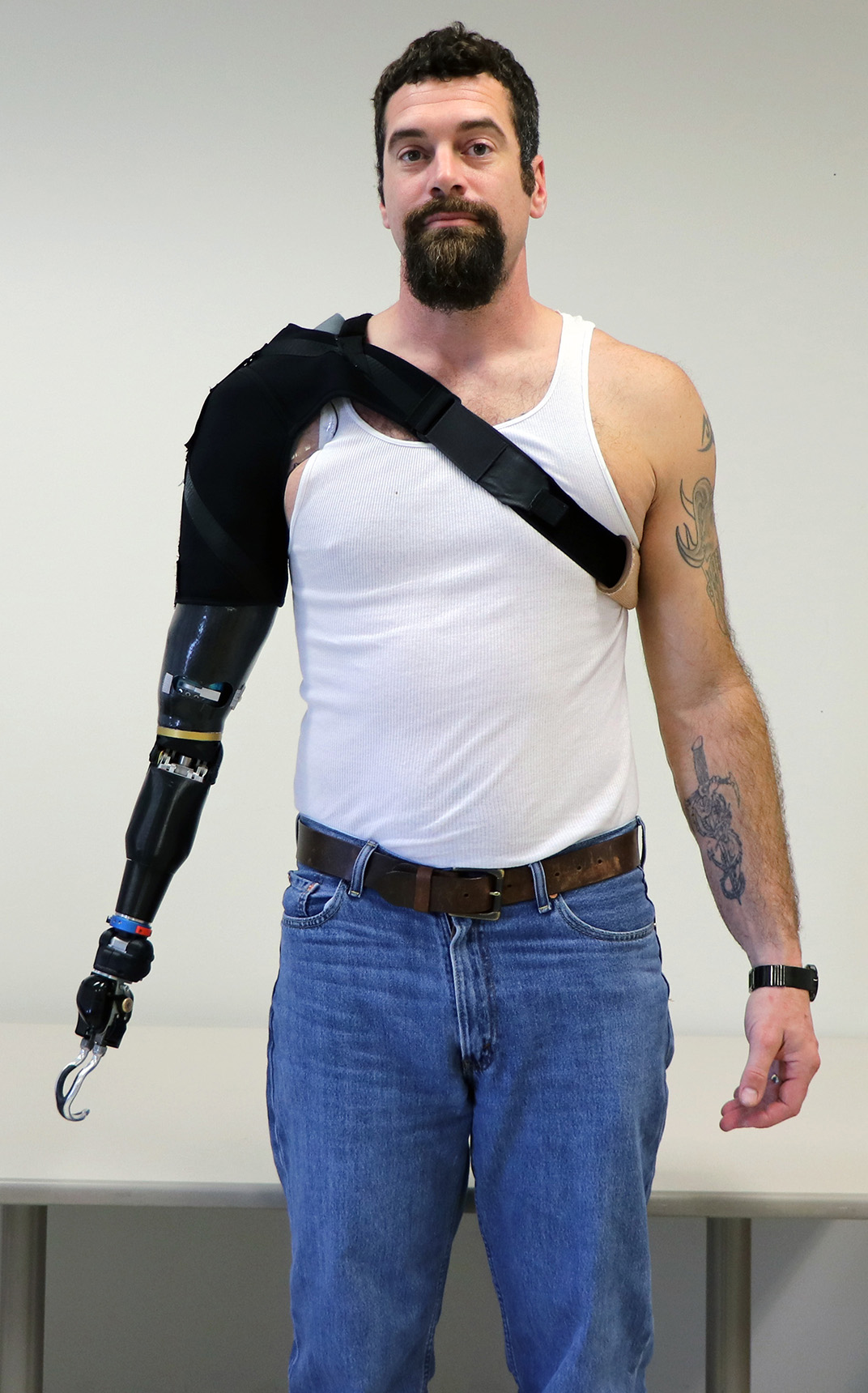 Lehman spent 18 months in recovery at Walter Reed National Military Medical Center in Bethesda, Maryland, where he completed physical and occupational therapy and learned how to use a prosthetic arm.
Since completing his military rehabilitation, Lehman has been frequently involved with research projects at the Center for Bionic Medicine, first as a patient who underwent Targeted Muscle Reinnervation, and now as a research participant who helps evaluate our prosthetic devices. A consistently bright and positive force, he most recently finished with a study looking at the effects of Targeted Muscle Reinnervation and use of a prosthetic arm developed by our group. The arm has a rotating two-degree-of-freedom wrist and was designed to be much lighter than other robotic prosthetic arms.
He tested the arm with a hand and with a split-hook device attached to it instead of the hand, using the arm within our lab for experiments and also in his daily life for the home trial portion of the study.
"The wrist enables you to reach things that are inside something, or to reach a shelf and place things higher up," he explains. "It enables you to get into things a lot easier. I'll use it wherever I can."
The idea of helping others and being a partner in emerging technology keeps Lehman motivated to continue participating in research projects. "Some of the things that we do, I was pretty interested in because not only can it help me but it can help someone else," he notes. "This is my way of giving back to other people that might be in the same condition or shape [as I am]."
For anyone currently coping with limb loss, he provides straightforward yet valuable advice: a medical condition shouldn't define who you are, and remember that recovery is an ongoing process.
"It's really easy to get frustrated and walk way," he says. "You've got to be patient with it. It takes time."
—Sheila Burt