Body
Wearable technology increasingly surrounds and shapes our world, from smart watches that record our daily steps and heart rate to virtual reality glasses that can transport us to another world.
Within the Center for Bionic Medicine, we often evaluate and develop wearable technologies that have a potential healthcare application —sensors that adhere to the skin like a band-aid to help track patient progress, for example, or artificial limbs to provide people with limb loss the ability to regain function.
This broad world of wearable tech is explored at the Museum of Science and Industry's "Wired to Wear" special exhibition that runs through May 2020. The exhibit, recently profiled in Crain's Chicago Business, features our group's open-sourced bionic leg project.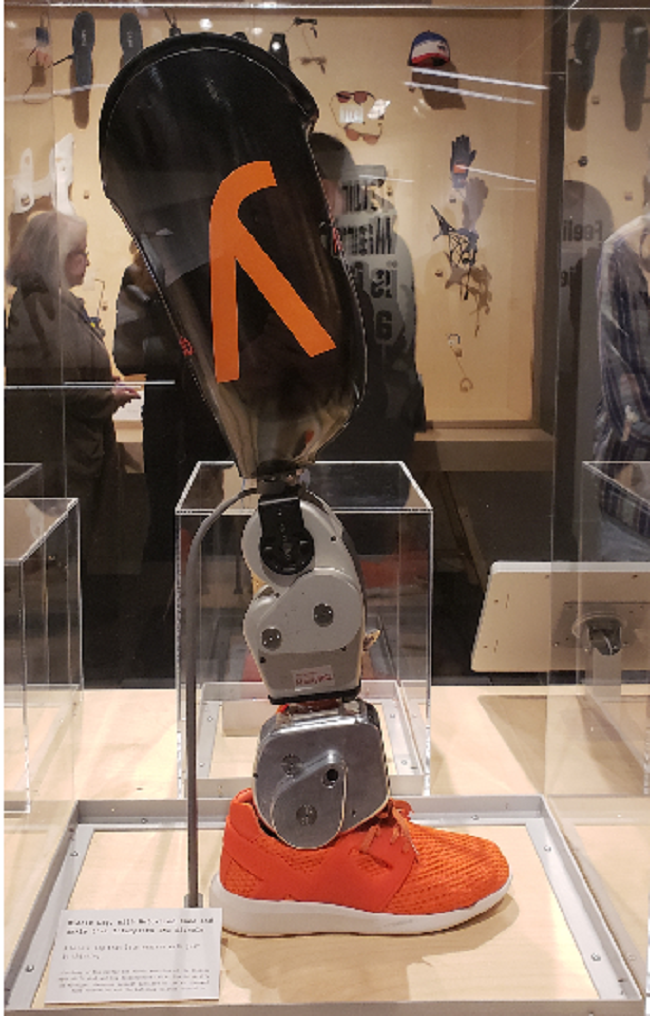 For the project, researchers within our group and the University of Michigan have developed an open-source robotic leg platform that can be easily manufactured, assembled, and controlled, allowing researchers to have access to a fully capable leg system without the burden of developing each component from scratch. The prosthetic leg features a control system (acting like the 'brain' of the leg) that can decode muscle signals and send commands to the motorized knee and ankle for intuitive control.
Other technologies unrelated to the Center for Bionic Medicine, such as a futuristic jet suit that can transport a wearer above city skyscrapers and self-lacing gym shoes, are also on display at the exhibit.