Project Overview
Body
Principal Investigator:   Derek Kamper, PhD
Co - Investigators:  Daria Tsoupikova, MFA (Co-PI)
 
Synopsis/Goals of the Project
To develop and evaluate a multi-user virtual reality (VR) environment for training upper extremity motor control after stroke
Project Aim #1: Create the VR environment
Project Aim #2: Evaluate user engagement
Project Aim #3: Test impact on training motivation in home
Major Accomplishments
Body
A virtual reality environment for multi-user exercises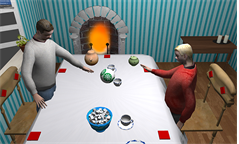 Access to clinical therapy can be limited by transportation issues, scheduling conflicts, or insurance restrictions.  Yet, we know that repetitive, targeted movement practice is crucial for successful rehabilitation following stroke or other injury.  We believe the solution is to provide greater access to therapy in the home.  Thus, we have developed a multi-user virtual reality (VR) environment intended to promote home rehabilitation.  
Therapists, family members, and friends can join the stroke survivor in the virtual environment even though they may be physically separated by hundreds or thousands of miles.  Each participant controls their own avatar in the VR environment through corresponding movement of their body.  The avatars can interact with virtual objects in the three-dimensional environment, as well as with each other, in real-time.  
Through the different virtual scenarios, such as a food fight, painting in the air, and hitting a ball back and forth, the support group can encourage and guide the stroke survivor to practice challenging arm movements to different parts of the arm workspace.  We have successfully tested the system in the laboratory and are now in the process of moving the system into user's homes.
For more detailed information (scientific publications, etc.):
Tsoupikova D, Stoykov NS, Corrigan M, Thielbar K, Vick R, Li Y, Triandafilou K, Preuss F, Kamper D. Virtual immersion for post-stroke hand rehabilitation therapy. Annals of Biomedical Engineering 2015; 43: 467-77. 

Tsoupikova D, Triandafilou K, Rupp G, Preuss F, Kamper D. Multi-user virtual reality therapy for post-stroke hand rehabilitation at home. Journal on Systemics, Cybernetics, and Informatics 2016; 14: 67-71.

Tsoupikova D, Triandafilou K, Barry A, Preuss F, Kamper D. Real-time diagnostic data in multi-user virtual reality post-stroke therapy. SIGGRAPH ASIA 2016 [live demonstration].