Body
Recovering independent mobility, both at home and in the community, is a priority for most stroke survivors. However, there is a lack of information about actual levels of mobility following stroke. This study is using off-the-shelf smartphone technology to measure real-world home and community mobility of stroke survivors. The long-term goal is to determine the effectiveness of rehabilitation strategies and inform future interventions to improve mobility.
Approach
Body
Mobile smartphones are essentially a highly functional wearable sensor. Individuals with stroke carry a smartphone while going about their daily lives. A custom-built application collects data from the phone's movement sensors. Activity recognition and GPS signals to quantify mobility at home and in the community.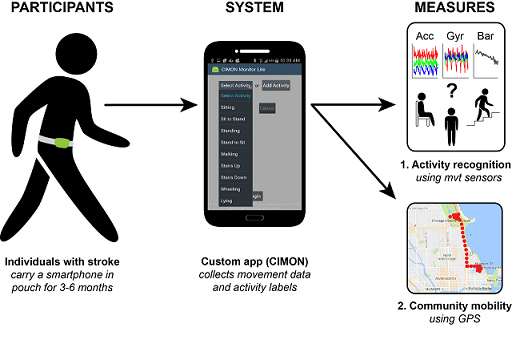 Body
The contents of this webpage were developed under a grant from the National Institute on Disability, Independent Living, and Rehabilitation Research (NIDILRR grant number 90RE5014-02-00). NIDILRR is a Center within the Administration for Community Living (ACL), Department of Health and Human Services (HHS). The contents of this webpage do not necessarily represent the policy of NIDILRR, ACL, HHS, and you should not assume endorsement by the Federal Government.