Body
The Shirley Ryan AbilityLab is revolutionizing the future of rehabilitation by creating a new model of care and that also means developing a  a new approach to hospital design. For example...
Each two-story ability lab has a lift track designed by special suspension engineers. The tracks are mounted to the ceiling and span the floor and central staircase. These anti-gravity lift tracks support the patient's weight so that he or she can feel safe while practicing walking and climbing stairs.
The soaring floor-to-ceiling windows in the two-story ability labs let in sunshine and inspire with beautiful views and the feeling of being outdoors. 
The patient rooms were intentionally placed along the perimeter of the building so that every private patient room has a large window. The bathrooms are the largest of any facility of our kind; doors slide open for even greater accessibility, and the shower can be used while standing, sitting or lying down. 
Color + Graphics
Body
The colors on each floor have a therapeutic purpose. For example, the Legs + Walking Lab is bright orange, red and yellow; by contrast, the top floor of the Brain Innovation Center creates a soothing "skyscape" featuring a whispering transition from pale peach to soft blue. Patients with recent traumatic brain injury need to be protected from too much stimulation.
Body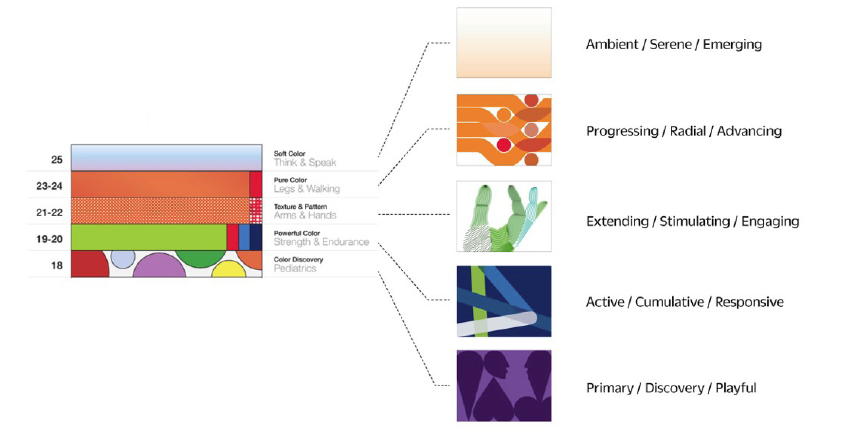 Body
Similarly, the graphics are intended to help with wayfinding and healing. The shapes reflect the focus of specific areas. For example, the Arms + Hands Lab has depictions of hands and hand movement, the Think + Speak Lab has depictions of thought and conversation "bubbles," as you might see in a graphic novel. 
Art
Body
Like the building and the spaces within, our museum-quality art collection is spread throughout the hospital — from the Sky Lobby and gardens to each patient floor. The collection was designed with intention to fill the Shirley Ryan AbilityLab's public and patient spaces with colorful, contemporary, invigorating and inspiring art.
The spirit is engaged by all five senses, the mind, nature and intuition. Thus, our individually selected pieces — paintings that sooth, grab the lapels or bring an instant smile; sculpture, mobiles and digital art that moves; a brilliantly colored leaded-glass wall in the chapel. Imagination is on full display.
The AbilityLab Architecture and Design
Body
Several leading firms collaborated on the new hospital's construction, design and experience: