Body
Integrating research into the clinical setting is just one of the innovations that sets Shirley Ryan AbilityLab apart from any other rehabilitation facility. Here you will have access to the latest technology, research and innovation at the best rehabilitation facility—all with the aim of your recovery in mind.
Where Clinical Expertise Meets Research
Body
As the leader in rehabilitation, we promise the care team especially assembled for your loved one's treatment is highly trained, very specialized and passionate about providing the best possible outcomes. Your care team of specialty physicians, therapists and nurses will quickly immerse themselves in your journey through rehabilitation, providing you and your family with the best tools to move forward. Many of our clinical experts are trained researchers, quickly adopting new approaches and evidence-based practices to lead to better outcomes in functional recovery.
Our innovative approach to care means our patients receive support services for all aspects of recovery. As an academic medical center, your care team includes residents and medical students providing around the clock care. Medical librarians and educators provide resources in our LIFE Center, preparing patients and families for all aspects of life after a traumatic injury. Housed in our flagship location is the Shirley Ryan AbilityLab Prosthetic and Orthotic Clinical Center, where certified prosthetist or orthotist work directly with your physician and therapists to create custom devices that meets your needs, and ensuring that you receive the proper therapy to use the device to its fullest potential.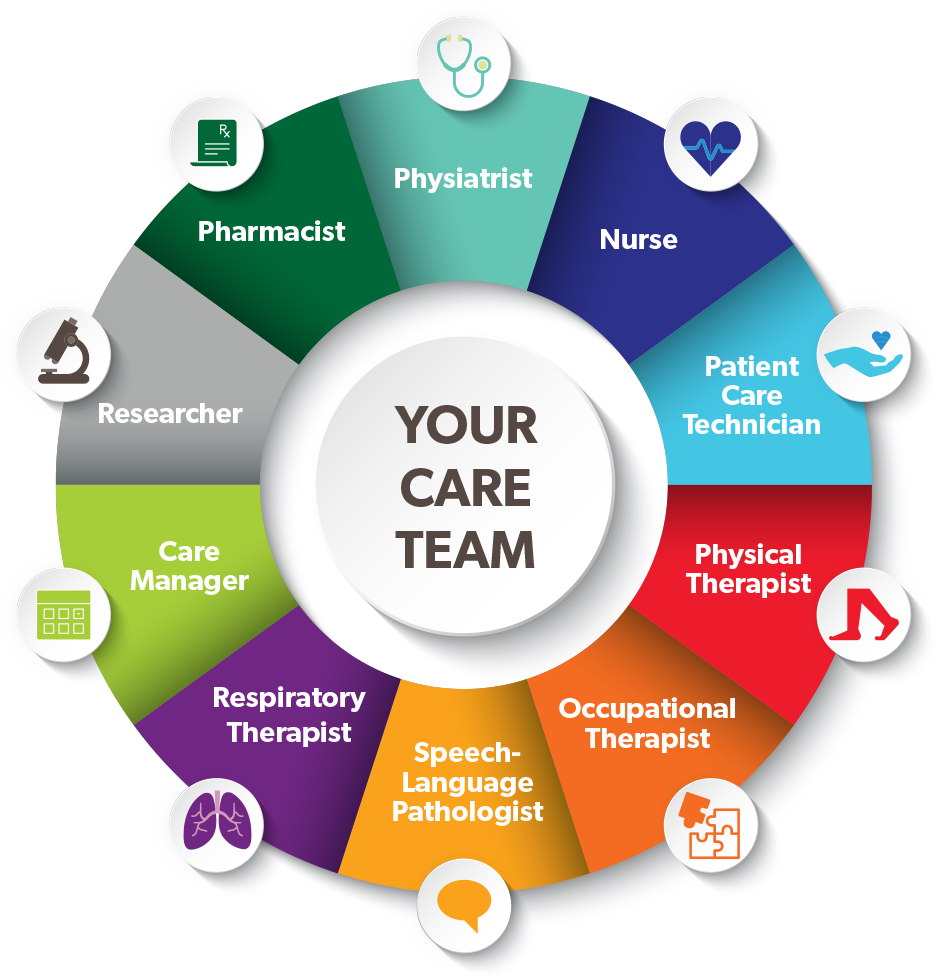 From clinicians and therapists, to researchers and care managers, all work in tandem to support your journey of recovery.
Magnet Nursing Designation
Body
Nurses at Shirley Ryan AbilityLab provide extraordinary care, committed to promoting the highest quality of life for all patients. This dedication has been recognized by the American Nurses Credentialing Center's (ANCC) with the Magnet® Recognition, a designation defining the gold standard for nursing excellence. Available only to a select number of organizations through rigorous review of practices, this recognition acknowledges a commitment to delivering the superior patient care and has been awarded to Shirley Ryan AbilityLab four consecutive times.
The Future of Care: AbilityLabs
Body
Our 5 Ability Labs, each focusing on specific functional outcomes, are dynamics spaces where interdisciplinary teams provide a full range of therapeutic services and develop new research-based insights to help patients gain function, achieve better outcomes and enjoy greater independence.
Here to Help You
Body
We treat people of all ages from around the world with a range of disabilities, from complex conditions like brain injury, spinal cord injury, and stroke to more common ailments such as arthritis and sports injuries. For answers to any of your questions, give us call at 312-238-1000, or complete the form below.