Body
CHICAGO — June 29, 2023 — Shirley Ryan AbilityLab (formerly Rehabilitation Institute of Chicago) today announced the appointment of its next leader: Pablo Celnik, MD, a physiatrist, physician-scientist and internationally recognized leader in neurologic rehabilitation and academic medicine. In mid-October, he will succeed Peggy Kirk, a 42-year veteran of the organization who will begin her retirement.  
"When our Board of Directors launched the search for the new leader, this great responsibility was not lost on us," said M. Jude Reyes, board chair. "Shirley Ryan AbilityLab is a unique organization because of the people who have built it. We knew we needed someone who would set the tone for the future — one that expands Shirley Ryan AbilityLab's reach and extends its vision — with the same passion and purpose that has defined the organization's legacy. It quickly became clear that Dr. Celnik is the leader to propel the organization forward."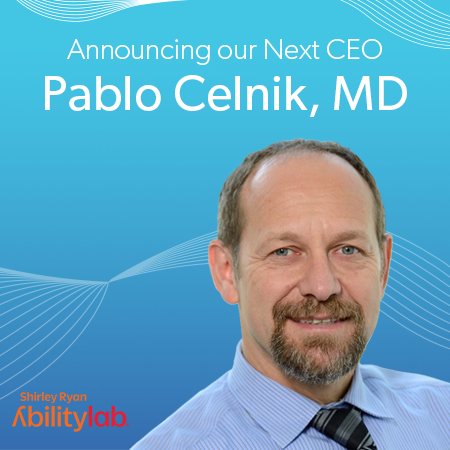 A Storied Tenure
A native of Argentina, Dr. Celnik is a physiatrist, physician-scientist and internationally recognized leader in neurologic rehabilitation and academic medicine. Currently, he serves as Physiatrist-in-Chief and Chair of the Department of Physical Medicine and Rehabilitation (PM&R) at Johns Hopkins University, leading the rehabilitation service line. His additional responsibilities include serving as Director of the Human Brain Physiology Lab; Director of the Precision Medicine Center and Co-director of the Sheikh Khalifa Stroke Institute — all at the Johns Hopkins School of Medicine.
During his storied and decades-long tenure at Johns Hopkins, he has achieved transformational growth across every area he leads, expanding the organization's local and global rehabilitation footprint, scientific funding and philanthropic contributions. He is well-published in highly regarded peer-reviewed journals, has been the recipient of countless prestigious awards and has been inducted into the National Academy of Medicine.
Embracing History, Focusing on the Future
"On paper, his credentials represent everything we were seeking in the next leader," said Reyes. "However, off paper, he is so much more. He is a visionary who sees exciting opportunities for PM&R to grow in scope and reach to serve more patients. He is an inclusive leader who values diversity of thought, perspectives and experiences. He is a believer and practitioner in an integrated approach — one that embraces the latest in research and technological advances and the best care to make patients better."
In his role, Dr. Celnik will partner with the Shirley Ryan AbilityLab executive leadership team — Nancy Paridy, president and chief administrative officer; Laura Ferrio, chief advancement officer; Rick Lieber, PhD, chief scientific officer; Betsy Owens, chief marketing and innovation officer; James Sliwa, DO, chief medical officer; and Jonathan Tingstad, chief financial officer — to drive the organization forward.
"Shirley Ryan AbilityLab's translational model blending research with clinical care — coupled with its exceptional teams and expanding global network — make this a propitious moment to grow the organization, continue leading the field and, most importantly, advance patient recoveries," said Dr. Celnik. "I am humbled by this opportunity and eager to collaborate with the team to build on the organization's rich and innovative legacy. I am also grateful for Peggy Kirk's partnership during this transition period."
Kirk, who joined the organization in 1981 as a nurse on the spinal cord injury unit, has served as president and CEO since 2021. Prior, she was chief operating officer and senior vice president overseeing all clinical areas, including Inpatient, Outpatient, DayRehab, and partnerships with acute-care hospitals domestically and internationally. Notably, she served as an integral member of the executive team charged with bringing to life Shirley Ryan AbilityLab's $550 million, 1.2-million-square-foot facility. The facility opened in 2017 as the first-ever translational research hospital, where clinicians, scientists, innovators and technologists work together in the same space, surrounding patients, discovering novel approaches and applying (or "translating") research in real time. 
"I want to extend heartfelt thanks to Peggy Kirk, said Reyes. "Following the passing of former CEO Dr. Joanne Smith, Peggy answered the call to push back her retirement date and, in partnership with Nancy Paridy, led Shirley Ryan AbilityLab during this important chapter. Peggy helped the organization navigate through the COVID-19 pandemic, led the team to serve more patients than ever before, and launched the Accelerate Ability fundraising campaign, which is raising dollars that will help continue bringing the organization's translational vision to life. Peggy's influence and legacy will be felt long after she retires."
About Shirley Ryan AbilityLab
Shirley Ryan AbilityLab, formerly the Rehabilitation Institute of Chicago (RIC), is the global leader in physical medicine and rehabilitation for adults and children with the most severe, complex conditions — from traumatic brain and spinal cord injury to stroke, amputation and cancer-related impairment. The organization expands and accelerates leadership in the field that began at RIC in 1953. The quality of its care has led to the designation of "No. 1 Rehabilitation Hospital in America" by U.S. News & World Report every year since 1991. Shirley Ryan AbilityLab is a 501 (c)(3) nonprofit organization. For more information, go to www.sralab.org.