Body
WGN news recently aired a story about children who have survived gun violence in Chicago, focusing on the experience of 12-year-old Shirley Ryan AbilityLab patient Mekhi.
In 2019, Mekhi was 8 years old and attending a baby shower in Chicago's Englewood neighborhood when he was shot and paralyzed. According to WGN, Mekhi was one of 238 kids shot in Chicago that year.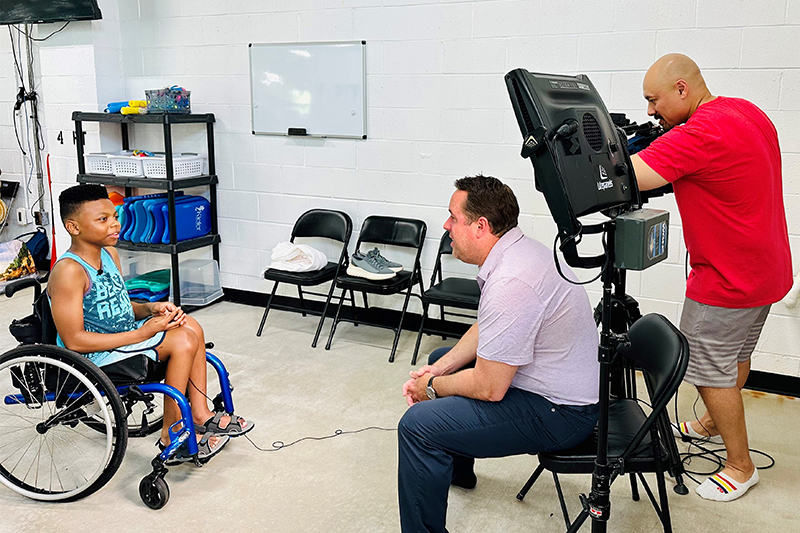 Today, Mekhi is co-captain of the Shirley Ryan AbilityLab Megalodons adaptive swim team. The WGN report included the perspective of Megalodon head coach, Juliana Libertin, PT, senior physical therapist at Shirley Ryan AbilityLab. Also featured in the story were Shirley Ryan AbilityLab team members Walter Guminiak, physical therapist assistant (the Megalodons' other head coach), and Kaitlin Barr, DPT, physical therapist (an assistant coach for the team).
"Mekhi has a very supportive family and I think his attitude — his work ethic — allow him to get through his own journey and allow him to succeed," said Juliana.
Throughout the story, Mekhi's inspiring, positive attitude shone through.
"The first two weeks, Mama told me, 'It's going to be different, but we'll make it through,'" he said.