Body
It's been said that finishing a marathon is a state of mind that says anything is possible. The same can be said of recovering from a life-altering injury or illness. Regaining ability can be a marathon of its own, one that can stretch on for months or even years — sometimes without a clear finish line.
Tracy is a life-long athlete who was training for the 2016 marathon, when, out of the blue, she had a stroke that doctors later attributed to an undiagnosed autoimmune disorder.
After eight days in a neuro-intensive care unit, she returned home without much support for the next part of her recovery and uncertain what to expect. Less than two months after the stroke, she returned to work as a licensed clinical professional counselor, all the while battling debilitating headaches, fatigue, insomnia and difficulties with concentration.
Gradually, Tracy regained her strength and independence. By 2018, she had mostly returned to her life, and she considered training for the 2018 Chicago Marathon as something fun that she could do in her spare time.
A Dream Deferred, Yet Again
Body
Just a few months before the big day, Tracy was on her usual morning run when she was hit by a car, sustaining injuries to her neck and shoulder, a broken ankle, broken arm, and, most significantly, a traumatic brain injury.
When her partner Kevin arrived at the hospital, Tracy didn't recognize him. Although she could speak, she was too disoriented to engage in even brief conversations and didn't understand where she was or what had happened.
Nine days later, Tracy remained disoriented and immobile. One of her nurses told Kevin that Tracy needed more help and support than she was getting, and that if he could get her to Shirley Ryan AbilityLab, he should do so as soon as possible. That was all he needed to hear.
On Her Feet on Day One of Therapy
Body
When they arrived at Shirley Ryan AbilityLab, Kevin felt he could relax for the first time since the accident. "Our other hospital experiences left me feeling that I had to be there all the time to make sure she was properly cared for," he said. "But at Shirley Ryan AbilityLab, the doctors and staff understood Tracy's needs. I knew she'd be safe."
Like all patients at Shirley Ryan AbilityLab, Tracy began therapy the very next day. Kevin couldn't believe his eyes when he saw her taking steps in her very first physical therapy session.
With the assistance of an overhead body-weight-support harness, Tracy was walking on a treadmill as if she had not spent the prior week in bed. Kevin noticed how happy she looked to be up and moving again.
Body
Physical exercise plays a vital role in not just building strength and improving motor skills, but also in regaining cognitive abilities. Gradually, Tracy began to remember facts about herself, as well as recognize Kevin.
Although she has no memory of the accident, Tracy recalled feeling confused about why she was in the hospital and frustrated that she couldn't go home and return to her life. To buoy her spirits and remind her of home, Kevin sent Tracy photos and videos of their dog Waffles.
Regaining the ability to throw the ball to Waffles became a goal her therapists used for motivation as she worked on recovering function and strength in her left arm.
Halfway through her inpatient stay, Kevin brought Waffles for a visit. Spending time with their sweet and feisty four-legged friend gave Tracy joy and a much-needed connection with home.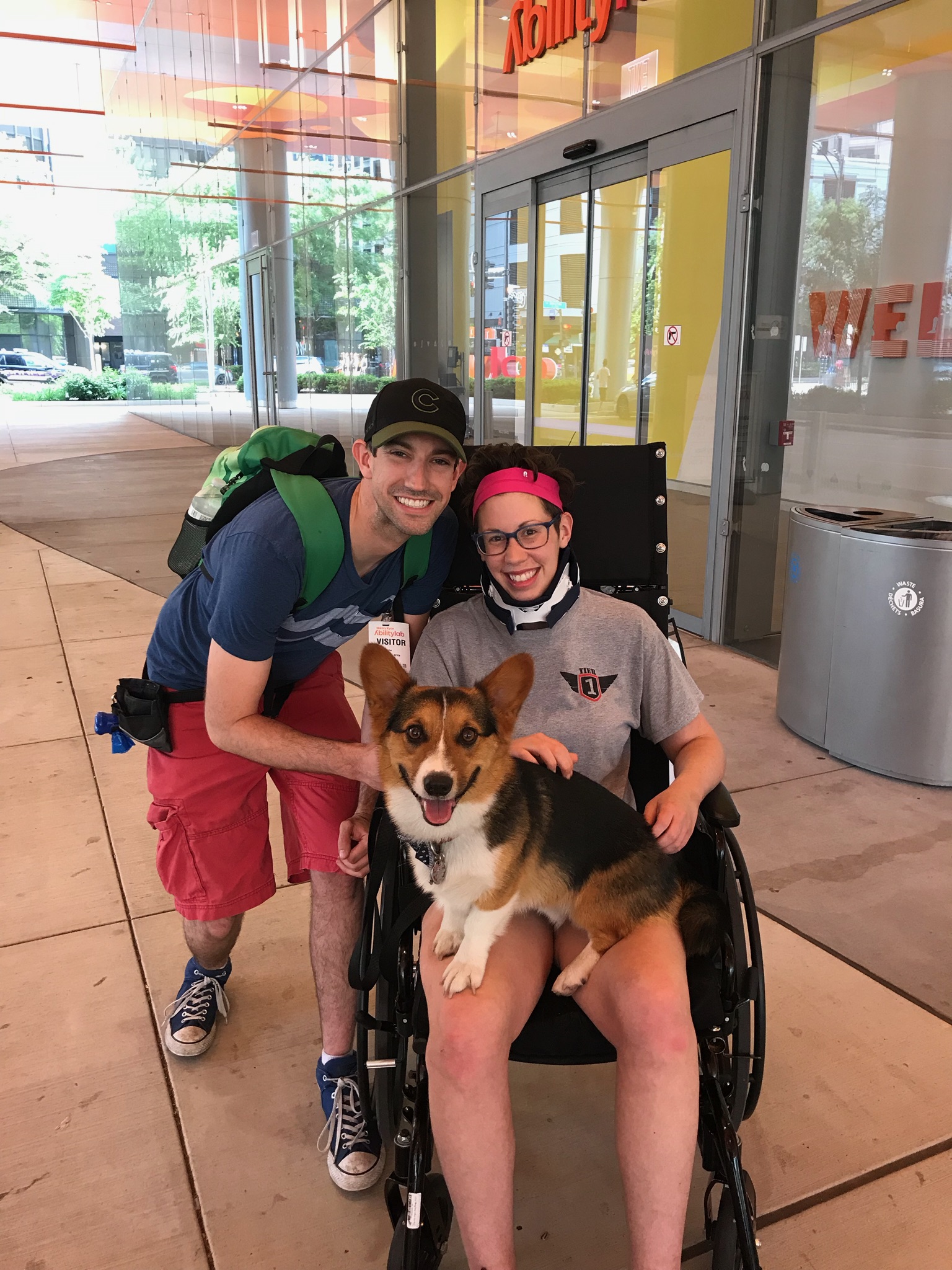 Becoming Herself Again
Body
At first, Tracy's therapists had to guide her through exercises, but soon, Tracy took charge and performed them with enthusiasm. Her engagement in her own care was a sign to Kevin that Tracy was returning to herself.
By the time she left inpatient care, Tracy was able to grasp what had happened to her and recognize family and friends. She could walk on her own, engage in full conversations and play ball with Waffles. Although she still needed support with daily tasks like showering, walking up and down stairs and meal preparation, her care team's guidance helped ease the transition to living at home.
From this familiar and comforting setting, she undertook an additional eight weeks of rehabilitation, first in DayRehab®, and then as an outpatient. During this stretch, Tracy was focused on regaining independence and planning her return to work with the help of a career coach.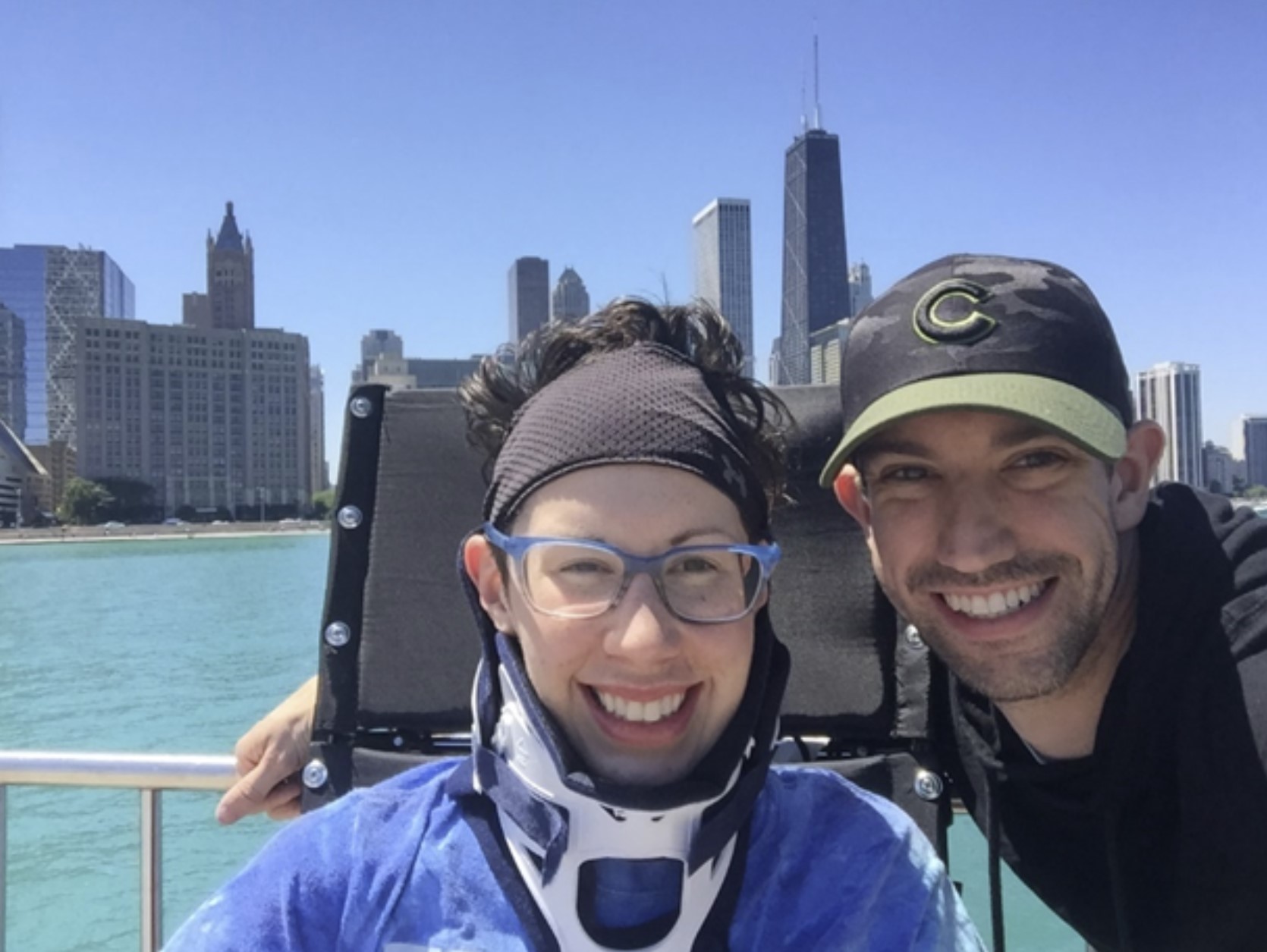 Gaining New Perspectives
Body
Although Tracy's body continued to grow stronger, her brain wasn't healing at the same rate.
Even after she returned to work, brain fog, low energy and struggles with cognition left her exhausted, frustrated and, at times, ashamed. It tested her resilience.
Tracy credits her care at Shirley Ryan AbilityLab with giving her the strength to push on. "When you're recovering from a head injury, it can feel like you're never going to be able to live your life again," she said. "It was my Shirley Ryan AbilityLab experience that gave me hope that I could come out on the other side." 
Witnessing her team's commitment to Tracy's safety and progress — and especially their belief in her — gave Kevin a renewed sense of trust and hope, as well.
"They never put any limits on Tracy's recovery," said Kevin. "I was always wondering when her progress would stop and what deficits she would be left with. Everyone tried to open my mind on that. They said, 'There's no ceiling to how much Tracy can come back; she can do this.' That message was really important for me to hear as a caregiver."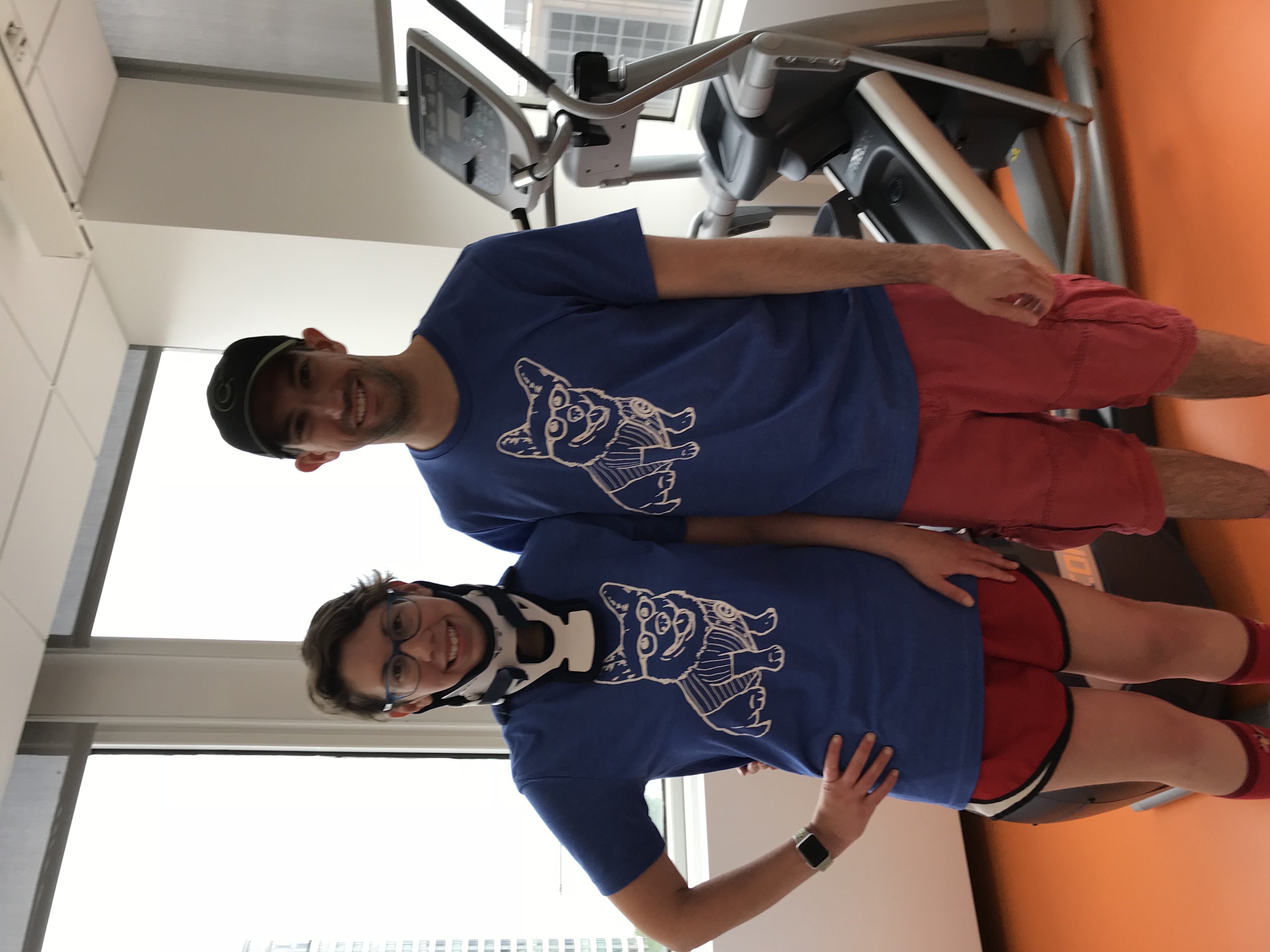 A Different Kind of Comeback
Body
Just as the pandemic swept across the world, Tracy felt the urge to run again. The couple purchased a treadmill, and together, spent 2020 training for a 10K.
Running became her refuge, a space where she could escape the demands of her recovering brain and simply focus on the rhythm of her footsteps.
Running together was nothing new for the pair. This time, however, would be Tracy's re-introduction to running on the street and in a crowd. Any worries that Kevin had evaporated when she passed him and just kept running faster until he could no longer catch up.
Her success in the 10K fueled her ambition to revisit unfinished business — the Chicago Marathon. This would not just be a personal challenge, but it would also serve as an opportunity to give back to Shirley Ryan AbilityLab. She and Kevin are both running on Shirley Ryan AbilityLab's 2023 Chicago Marathon team, an event which raises funds for the hospital and other patients.
"I was incredibly privileged to be able to receive care at Shirley Ryan AbilityLab," Tracy said. They taught me that a brain injury doesn't have to control the rest of my life. They gave me back my life. I owe them the world for that."