Body
Ryan Novack, a young Air Force officer, was living and working at a Military base on the Western Pacific island of Guam when a fun excursion turned tragic. On June 16, 2016, Ryan, an Aurora, Ill., native, was in an off-road motorcycle accident that broke his spine at the T12 vertebrae. (T12 is the portion of the spine that sits just above the hip girdle.)
"I was thrown off my bike and, once I landed, I knew something was wrong," recalled Ryan. "It took a lot of effort to sit upright, and I couldn't get my feet under me." In the hours that followed, Ryan was brought to a naval hospital, and then to a civilian hospital where he underwent emergency surgery.
"Once I learned that I had broken my spine, I realized it was time to get really, really positive and do everything I could to recover," he said.  Within 36 hours of surgery, Ryan was flown by air ambulance from Guam to Hawaii, where he stayed in a hospital for just under four weeks. There, he fought an infection and underwent another surgery. He was told that he would need to be on antibiotics for the rest of his life.
Body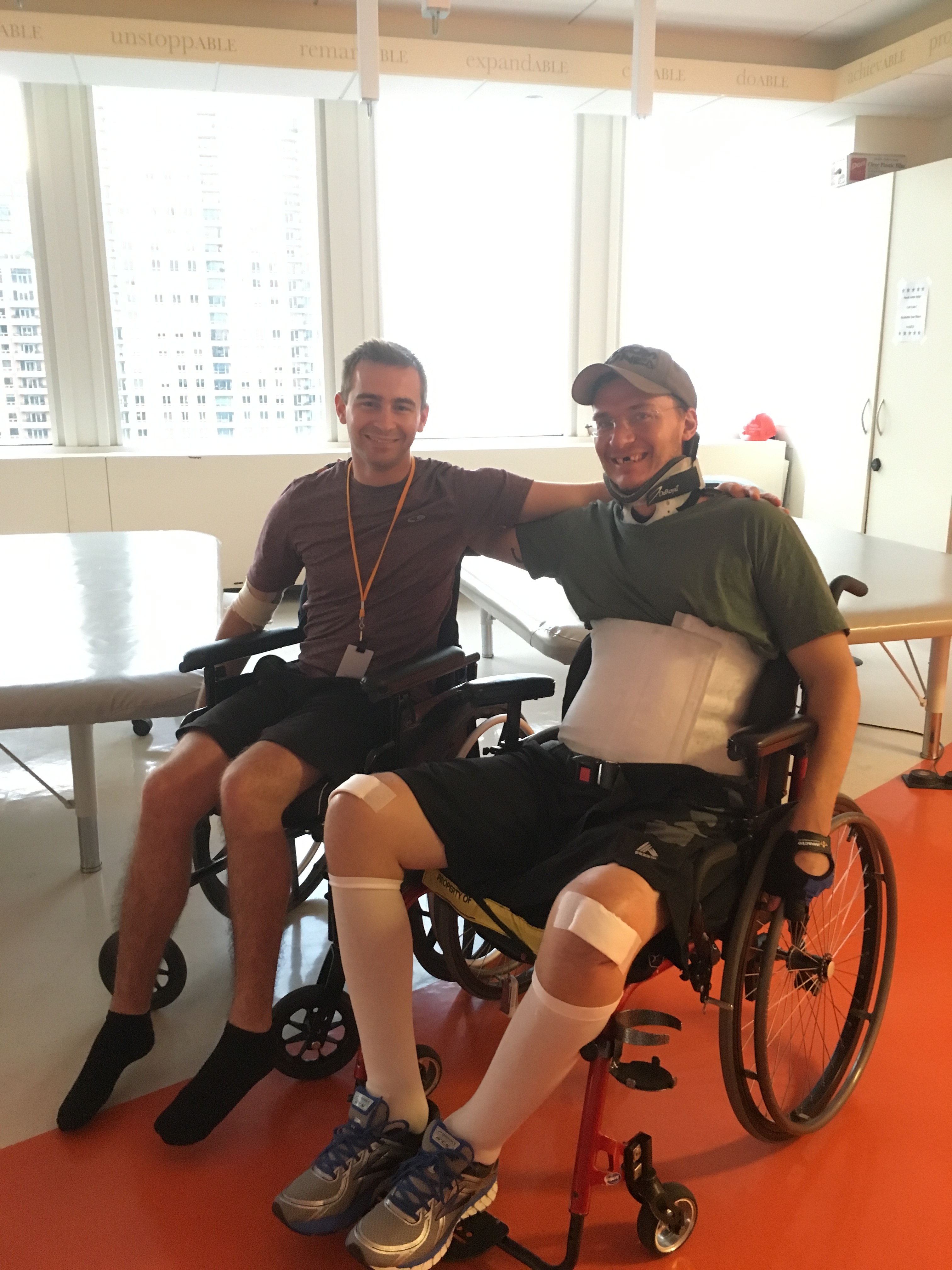 It was in Hawaii that Ryan made the decision to come to the Rehabilitation Institute of Chicago (RIC)."I was originally encouraged to go to a VA hospital for inpatient rehabilitation, but I wanted to look at other options," said Ryan. "I knew RIC had the best track record for treating spinal cord injuries and that they and could help me. When I learned that RIC's Global Patient Services team were expert at coordinating arrangements with the Military, it made me feel very confident in my choice of RIC."
When Ryan arrived at RIC on July 10, 2016, his therapists immediately focused on getting him on his feet. "At first, I was struggling to move at half a mile per hour on the treadmill; I was 'white-fisting' it on the parallel bars, and I was completely exhausted after just a few minutes," Ryan recalled. In his first "six-minute walk test" — a standard assessment of distance walked over a six-minute interval and used to measure capacity and endurance — Ryan was able to walk only 183 steps. His endurance soon improved thanks to physical therapy sessions in which he practiced walking with a walker and harness. Within 10 days, he was on crutches and able to walk 800 steps in that same short period of time.
"I'll never forget hitting a milestone around the time I started using crutches," said Ryan. "I was having trouble walking and just about to stop, but all of a sudden, things clicked. The next day, my therapist stopped by and said, 'I have 15 extra minutes; come with me.' I was able to do a lap around the whole floor without the harness, and I even made it down to the cafeteria." Soon after, Ryan was able to walk 1,080 steps in six minutes without crutches. He was even able to stand unassisted for 45 minutes straight "Typical therapy sessions included walking on a treadmill and on a variety of surfaces (indoor/outdoor), as well as climbing and descending stairs. His stamina continued to improve.
It's been wonderful to have RIC's committed team so invested in my recovery.

Ryan Novack
Body
Occupational therapy sessions focused on Ryan's balance and dexterity. His occupational therapist (OT) worked with him on practicing everyday skills, such as going to the grocery store, folding laundry and making his bed.
Toward the end of his inpatient stay, Ryan became involved in RIC's therapeutic recreation program, which enabled him to play golf, a sport he loves. After some practice, he was able to maintain his balance during swings. On Aug. 15, 2016, Ryan was discharged from inpatient care. Since then, the RIC team has continued to support his goal of returning to active duty through outpatient physical therapy, which he receives five days a week. Outside of therapy, Ryan stays incredibly busy. He's joined RIC's Adaptive Sports & Fitness Program, where he regularly works out. He's recently gone camping, kayaking and bicycling, and hopes to qualify for the Warrior Games. He's even begun a master's program and is working on earning a private pilot's license. Eager to take advantage of RIC's deep commitment to research, Ryan has enrolled in a study that seeks to improve balance and strength for individuals with neurological disorders. 
"The accident was one of the hardest times in my life, but my positive spirit has lifted me up," said Ryan. "It's been wonderful to have RIC's committed team so invested in my recovery."