Body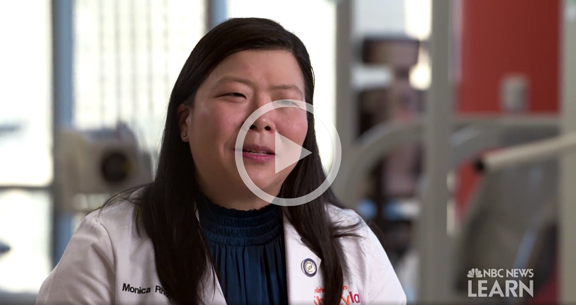 The legacy of the U.S. Women's National Soccer Team speaks for itself. Four World Cup titles and four Olympic gold medals - the most recent won at the 2012 Olympics in London. The team hopes to capture a fifth gold medal at the 2020 Olympic Games in Tokyo as they take on the best teams in the world. […]
Staying healthy and injury-free is a full-time job for the athletes. And supporting them behind the scenes is a team of doctors, physical therapists and nutritionists. Leading the charge is team physician Dr. Monica Rho, the chief of musculoskeletal medicine at the Shirley Ryan Ability Lab in Chicago.
"I really do feel lucky because I have the best job in the world, if you think about it, because not only do I get the opportunity to take care of the best female athletes in this world, I also have this great job back in Chicago that supports me to be able to live out my dream," [says Dr. Rho].
Dr. Rho's specialty is physical medicine and rehabilitation with the goal of getting athletes, including Kelley O'Hara, Julie Ertz and Crystal Dunn, back on the field in the event of illness or injury.
I never set out to be a physician at the Olympics... I just set out to really take the best care of patients with holistic care of patients and dedication and passion for what you do.

Dr. Monica Rho
Body
[Dr. Rho explains, …] "It's not just about treating the injuries that happen, it's about preventing the injuries and illnesses that we don't want to happen."
Getting to know each player and her medical history is key to providing an individualized plan, something that Dr. Rho and her team pride themselves on. These plans are designed to get the best movement and performance from each player. To accomplish this, Dr. Rho uses a variety of technologies to help the athletes get back on their feet after a sprain, strain, or twist to their knees or ankles. One device is the Alter-G, a treadmill that can reduce the amount of impact and stress on an athlete's lower body by using air pressure to bear up to 80% of her body weight. Dr. Rho has athletes use this machine when making a comeback from something like a stress fracture or muscle tear that prevents them from running.
"In their return to running progression, we'll sometimes place them in the Alter-G. So they're not doing 100% of their body weight running, but they might be running at 20% of their body weight or 50% of their body weight as they progress back."
Watch the video and read the full interview at NBC News Learn.