Body
At the 2023 Powerchair Soccer World Cup in Sydney, Australia, Team USA defeated Argentina, 2-1, to earn a third-place finish. In their previous game, the Americans lost a tough semifinal against England, 1-0. (England and France played to a 1-1 draw in the final; France eventually won 2-1 on penalty kicks.)
Throughout the weeklong tournament, the U.S. team was supported by two Shirley Ryan AbilityLab clinicians — Daniel Goodman, MD, attending physician; and Sarah Mulroe, RN, clinical nurse coordinator, 20th Floor.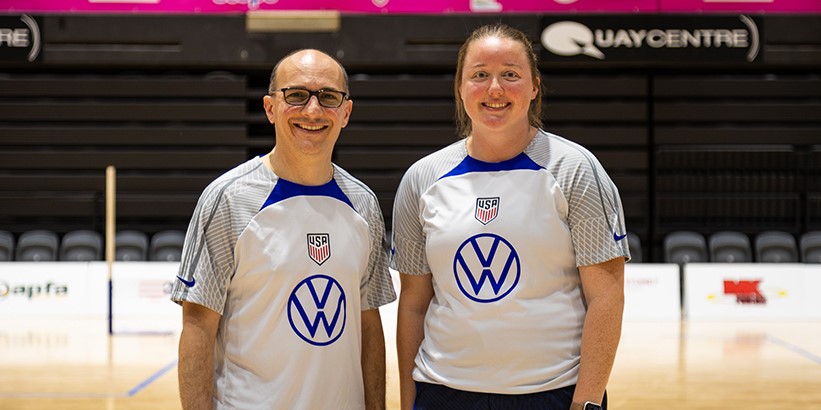 "It was amazing for me to see these athletes in their element and living their dream. Their skill with these wheelchairs is exceptional," said Dr. Goodman. "Although our team was not able to bring home gold or silver, they were so thankful to have had the opportunity to play at this level and honored to bring home the bronze. They regularly said that every day is a great day when they get to play the sport they love with their teammates."
Sarah noted the impressive combination of skill and strategy on display by all 10 teams throughout the tournament.
"It was amazing to see how each country used a different strategy. The U.S., for example, has such strength in set pieces and corner kicks — against really strong defensive teams, they would maneuver the ball to hit off them and get a corner kick opportunity. Other teams had one player who was much stronger than the others — they would put them as goalie, but then let them play up and have the option to drop back as the play shifted. It was interesting to see the U.S. adapt their strategy as games progressed."
Before the tournament began, the U.S. team showed their ability to overcome adversity — including logistical adversity!
"Imagine what it takes to transport eight athletes to the other side of the globe with their everyday wheelchairs as well as their game chairs. Then, when we arrived in Sydney, one of the game chairs was missing," said Dr. Goodman. "Fortunately, it was found at the Los Angeles airport and was delivered in time."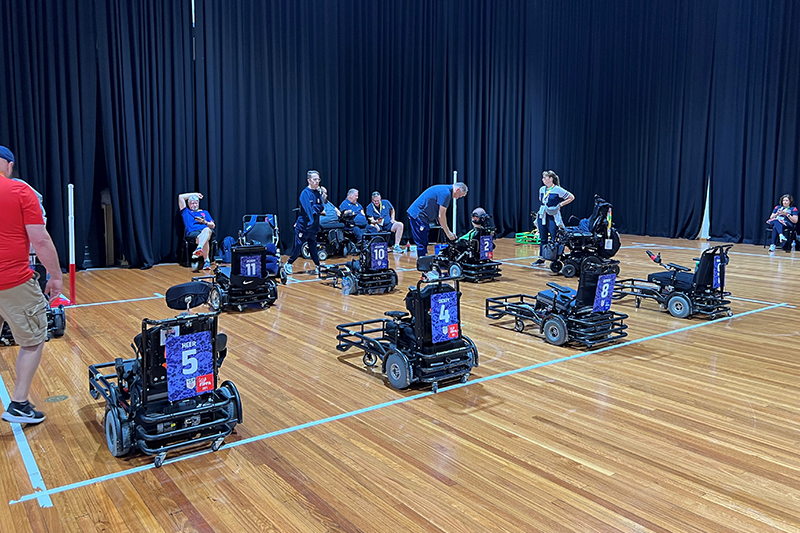 This year's World Cup was the first tournament in which the U.S. team officially was part of the United States Soccer Federation (U.S. Soccer), the umbrella organization that governs the sport at all levels in our country: from youth to professional leagues, men's and women's national teams, and Paralympic and adaptive teams.
"At earlier World Cups, the athletes told us they had to sort of scrap together for supplies and resources and rely on helping each other out if any medical issues arose," said Sarah. "They mentioned how nice it was to be able to focus on their job of playing and game strategy, knowing we had the rest covered. Since we were there to do our jobs, the athletes could stay in game mode."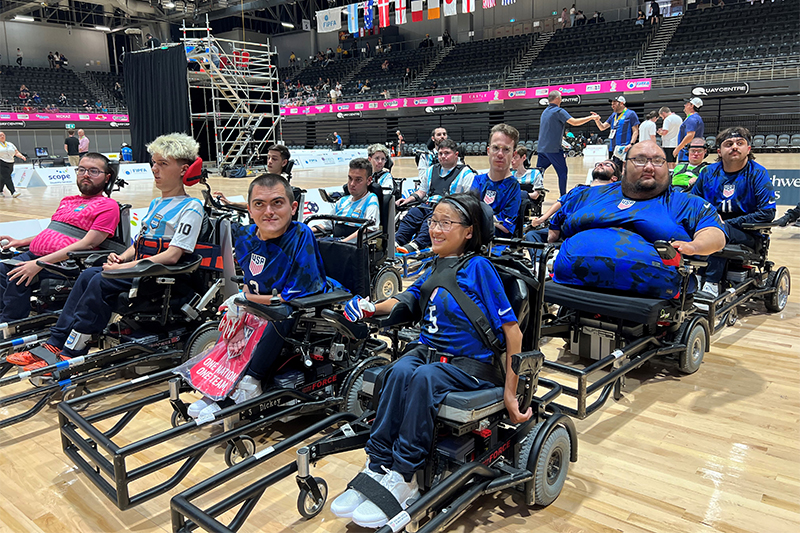 Dr. Goodman said the experience of supporting the U.S. team was "truly special and beyond words," and he hopes that, although the tournament has ended, something better is just beginning. 
"My personal hope is that this will be an ongoing relationship with U.S. Soccer and the Power Soccer National Team," he said. "Based on personal discussions with staff, it seems likely that there will be further opportunities to serve as medical staff on both national and international levels."
Added Sarah: "It was so amazing to be able to use my nursing skills with a sport I have loved my entire life."