Body
On March 25, the first class of graduates from Shirley Ryan AbilityLab's Oak Point University CNA Career Accelerator Program received their certificates in a ceremony attended by colleagues, family and distinguished guests.
Beatrice "Bebe" Bickart
Previous Role: Lead EVS Technician, Environmental Services
Phyllis Cain
Previous Role: EVS Technician, Environmental Services
Latrice Jones
Previous Role: Nursing Rehab Aide, 25th Floor (Brain Innovation Center)
George Mbahotu
Previous Role: 19th Floor (Nerve, Muscle and Bone Innovation Center)
Rosmery Soraino-Moore
Previous Role: Nursing Rehab Aide, 23rd Floor (Brain Innovation Center)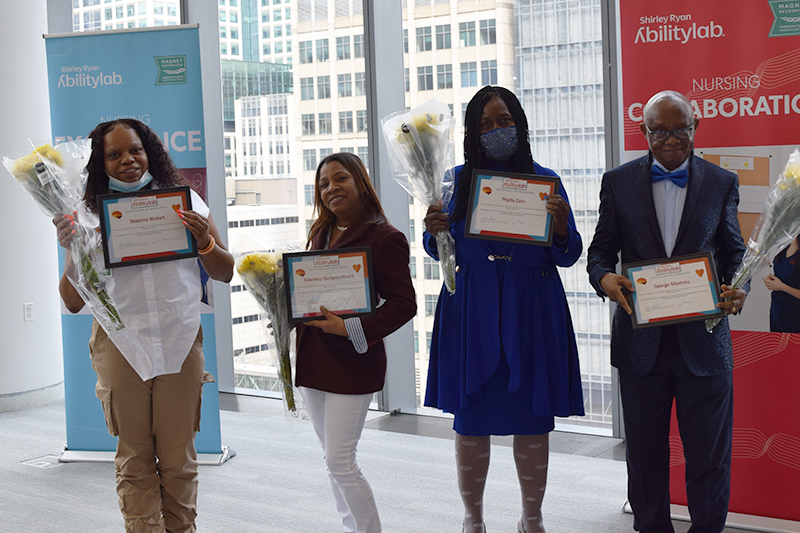 This unique program provides a fully-paid fast track to educate, certify and employ certified nursing assistants (CNAs) — what we refer to as patient care technicians, or PCTs, at Shirley Ryan AbilityLab. PCTs provide basic care to our patients, including basic hygiene, activities of daily living and therapeutic rehabilitation activities.
The graduation ceremony included a reading by Bebe Bickart of the poem "My Caregiving Friend" by Tim Brennan, and remarks from Oak Point University's Bill Spakowski and Peggy Kirk, Shirley Ryan AbilityLab's president and CEO.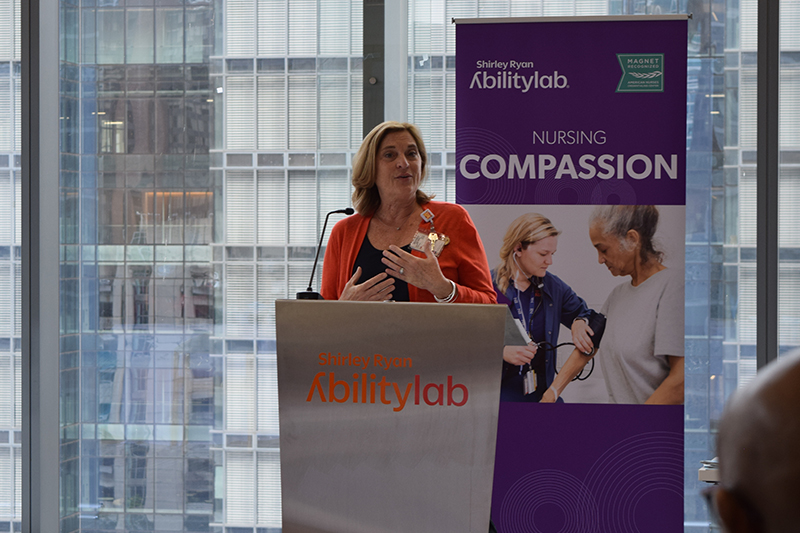 "As the first class from the innovative Oak Point University–Shirley Ryan AbilityLab program, you are our trailblazers," said Peggy. "From my time as a nurse, I know how good PCTs make all the difference — both to RNs and to a patient's outcome. We are so grateful that you took the leap to move forward and continue to grow your career."
The graduates, who hail from various Shirley Ryan AbilityLab departments, attended classes at Oak Point University's building in Wicker Park (at the AMITA Health Saints Mary and Elizabeth Hospital), and were able to start as Shirley Ryan AbilityLab nursing rehab aides after enrolling. The eight-week course consisted of two weeks of classroom orientation followed by six weeks of one-day clinical experiences and additional classwork. Now, graduates are eligible to become PCTs after passing a final exam and test administered by the Illinois Department of Public Health.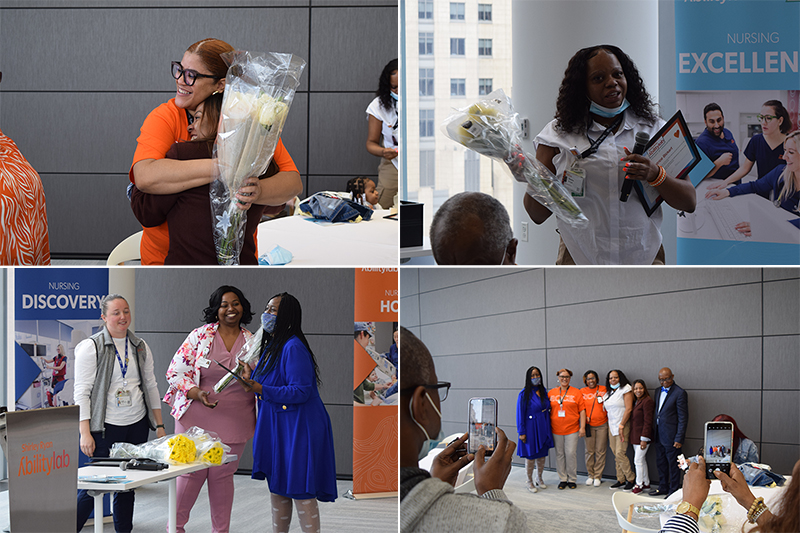 Thanks to funding from Shirley Ryan AbilityLab's Robert R. McCormick Foundation Center for Hope and Equity, students in the PCT training program receive free tuition and course materials, and are paid for their time in class.
Phyllis Cain
"I really enjoyed the Oak Point University program; all the instructors were awesome. It was such a learning experience — learning how to do catheters and feeding bags and blood counts. Before coming to Shirley Ryan AbilityLab, I was in home healthcare and had little experience in this environment. Then, at Shirley Ryan AbilityLab, I have worked in housekeeping. Now, I want to be a PCT because I just like caring for people."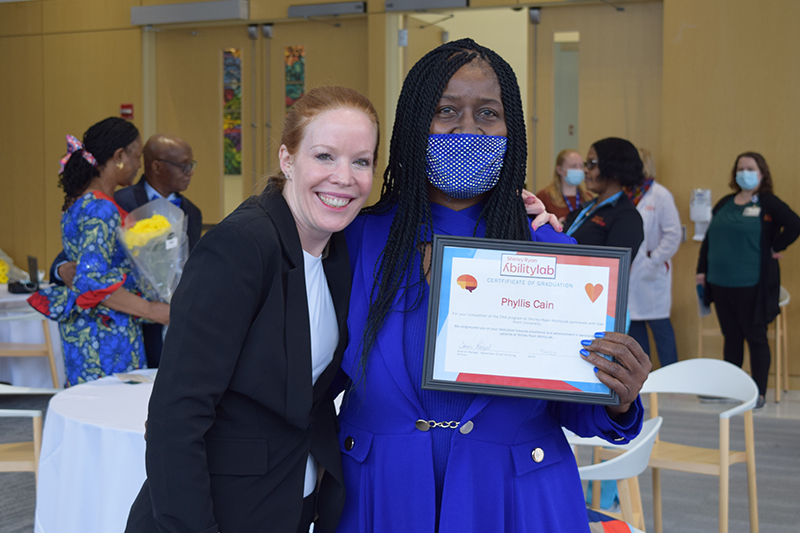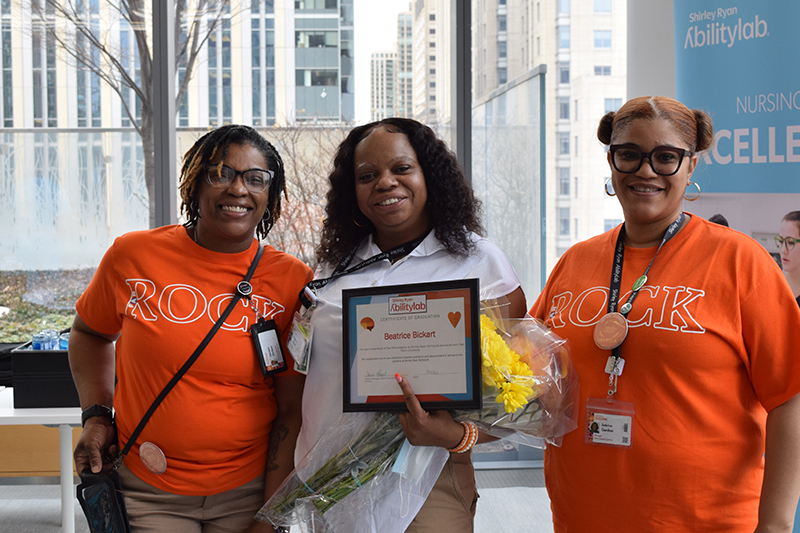 "For about 12 years, I worked in dietary — then, for about the same number of years, I was in EVS. Now, as a rehab aide, I get more one-on-one time with the patients. I like to talk and learn things about them: where they're from and everything about them. Now, when I tell people about becoming a PCT, I say, 'You should think about it — you should take a chance!'"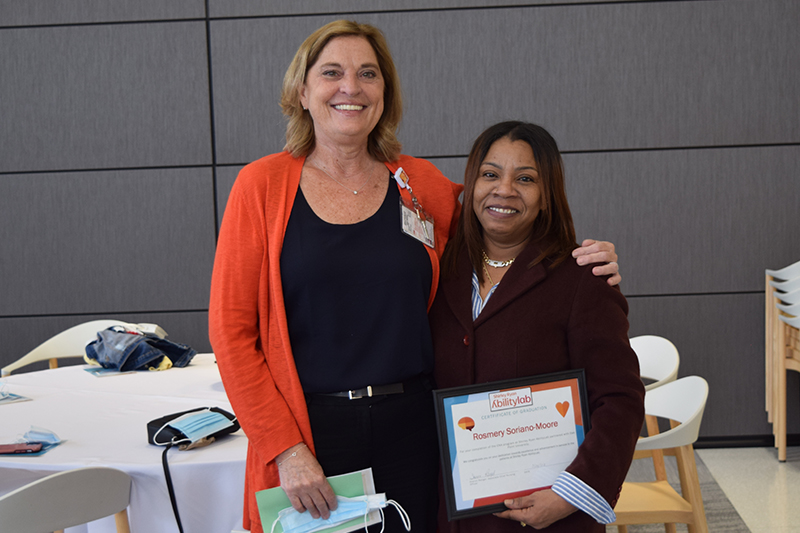 "Thank you to Shirley Ryan AbilityLab for giving us this opportunity to grow more and more. And thank you to my supervisor and director in EVS and everyone on the 23rd Floor — I'm here to do better."
George Mbahotu
"I learned about this program from my able and agile manager — she is the best manager! I found that everyone at Oak Point was quite cordial, with good coursework and good instructors. I love caring for people, and I love nursing as a profession."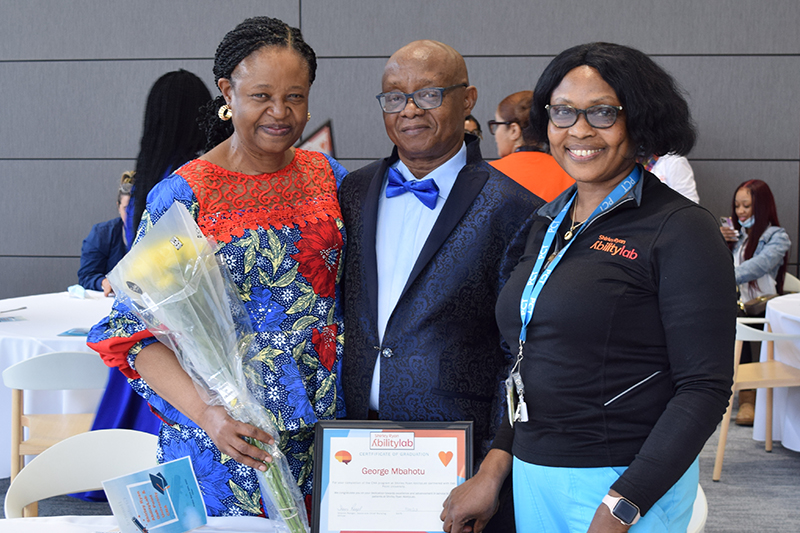 Apply to the Oak Point University CNA Career Accelerator Program - Deadline: April 15
Body
Anyone can apply for the next cohort in the Oak Point University CNA Career Accelerator Program.
Application deadline: April 15
Cohort start date: May 1
Click below to download a flyer to learn more: