Body
Mark Stephan came to the Rehabilitation Institute of Chicago (RIC) following a 2007 cycling accident that left him with quadriplegia. Fearful of never regaining the ability to move, a likely outcome in such cases, Mark sought out the world's best to provide intensive medical care and therapy. Four months later, he walked out of the hospital on his own, a recovery almost unheard of given his initial condition.
Inspired by Mark's journey at RIC and the unwavering support of his wife, Margaret, Timothy and Sharon Ubben have contributed $10 million in support of the Shirley Ryan AbilityLab, RIC's state-of-the-art research hospital. Opening in March 2017, the $550 million, 1.2-million-square-foot facility will be the first-ever "translational" research hospital in which clinicians, scientists, innovators and technologists will work together in the same space, applying (or "translating") research real time.
Specifically, the Ubbens' gift will underwrite the Legs + Walking Lab — a dynamic, two-story applied research and therapeutic space that will serve patients recovering from a range of conditions, including spinal cord injury, amputation and traumatic brain injury. To enhance recovery of walking, extensive use of robots, smart devices, electrical stimulation and emerging technologies, including biologic and pharmacologic, will be deployed. At the insistence of the Ubbens, the lab will be named the "Margaret & Mark Stephan Legs + Walking Lab" in honor of the Stephans.
"Sharon and I have great admiration for the Stephans," said Tim Ubben. "With the help of RIC, Mark, the quintessential athlete and competitor, has accomplished unimaginable feats, and Margaret has supported him every step of the way. They've shown courage, persistence and an indomitable will to overcome this injury. RIC has been and will continue to be central to Mark's recovery, and it's been amazing and awe-inspiring to witness his journey."
Mark's journey continues to this day. Following four months of intensive inpatient therapy at RIC in 2007, he participated in the Institute's DayRehab™ program, where he engaged in eight hours of therapy, five days a week, for the next year. Since then, he's participated in more than 25 RIC research studies.
"Mark's recovery shows what's possible when best-in-class care is integrated with novel approaches and the latest research," said Joanne C. Smith, MD, president and CEO of RIC. "The studies he has participated in are not only critical for advancing science, but also for helping Mark make gains, which he continues to make to this day. By participating in RIC research, Mark has impacted untold numbers of others who face similar challenges. The Margaret & Mark Stephan Legs + Walking Lab will truly be an incubator where the best minds in research, technology and clinical care meet to address the most important patient problems. We are immensely grateful to the Ubbens for honoring the Stephans in this extraordinary way."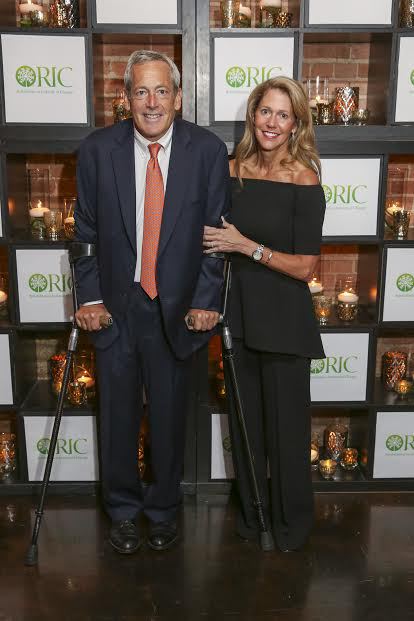 In addition to his participation in RIC research studies, Mark has biked across the country and climbed the Willis Tower on multiple occasions, all to raise funds and visibility for RIC. He's been a member of the hospital's Governing Board since 2010, and regularly visits patients to encourage them along in their recovery.
"Many speculate that a person with my level of injury is likely to plateau in their recovery within 6 to 12 months, and that's simply not true," said Mark Stephan. "It's not something I ever believed, and it's certainly not something my care and research teams at RIC ever believed. Nearly a decade later, I'm still making gains. I have tremendous gratitude for those who have supported me in this process — those at RIC, Margaret and my family, our community in Winnetka, Ill., and the Ubbens, who have believed in me all along and whose support will make recovery possible for so many others."     
Mark and Tim met in a professional context several decades ago. Since then, their families have become close. Several months ago, the Ubbens invited the Stephans to dinner. Over burgers, Tim and Sharon told Mark and Margaret that they wanted to commit $10 million to RIC — and the future Shirley Ryan AbilityLab — with one contingency: that the gift would recognize the Stephans. 
"It was an incredibly emotional moment," said Margaret Stephan. "Here's a couple that has no interest in personal recognition; their only goal is to recognize a unique moment of recovery and hope that they witnessed so vividly in Mark. They understand that sharing this moment will inspire so many others. Their belief truly speaks to the humanity and power of philanthropy." 
The Ubbens, Glencoe, Ill., residents, have spent the better part of the last 20 years immersed in nonprofit work. In addition to RIC, they support an array of other organizations and causes, including the Posse Foundation, DePauw University, the Boys & Girls Clubs of America, and the arts in Naples, Fla.
RIC's $350 million capital campaign is expected to close in December 2017, and, currently, all new campaign contributions will be matched on a dollar-for-dollar basis up to a total of $8.75 million. Gifts can be made directly online or by calling 312.238.6013