Body
On June 11, the 13 medical residents and six fellows in the class of 2021 commemorated graduation day with separate ceremonies in Auditoriums A/B/C and receptions in the Gardens on the 10th Floor.
The programs included remarks, recognition and awards presentations from Sarah Hwang, MD, director, Women's Health Rehabilitation; Monica Rho, MD, chief, Musculoskeletal Medicine; Elliot J. Roth, MD, attending physician, Brain Innovation Center; and Leslie Rydberg, MD, attending physician.
Congratulations to all graduates!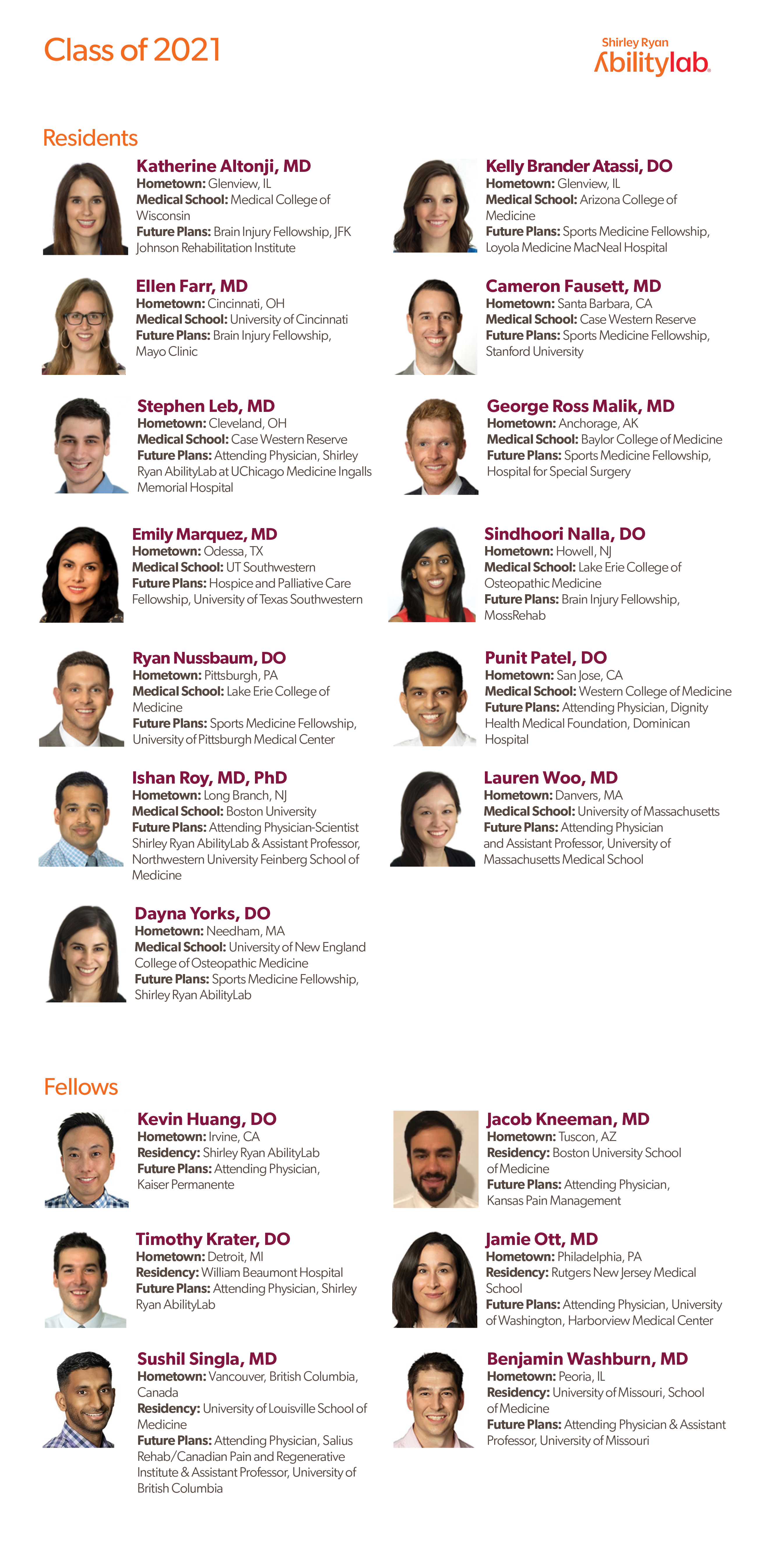 Awards
Sewell Resident: Adenike Adewuyi, MD, PHD
Rising fourth-year resident who is most likely to succeed in resident research.
Joanne S. Crown Resident: June Choo, MD
Rising fourth-year resident who has achievements and promise as a leader in the field of rehabilitation as demonstrated through understanding, compassion and appreciation of the quality of life issues for patients.
Kotler Resident: Stanley Guillaume, MD
Rising fourth-year resident who has demonstrated success in interdisciplinary teamwork, and shows a commitment to quality patient care and the mission of SRAlab.
Harris Resident: Annie Goldring, MD
Rising third- or fourth-year resident who demonstrates academic excellence through educational initiative and motivation for learning.
William Randolph Hearst Resident: Alice Ye, MD
Resident who, through participation in professional organizations and activities, will make a national or regional impact in rehabilitation medicine.
Meyer Gunther Resident: Julia Fram, MD
Second-year resident who best displays the art of listening, understanding and interacting with patients.
Walter E. Heller Chief Residents: Meghan Hayes, MD, Eleasa Hulon, MD, and Michael Lu, MD
Three chief residents for the upcoming academic year.
Helen Cooper Award: Ryan Nussbaum, DO
Graduating resident who has made the greatest overall contribution to resident education through their teaching in the past year through lectures, afternoon sessions, bedside on the floors and clinics.
Diversity, Equity and Inclusion Champion Award: Emily Marquez, MD
Special recognition for the advancement of education and advocacy in diversity, equity and inclusion within the Department of Physical Medicine and Rehabilitation.
PM&R Clerkship Teaching Award: Stanley Abrams, MD
Second-year resident who has demonstrated outstanding teaching skills during the PM&R medical student clerkship.