Body
Pinehurst Resort in North Carolina is one of the temples of American golf. Over the past 127 years, it has made history dozens of times, hosting international tournaments like the PGA Championship, the U.S. Women's Open, the Ryder Cup and multiple men's U.S. Opens.
(For any golf fans out there, Pinehurst was where Payne Stewart defeated Phil Mickelson in 1999 with an 18th-hole putt for par — a moment commemorated with a statue beside the green where it happened.)
In summer 2022, Pinehurst made history again when it hosted the U.S Golf Association's (USGA) first-ever U.S. Adaptive Open, an invitational competition featuring 96 male and female golfers with impairments ranging from amputation to cognitive and physical challenges stemming from traumatic brain injury and stroke.
One important part of adaptive sports is that each player must be classified according to their impairment. In adaptive golf (also called golfers with disability or "G4D" — more on that later), impairment classification allows all the golfers to play in mixed groups: a foursome could include one golfer who uses a prosthesis, another who had a traumatic brain injury, a third who uses a wheelchair, and a fourth who had a stroke. The classification is used to adjust scores and determine final standings.
And, who does the USGA trust to classify the competitors? The physiatrists and physical therapists of Shirley Ryan AbilityLab, of course!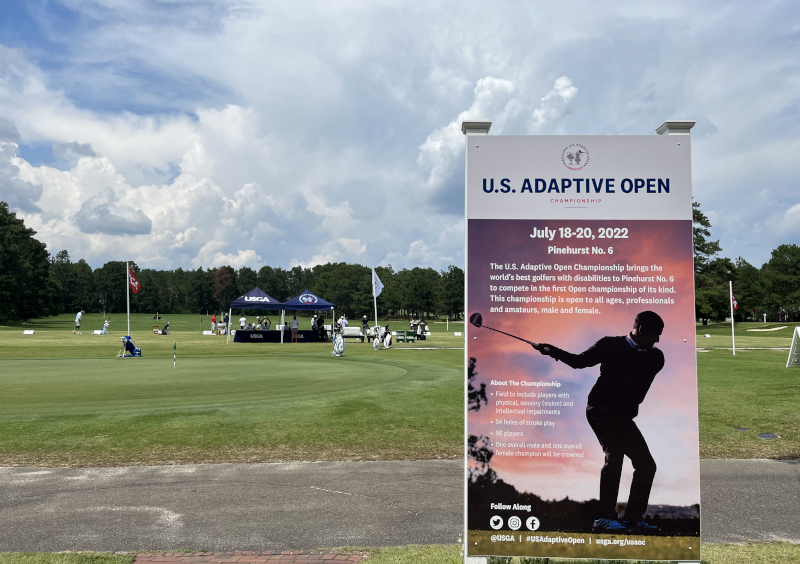 Shirley Ryan AbilityLab Teams with USGA
Body
Our organization's partnership with the USGA arose from a long-ago collaboration and friendship between Prakash Jayabalan, MD, PhD, physician-scientist director, Nancy W. Knowles Strength + Endurance Lab, and Roger Hawkes, a British doctor with ties to professional golf in Europe. Under the guidance of Dr. Hawkes, Dr. Jayabalan began a program at Shirley Ryan AbilityLab to provide golf classifications — using assessment protocols established by the European Disabled Golf Association (EDGA) — for locally administered tournaments throughout the United States.
In 2019, the USGA announced its own plans to create a nationwide adaptive golf program in the U.S. Because Shirley Ryan AbilityLab's classification program using EDGA guidelines was already in place, the USGA turned to our organization to lead the effort.
"An interdisciplinary team of AbilityLab clinicians and administrators began providing eligibility assessments," Dr Jayabalan said. "This enabled golfers with impairments to receive world ranking points at national tournaments
For months before they ever touched Pinehurst's Bermuda grass, dozens of hopeful golfers came to Chicago for 30- to 45-minute diagnostic sessions with Shirley Ryan AbilityLab team members like Melissa Kolski, DPT, associate director, Education, and Oliver Rivera, DPT, Outpatient. Melissa's involvement started in 2019 when she trained in the EDGA system; Oliver started providing assessments for golfers in early 2022.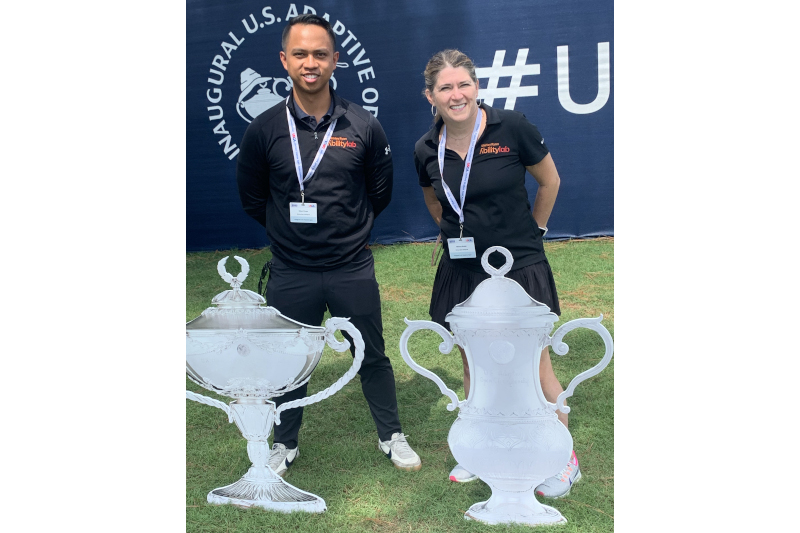 "First, we talk about their medical history and do a physical exam," Oliver said. "Then, we look at their golf swing, including using video recording, and talk about where their game starts to become compromised. We assess their range of motion, strength and balance."
For both Melissa and Oliver, these assessments were an opportunity to leverage their clinical expertise and passion for the sport. Oliver began golfing with friends in the early days of the COVID pandemic, when golf was among the few recreational activities that allowed groups. Now, he's a self-described fanatic. Melissa, meanwhile, is a lifelong golfer. Growing up in Cooperstown, N.Y., she started playing the village's award-winning Leatherstocking public course. Today, her husband coaches boys golf at New Trier High School in Winnetka (and this fall, the team took home the state championship).
What's In a Name?
Body
USGA and EDGA differ on what they call the sport. USGA calls it "adaptive golf." EDGA, meanwhile, opts for "G4D" with the reasoning that it's not really adapted; the rules of the sport are unchanged no matter who plays.
"And I actually heard someone refer to it as 'just golf,'" Melissa said. "Golf is unique because it has always had a handicapping system that levels the playing field to allow better golfers to play competitively against golfers who are not as good. Using that same concept, golf already has a system in place to allow individuals with impairments to play competitively with able-bodied players — even professionals. Players of all ages, skill levels and impairments can participate together."
Whatever you call it, this sport is unique in how it allows players with impairments to face able-bodied players in a competitive format.
Research Hits the Links
Body
The same weekend the U.S. Adaptive Open teed off at Pinehurst, Shirley Ryan AbilityLab was represented at another golf event in a location also steeped in lore. At the 2nd International Congress on Golf and Health in St. Andrews, Scotland — the windswept seaside town that is home to the oldest golf course in the world, established in 1552 — Dr. Jayabalan delivered a lecture on the health benefits of golf for individuals with knee osteoarthritis (OA). He also shared findings from research — recently published in the American Journal of Physical Medicine and Rehabilitation — that assessed the benefits to this patient population of walking the course compared to using a golf cart. ("Bottom line: Walking the course is most beneficial for cardiovascular health and should be encouraged, but if an individual with knee OA uses the cart, it is still an extremely beneficial workout," Dr. Jayabalan said.)
Other Shirley Ryan AbilityLab research presented during the St. Andrews conference included a poster by Stanley Guillaume, MD — a 2022 graduate of our physical medicine and rehabilitation residency program — that assessed the inclusivity of golf for individuals with disabilities; and a project by Rose Darcy, BS — a research assistant in Dr. Jayabalan's lab and medical student at Northwestern University Feinberg School of Medicine — on the impact of COVID-19 restrictions and the inability to play golf on the physical and mental health of golfers with disabilities.  
Two Decades of Golf with Shirley Ryan AbilityLab's Adaptive Sports Program
Body
For about 20 years, Shirley Ryan AbilityLab's Adaptive Sports Program has offered golf programming. Today, thanks to the leadership of Derek Daniels, director, Adaptive Sports & Fitness Program, Therapeutic Recreation and Volunteer Services, and a partnership with the Chicago Park District, participants learn swing fundamentals at a driving range and, when weather cooperates, play on Monday mornings at the South Shore Golf Course. 
While most of the golfers are "duffers" — not very competitive participants who are out for a fun afternoon — Derek said some of the regulars are legitimately good.
"We have a teenager who recently started with us. He has cerebral palsy and he's trying to make his school team," Derek said. "We work with him on fine-tuning his mechanics."
When it's available and affordable, Derek and his team — including Ricardo Lara, exercise physiologist, Galvin Fitness Center, and Kyle Hitzelberg, sports coordinator, Wirtz Sports Program — purchase the necessary equipment needed, such as a single-rider cart with a swiveling seat that leans the golfer over the ball in an ideal swinging position. And, when necessary, they get creative and make their own equipment thanks to a workshop and a do-it-yourself attitude.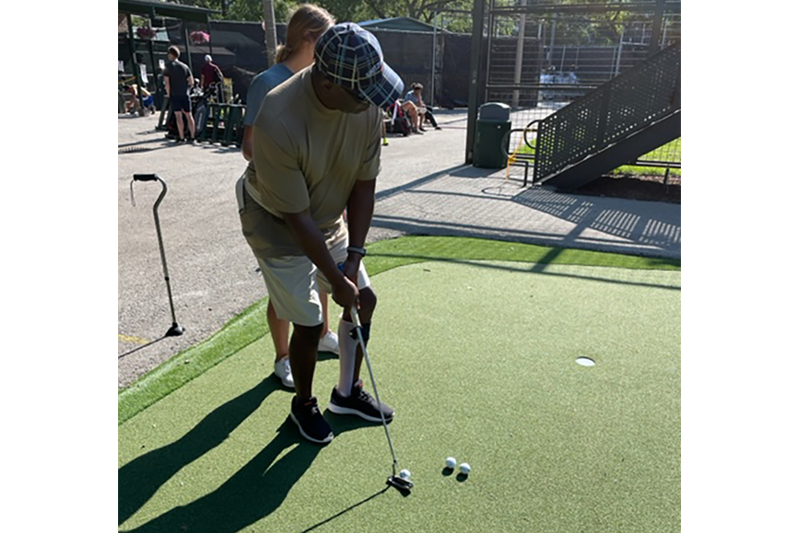 "We have a lot of golf clubs that have been donated," he said. "Basically, I have tools and we bend stuff. My team and I make those clubs work for everybody's ability level."
Aside from the inherent benefits that come with any physical activity — exercise, fresh air — Derek said he's also seen how golf is especially good for building community and friendship.
"Golf is a very social sport. You're going up and down the course with others and you're constantly talking," he said. "One time, two of our golfers met on the course. Then, the next week, they did the adaptive sailing program together. They literally connected over golf. It becomes a social outlet for participants to build their networks and circles of community."
Mission in Action
Body
Melissa said the weekend at Pinehurst proved to be a shining showcase of the sport's power to build community.
"It felt great to be part of something bigger than yourself. All of the athletes were so excited to have that opportunity," she said. "I am honored to have represented our staff there with Oliver."
Whether you call the sport "adaptive golf," "G4D" or "just golf," this project demonstrates how Shirley Ryan AbilityLab's commitment to interdisciplinary collaboration can bring improvements to the lives of people with impairments.
"I am very proud of our work on this years-long endeavor, which has brought together many different departments and individuals from throughout our institution," Dr Jayabalan said. "Golf can be a powerful and effective health intervention, and we are very excited to continue to aid the global growth of the sport."